Can I just say, I love the mixture of butter, brown sugar, and flour. There is something about the smooth and creamy texture that I could basically eat raw cookie dough all day.. every day. Yeah, it wouldn't be great for my waistline, but neither is a Pizza Hut Hawaiian pizza that I've been nagging to inhale.
Have you ever noticed that as soon as the word diet gets thrown in the mix, you instantly crave everything? Yeah, it's happening to me. So I filled the void with these delicious baked chocolate chip donuts.. and also with its batter prior to baking. It felt awesome. worthwhile. sensational.
I thought about drizzling some more chocolate on the tops of these donuts, but I had already poured tons mini chocolate chips inside them. When is less more? Never. I highly recommend getting some melted chocolate chips drizzled on the tops of these donuts as soon as they are cooled down.
They have a cake texture. I absolutely fell in love with them and quickly became addicted to them after eating them warm. The chocolate was gooey on the inside. It was perfect. I even heated mine in the microwave 20..ish seconds the next day because it was that satisfying.
Do you prefer your baked goods fresh out of the oven or cooled for a bit?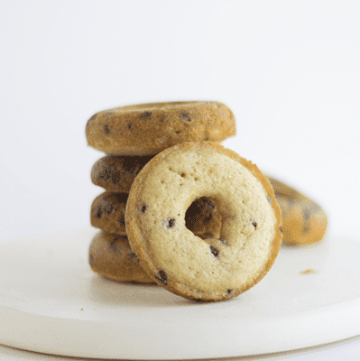 Baked Chocolate Chip Donuts
Instructions
Preheat oven to 350 degrees. Grease a donut pan with non-stick cooking spray.

In a mixing bowl, add butter and brown sugar. Mix on medium until light and fluffy.

Add in the egg, milk, and vanilla. Mix on low until combined.

Add in the flour, baking powder, and baking soda. Mix on low until the flour is almost combined and turn the mixer to medium and let it mix for a minute.

Stir in the mini chocolate chips with a spatula.

Place the batter into a disposable piping bag or a large ziploc bag. Cut off the tip of the disposable bag or a corner of the ziploc bag.

Fill each donut shape half full. If you over fill it, it will completely cover the center cutout.

Bake for 8 to 9 minutes or until the edges begin to get golden brown.

Let the donuts cool for about five minutes and then turn them out onto a cooling rack. If they stick any, run a toothpick around the hole and outside of the donut. That should help.
(Nutrition facts are an estimate and not guaranteed to be accurate. Please see a registered dietitian for special diet advice.)
Here's the donut pan I used!
Cookie Dough and Oven Mitt is a participant in the Amazon Services LLC Associates Program, an affiliate advertising program designed to provide a means for sites to earn advertising fees by advertising and linking to Amazon.com