Want to make several cookies with less work? Try whipping up 4 Chocolate Chip Cookies with 1 Dough! It makes things easier and is great if you need a variety of cookies!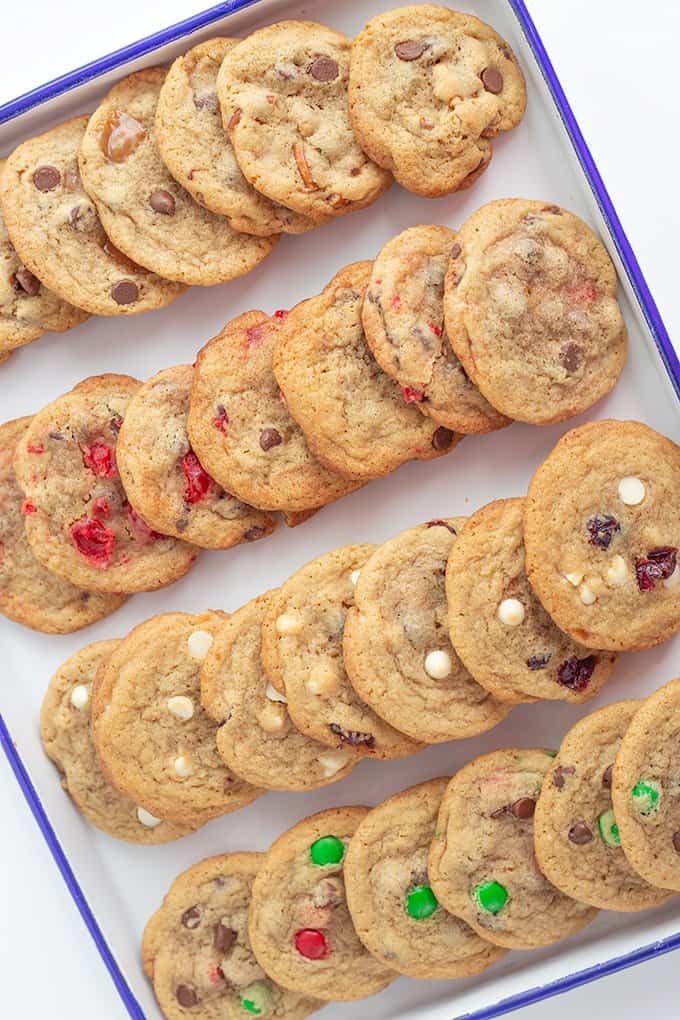 One of my favorite recipes is one that makes Four Chocolate Chip Cookies with One Dough. This amazing chocolate chip cookie dough is fast, easy, tasty, and incredibly versatile for holding up with different types of add-ins. Chocolate Chip Cookie Variations are so easy with this dough!
Why This Recipe
I love this recipe because it is so easy to make a huge variety of cookies all at one time. It's so nice to have a tray with four different kinds of cookies with minimal effort. Your friends, family, and guests will all be able to find a cookie that they love!
How to Make Four Chocolate Chip Cookies One Dough
First, let's start with the dough. What makes this chocolate chip cookie dough so amazing is the brown sugar. Using a higher percentage of brown sugar creates a chewy, deeply flavored dough and a cookie that can handle lots of mix-ins.
To mix up the dough you will start in the traditional way by creaming the butter and the sugar together until it is light and fluffy. Next, add the eggs and vanilla and beat it again with the hand mixer to thoroughly incorporate the wet ingredients.
For the next step, you can just add the dry ingredients directly into the wet ingredients and mix them very thoroughly using the hand mixer.
If you want to make all four chocolate chip cookie variations at once, divide the dough into four equal parts in separate bowls. In each bowl, add the customized ingredients for the four different chocolate chip cookies. Mix these by hand -- not with a mixer.
Use a 1 ½" cookie scoop and spread the cookies about two inches apart on a parchment-paper-lined cookie sheet. Bake these for 10-14 minutes until the edges just start to turn brown. Remove them from the oven and leave them on the cookie sheet for five more minutes to cool down.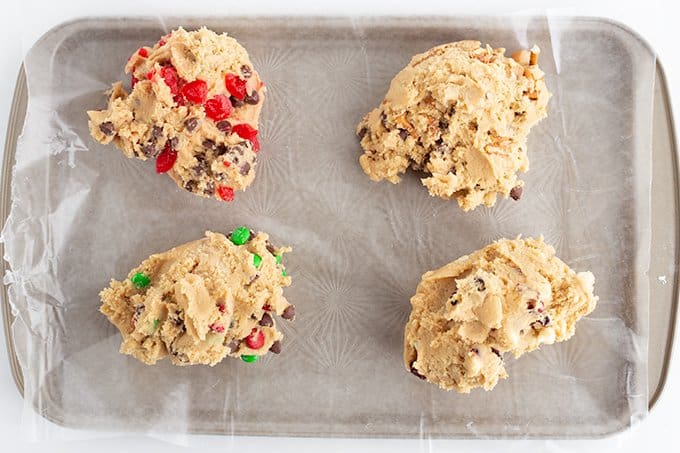 4 Chocolate Chip Cookies 1 Dough Ingredients
Basic Chocolate Chip Cookie Dough Ingredients
Butter - Room temperature. Set it out on the counter ahead of time for a couple of hours.
Light Brown Sugar - Packed.
Granulated Sugar - Traditional chocolate chip cookie doughs have equal parts white sugar and brown sugar. This one is heavy on brown sugar and it improves the flavor so much!
Large Eggs - If possible I always get large or extra-large eggs at the grocery store.
Vanilla extract - A high-quality vanilla will take your cookies over the top. If you've never tried gourmet vanilla, I highly recommend it.
All-purpose flour - Just regular all-purpose flour is perfect. You could also use a one-for-one gluten-free flour for this recipe if you need to make gluten-free cookies.
Baking soda - This provides leavening so that the cookies rise.
Salt - With one cup of salted butter, this recipe does not need very much added salt.
Chocolate Chip Cookie Variations Ingredients
Cranberry White Chocolate
Craisins
White chocolate chips
Cherry Chocolate Chip
Maraschino Cherries - dried and quartered.
Caramel Pretzel Chocolate Chip
M&M Chocolate Chip
Tips for Amazing Four Chocolate Chip Cookies One Dough
For a thicker cookie, add an additional ¼ to ½ of all-purpose flour to the recipe.
Do not overbake this cookie. It will continue to firm up and bake after it is removed from the oven. It is essential that you remove the cookies as soon as they start to brown on the edges and before they look "done".
Frequently Asked Questions
Are the Chocolate Chip Cookie Variations Gluten-Free?
Not exactly. You can make this recipe using one-for-one gluten-free all-purpose flour and it will instantly be gluten-free. Make sure to double-check the labels on your chocolate and fruit to make sure there is no cross-contamination.
Can the Chocolate Chip Cookie Variations be made Dairy-Free?
Yes. The only two things you would have to change is to use dairy-free butter and use dairy-free chocolate.
How Do I Keep Leftovers for the Four in One Chocolate Chip Cookie Dough?
Store your leftover cookies in an airtight container for up to one week. You can also freeze leftover cookies for up to three months in an airtight container.
Can I freeze these Chocolate Chip Cookies?
Yes! That's another awesome thing about cookies. They freeze really well.
Freeze baked cookies- After you've baked the cookies and let them cool completely, place the cookies in a freezer bag or freezer container and freeze the cookies for up to two months.
Anytime you want a cookie, simply take one out of the bag, let it sit at room temperature to thaw. You can also pop it in the microwave for 15 seconds or even in the oven for a couple of minutes to reheat it.
Freeze chocolate chip cookie dough - Make the cookie dough including dividing the dough into 4 bowls and adding the add-ins for each dough. Scoop the cookie dough out onto a parchment-lined baking sheet and pop in the freezer until firm, about 1 to 2 hours. Remove the baking sheet, place the firm dough into a freezer bag or freezer container, and store it in the freezer for up to 3 months.
To bake, place the frozen cookie dough on a parchment-lined cookie sheet. The cookie dough will only take about a minute longer to bake than directed in the recipe.
More Cookies to Enjoy
Five Christmas Cookies with One Dough