These Andes Mint Chocolate Pudding Cookies are soft and decadent. They're packed full of Andes Creme De Menthe Baking Chips, milk chocolate chips, and milk chocolate pudding mix. If you're a mint chocolate lover, you're going to go crazy for these cookies!
Need more cookies in your life? Check out these M&M Cookies, Butter Cookies, Kitchen Sink Cookies, and last but not least these amazing Cheesecake Cookies!
If you have never made a pudding cookie before, get ready to have your cookie baking world completely changed. Using dry, instant pudding mix in a cookie recipe keeps the cookies soft and tender. They are chewy, delicious and everything you want in a cookie.
This mint version is even better thanks to the chocolate and Andes mints! You need to try this mint chocolate pudding cookie recipe and you probably need to try it right away.
How to Make Mint Chocolate Pudding Cookies
Making these cookies is very similar to making any other kind of homemade cookie recipe. Here is a quick look at how to make chocolate pudding cookies:
Beat the butter and sugars until they are nice and fluffy.
Add the vanilla and eggs and mix to incorporate the wet ingredients well.
Add all of the dry ingredients including the milk chocolate instant pudding mix, flour, cocoa powder, baking soda, baking powder, and salt.
Mix the ingredients to form a smooth, uniform cookie dough.
Gently stir in the Andes baking chips and the milk chocolate chips.
Scoop the cookies onto a parchment lined sheet tray and bake!
Follow this recipe and you will be enjoying amazing, chewy mint cookies in no time.
How to Store Chocolate Pudding Cookies
One of the great things about pudding cookies is that they stay soft for a lot longer than a normal cookie would. This is thanks to the gelatin in the instant pudding mix. However, you still want to be sure to store the cookies properly, ensuring they stay nice and chewy for as long as possible!
Store the cookies in an airtight container, individually wrapped in plastic or in a pretty cookie tin. The cookies will keep best when sealed from the air. Air is a cookie's worst enemy and will dry them out quickly. So, whatever air-safe method of storage you prefer the best, use it!
Also be sure to keep the chocolate pudding cookies at room temperature. They will stay fresh for about two weeks.
How to Freeze Mint Chocolate Pudding Cookies
There are actually two different ways which you can freeze these pudding cookies- as a cookie dough or as a baked cookie. Both methods work wonderfully and will help you stock up on mint chocolate pudding cookies.
Here is how you can freeze this cookie recipe both ways.
Cookie Dough- After you have made the cookie dough and rolled the dough into small balls, place the cookie dough balls on a parchment-lined cookie sheet. Place in the freezer until the ball are firm. Transfer the frozen cookie dough balls to a freezer bag, seal and freeze. The dough will stay fresh and ready to bake for about 3 months.
Any time you'd like a fresh chocolate mint pudding cookie, take out a frozen dough ball or two and place them on a parchment-lined cookie sheet, and bake as directed. They make 1 to 3 additional minutes because they're frozen.
Baked Cookies- After your chocolate pudding cookies have baked, let them cool to room temperature. Wrap each cookie individually in plastic wrap. Place all the wrapped cookies in an airtight freezer-safe container or zippered freezer bag.
Freeze the baked cookies for up to three months. Anytime you want a quick chocolate mint cookie, you can just grab one out of the freezer! Place the unwrapped cookie in the microwave for about 20 seconds to thaw and then enjoy!
FAQ's
If you are new to the pudding cookie game, you may have some questions about our recipe. Here are our answers! If there is still something you are wondering, send us a message and we will be sure to answer ASAP so you can get back to baking.
What can I use instead of Andes Creme De Menthe Baking Chips?
If you can't find Andes Creme De Menthe Baking chips, you can use chopped up Andes Creme de Menthe thins instead. You can cut up some minty hershey kisses or add a few mint M&M's which are available around the holidays. Any mint chocolate candy should work! Just make sure to cut the chocolate mints into pieces that are the same size as the milk chocolate chips.
Can I use Hershey's dark chocolate instant pudding?
You can use dark chocolate instant pudding instead of milk chocolate pudding! It will make your cookies taste even more rich and chocolatey. Just be sure it is instant pudding mix as this type of pudding is what you need to make these cookies work. You may even want to try white chocolate Instant pudding mix for a sweeter cookie.
Can I add mint extract to these cookies?
If you are a big fan of a strong mint flavor, you can add a little extra mint flavor by using mint extract. Keep in mind that mint extract is very strong. A little bit will go a long way!
Use ¼ teaspoon mint extract and ¾ teaspoon vanilla extract for this recipe. That will give your cookie dough a nice minty taste without being too overpowering. We recommend using peppermint extract rather than spearmint. The peppermint has a more "candy-cane" taste while spearmint can end up tasting a little too much like toothpaste. You definitely don't want that flavor in a chocolate cookie!
These mint chocolate pudding cookies are perfect for the holidays when mint and chocolate reign supreme. They are also delicious year-round- you can never go wrong with the chocolate and mint combination!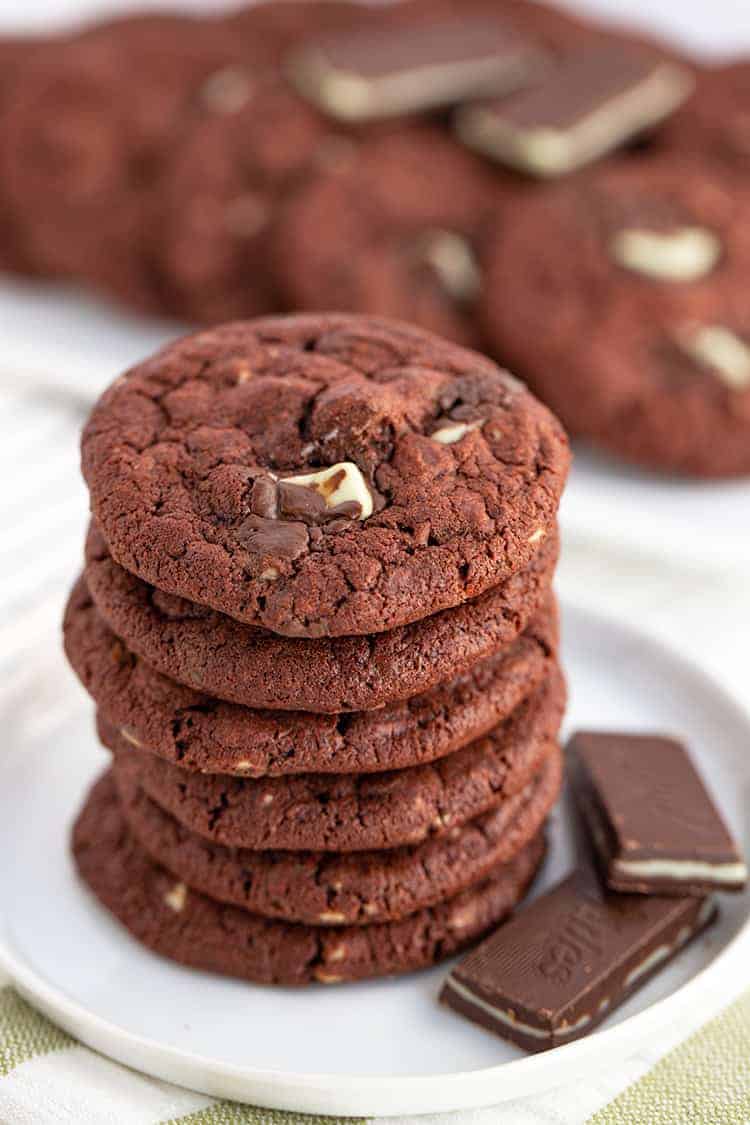 Shop this post:
Mint Chocolate Pudding Cookies
These soft Mint Chocolate Pudding Cookies are full of Andes Creme De Menthe Baking Chips, milk chocolate chips, and milk chocolate pudding mix.
Instructions
Preheat the oven to 350 degrees F. Line two cookie sheets with parchment paper.

Add in the butter, brown sugar, and granulated sugar to a large mixing bowl. Using a hand mixer, beat on medium until creamed.

Add the vanilla and eggs. Beat until incorporated. Scrape down the sides of the bowl.

Add the dry pudding mix, flour, cocoa powder, baking soda, baking powder, and salt to the wet ingredients. Beat just until the dry ingredients are incorporated.

Stir in the Andes Creme De Menthe Baking Chips and milk chocolate chips until they are evenly distributed in the cookie dough.

Using a 1 ½ tablespoon cookie scoop, scoop the dough and roll between your hands to form a ball. Place on the prepared cookie sheet.

Place in the preheated oven and let the cookies bake for 10 to 12 minutes or until done.

Remove from the oven and let cool for about 10 minutes on the cookie sheet before transferring to a paper towel or wire rack to cool completely.

Store in an airtight container at room temperature for up to 1 week.
Notes
If you can't find the creme de menthe baking chips, chop up 10 ounces of Andes Creme De Menthe Thins instead.
Nutrition
Calories:
279
kcal
Carbohydrates:
35
g
Protein:
3
g
Fat:
15
g
Saturated Fat:
10
g
Cholesterol:
39
mg
Sodium:
218
mg
Potassium:
68
mg
Fiber:
1
g
Sugar:
23
g
Vitamin A:
302
IU
Calcium:
38
mg
Iron:
1
mg
(Nutrition facts are an estimate and not guaranteed to be accurate. Please see a registered dietitian for special diet advice.)