These Butterfinger trifles are rich. They're filled with a creamy peanut butter mousse, a milk chocolate ganache, and bits of Butterfinger make the perfect trifle.
I partnered with Soyfoods Association of North America and created this recipe for you! As always, all opinions are my own.
The best part about this dessert is my son who is very lactose intolerant can indulge in his own little trifle and there are no crazy things happening afterwards.
This month is National Soyfoods Month. I try to keep up with a lot of the national food holidays, but there are just so many. This one didn't sleep between the cracks though! So for National Soyfoods Month I was asked to swap out some ingredients of a favorite recipe. Since I've had peanut butter on the brain, of course this recipe will include it as well.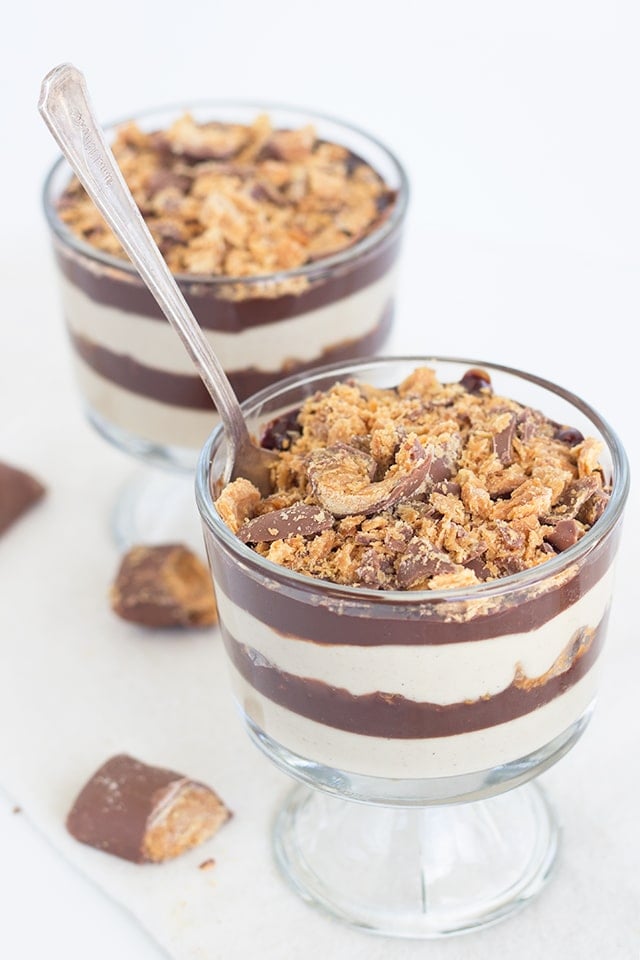 My peanut butter mousse swapped out eggs and heavy cream for silken tofu. I was pleasantly surprised. It was incredibly smooth and creamy. I've pretty much been converted to use silken tofu a ton more now. I definitely want to start testing out an ice cream using it even (for my little guy who loves ice cream and can't have it often).
My ganache swapped out heavy cream for Silk Original soymilk. It worked perfect for the ganache! You can also go with the vanilla or chocolate flavored if you aren't into the original flavored soymilk.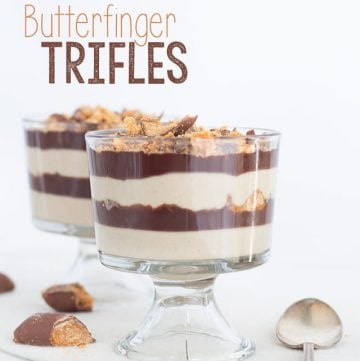 Butterfinger Trifles
Ingredients
Milk Chocolate Ganache
1 ¾

cups

milk chocolate chips

½

cup

Silk Original Soymilk

(For a dairy version, substitute with heavy cream)
Peanut Butter Mousse
16

ounces

Nasoya Silken Tofu

(You can substitute with 16 ounces of softened cream cheese)

1

cup

creamy peanut butter

½

cup

powdered sugar

1

teaspoon

vanilla bean paste

2

Butterfinger candy bars

chopped
Instructions
Ganache
In a microwave-safe bowl, add in the milk chocolate chips and Silk soymilk. Microwave for 30 seconds and stir with a spatula. Repeat microwaving for 30 seconds and stirring 2 - 3 more times until all the chips are melted. Grab a whisk and whisk the ganache until it becomes thick and deep chocolate color. There should be no traces of milk. Set aside and let cool about 15 minutes.
Mousse
In a food processor or blender, add in the silken tofu, peanut butter, powdered sugar and vanilla. Process or blend on high until completely smooth and the peanut butter is thoroughly mixed. You might have to give it a stir once or twice in the blender to get everything moving.
Assemble
Pour ganache into a sandwich bag. Cut a very tiny corner for pouring. The smallest corner possible will allow for more control.

Spoon in the peanut butter mousse. Fill about ¼ inch to ½ inch.

Pour the ganache in to add a thin layer.

Place a nice big sprinkle of butterfinger bits on top of the ganache. Repeat the steps.

Cover with plastic wrap and place in the fridge until ready to serve.
Nutrition
Calories:
1373
kcal
Carbohydrates:
122
g
Protein:
42
g
Fat:
83
g
Saturated Fat:
29
g
Cholesterol:
16
mg
Sodium:
495
mg
Potassium:
747
mg
Fiber:
11
g
Sugar:
100
g
Vitamin A:
390
IU
Vitamin C:
3.5
mg
Calcium:
416
mg
Iron:
7.1
mg
(Nutrition facts are an estimate and not guaranteed to be accurate. Please see a registered dietitian for special diet advice.)
I encourage you to swap out an ingredient for a soy substitute. Whether it's soymilk, tofu, soy nut butter, or meat alternatives, at least give it a try. You may end up like me and be pretty pleased with the outcome.
The peanut butter mousse was so simple to make and better for you than regular mousse. I would love to hear what kind of desserts you've tried with soy ingredients.