This easy peanut butter mug cake is perfect for that late night craving for a peanut butter cookie or peanut butter cake. It takes 5 minutes tops to prep and cook. It can be made with 5 ingredients too. Of course, I like to throw one or two extra ingredients in, but they're optional!
This post is sponsored by Left Field Farms, but the content and opinions expressed here are my own.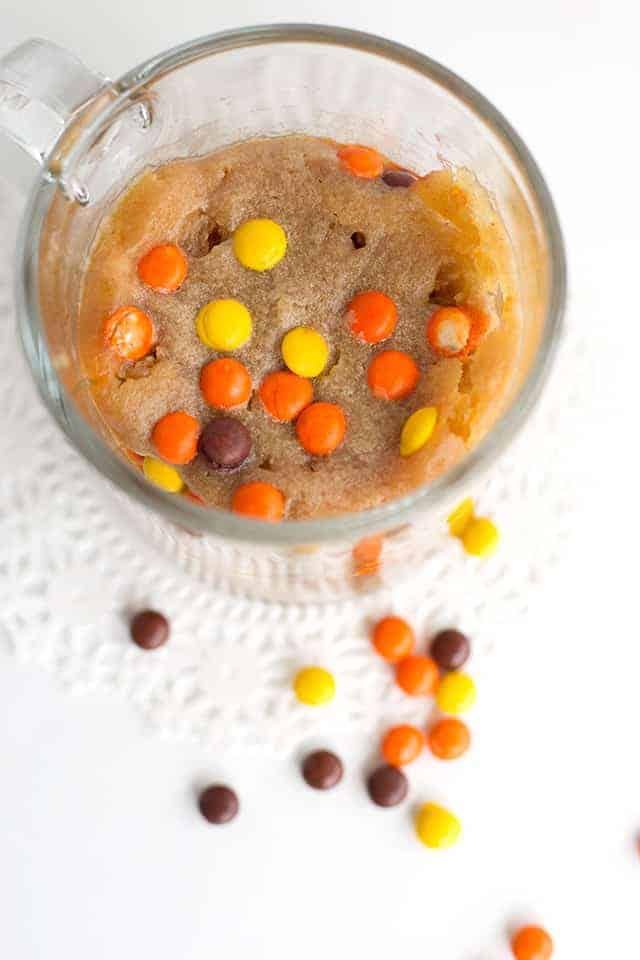 Peanut Butter Mug Cake
We all love this mug cake! It tastes like a super tender, fresh out of the oven peanut butter cookie. I love to add tiny peanut butter candies to the top of the cake before I cook it up in the microwave.
I also really like to add a drizzle of chocolate syrup on top just before I eat it. Can you tell I always have chocolate syrup in the house? I add it to everything. I love to use coffee creamers in my recipes too. Chocolate syrup and coffee creamers. They both just add a little extra flavor.
Do you know what happened to this particular peanut butter mug cake? I added a few extra candies to the top, a beautiful drizzle of chocolate syrup, took one bite, and my son came along and asked for it. I couldn't say no to his cute little face! He even grabbed the spoon from me and he does not eat after anyone. He cringes just thinking about it.
But he did today. He took the spoon that I had taken a bite from. Crazy!
What kind of coffee creamer should I use? For this recipe, I went with the Left Field Farms Non-GMO Creamer in the sweet and creamy flavor. They also have vanilla and caramel flavors. Either of those would taste pretty amazing in this mug cake too.
I don't know if people realize that coffee creamer doesn't have to be just for your cup of coffee. There are so many amazing flavors out and it's fun to play around and add it to recipes where you would normally add milk.
What peanut butter should I use? That's easy. The peanut butter that you prefer.
Can I substitute the peanut butter for almond butter? Yes! I haven't tried it and so I'm not really positive about how it will taste, but I do know that it will cook up just like the peanut butter mug cake will. You can also use walnut butter, sunflower seed butter, etc.
Can you bake this? Maybe? I don't have a definite answer for this one. I haven't tested it to know for sure.
How to make a mug cake?
I begin by grabbing my favorite coffee cup. Add butter and the peanut butter into the cup and microwave it for 30 seconds. It should be runny. Stir in the sugar. Stir in the flour and then the milk/creamer last. Pop it in the microwave. I normally do 2 minutes and then if it still looks like there's batter on top I do another 20 seconds. You can overcook the mug cake though. It will become dry and crumbly when it's overcooked so don't do that either.
I don't add an egg because it's not necessary and I feel like it makes the cake rubbery. I also don't add a leavener. It's not needed for my mug cake recipes.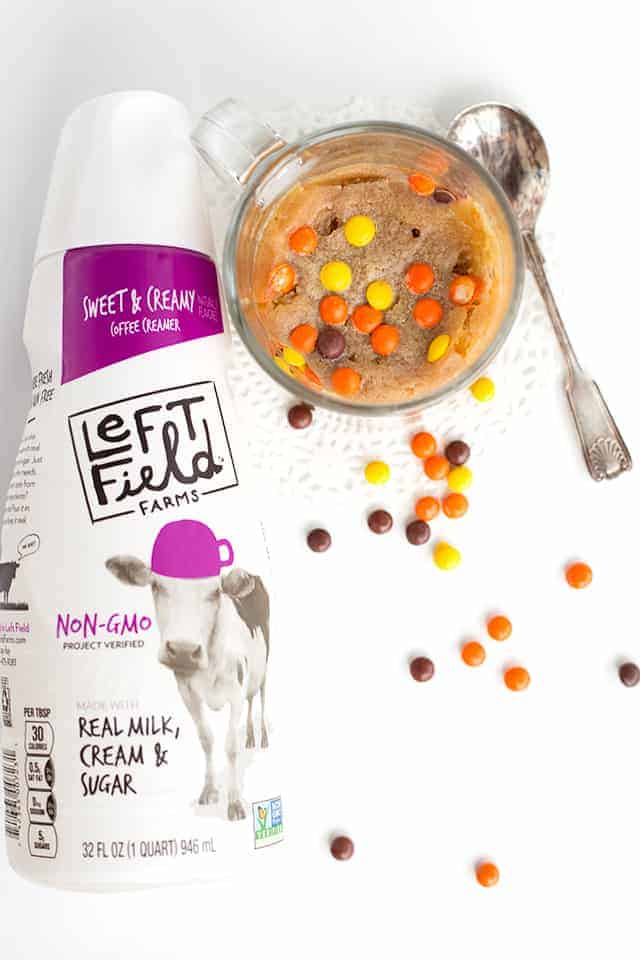 how to make peanut butter mug cake
Peanut Butter Mug Cake
This peanut butter mug cake is easy and quick to make! It only has a few ingredients and tastes like a peanut butter cookie!
Instructions
In a mug, add in the butter and peanut butter. Microwave for 30 seconds and stir.

Add the brown sugar and stir until incorporated.

Add the flour and stir until combined. The batter will be super thick.

Add in the milk and vanilla extract. Stir until the batter is smooth.

Sprinkle the peanut butter candies on top of the batter.

Place into the microwave for 2 minutes. If you need more time, start at 20 seconds. The more you microwave it, the dryer it will get.

Grab and spoon and eat!
Nutrition
Calories:
519
kcal
Carbohydrates:
53
g
Protein:
20
g
Fat:
24
g
Saturated Fat:
4
g
Cholesterol:
4
mg
Sodium:
365
mg
Potassium:
431
mg
Fiber:
4
g
Sugar:
12
g
Calcium:
23
mg
Iron:
2.7
mg
(Nutrition facts are an estimate and not guaranteed to be accurate. Please see a registered dietitian for special diet advice.)