Sometimes the fur babies just need a freshly baked treat like these peanut butter pumpkin pupcakes.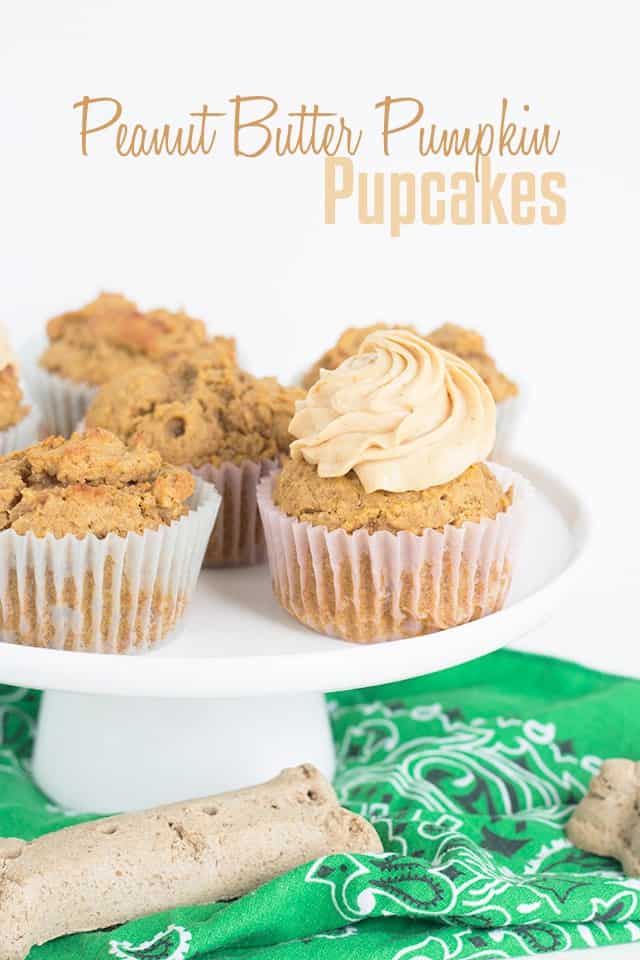 We're a family of animal lovers. There are days that I truly like animals more than people. Is that wrong? Probably. So, Tuesday my oldest fur baby, Sam, had to go have surgery on two tumors that were growing ridiculously fast. To make him feel better after a couple of very stressful days, I whipped up these peanut butter pumpkin pupcakes with cream cheese frosting.
Turns out these dense, moist pupcakes also make the perfect vessel to hide medicine in. Sam can find a pill and spit it out in .002 seconds. He's an incredibly smart one so it's rather frustrating to get him to take pills. He can't resist a freshly baked sweet treat like the rest of the family. As soon as I give a pupcake to him it's down the hatch and I do the victory dance. By victory dance, I mean some incredibly attractive flailing motions.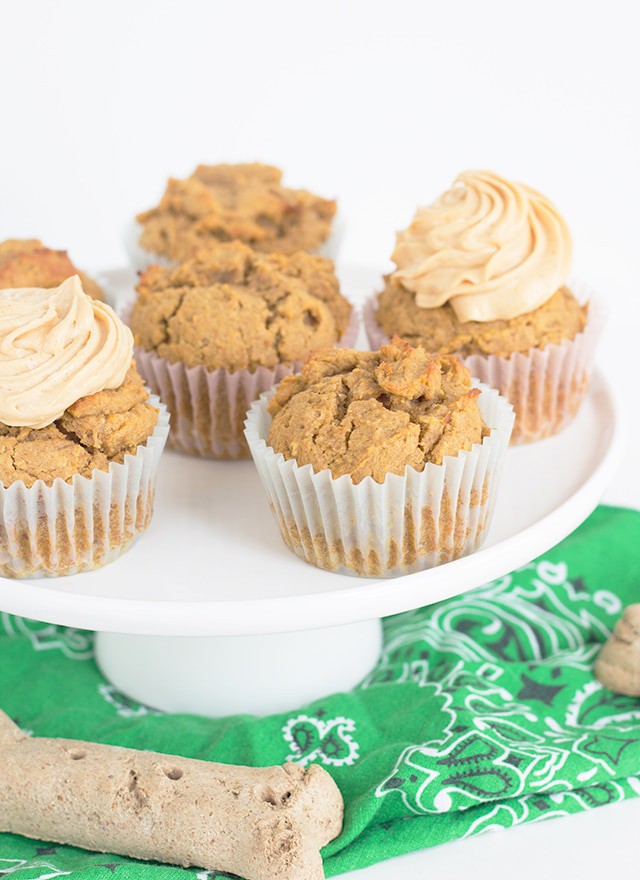 So, I had these pupcakes all made and in the fridge until we could go get Sam the following day. I'm pretty positive I had told the hubby that I made those specifically for Sam. Anyway, I'm laying on the couch watching t.v. and I see Wesley come out with one of those pupcakes. I thought he was messing with me because he had wanted to eat the apple peanut butter doggie cookies that I made a couple months ago. Turns out, he had forgot they were for the dogs. Luckily he always asks if it's okay before he takes a bite of anything I bake. I'm sure it's the same for any food blogger's spouse. I told him to go ahead, but it probably won't be all he's hoping for. Then it hit him and I cackled like crazy.
Peanut Butter Pumpkin Pupcakes
Ingredients
Cream Cheese Frosting
4

oz

. cream cheese

room temperature

⅓

cup

pumpkin puree

2

T

. peanut butter

1

T

. honey
Instructions
Preheat oven to 350 degrees. Place cupcake liners in your cupcake pan.

In a large mixing bowl, add in the pumpkin puree, peanut butter, vegetable oil, egg, and honey. Whisk together until combined.

Add in the baking soda, baking powder, and whole wheat flour. Switch to a spatula and stir until incorporated. The batter will be really thick and perfect for scooping out.

Scoop the batter and fill the cupcakes almost to the top of the liner.

Place in the preheated oven and let bake for 25 - 27 minutes or until done. Stick a tooth pick in the center of the pupcakes and if it comes out clean or with moist crumbs, it's done.

Let cool completely.
Frosting
In a large mixing bowl, add in the cream cheese, pumpkin, peanut butter and honey. Beat unitl thoroughly incorporated.

Spread the frosting with a butter knife. I had a problem with the pumpkin puree getting caught in my tip while trying to pipe it.

Store in the fridge.
(Nutrition facts are an estimate and not guaranteed to be accurate. Please see a registered dietitian for special diet advice.)
I got creative and used one of Sam's handkerchiefs in the photos. He loves wearing them around his neck and he looks so stinkin' cute with them on. I would show you pictures of his post surgery state, but it's not for the weak stomach. My son lost his groceries at the vet's office when he first saw Sam. The cancer had spread and the surgery ended up being more extensive than the vet or we expected. The drain tubes he's sporting right now really aren't that attractive.
Show your fur babies some love with these peanut butter pumpkin pupcakes with cream cheese frosting. They deserve it.