I'm feeling festive this week, despite the sick husband and child. Maybe it's the lack of sleep that has me feeling super giddy, either way check out these cookie dough surprise Easter eggs!
Who here loves hollow Easter eggs? This girl does. Let's get real, I love any sweet treat. Well, except black licorice and coconut that hasn't been toasted. After thinking long and hard about this, I decided I had to make little baby cookie dough truffles for the surprise inside my eggs. How cute are those?
I apologize. I've been on a miniature kick lately. If you didn't see my mini chocolate peppermint patty cupcakes, I posted those last week. I also posted my bunny tail munch yesterday, which happens to have mini bunny tails in them. Not real ones. That would be sad and gross.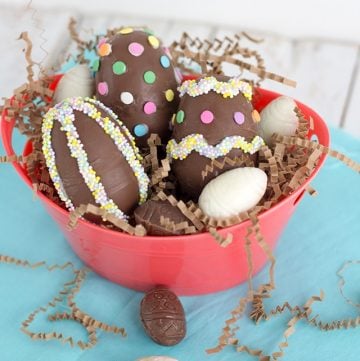 Cookie Dough Surprise Easter Eggs
Ingredients
Candy shells
1

+ ½ cups chocolate candy melts

½

cup

white candy melts
Instructions
You'll need to get out your chocolate egg molds and a paint brush. I'll post my egg molds down below for you to see.

In a microwave-safe bowl, melt the chocolate candy melts by heating in 30 second intervals and stirring after each interval. Repeat 3 more times until the chocolate is completely melted and smooth. You could melt the chocolate is a disposable bag or sandwich bag for easier pouring.

Pour about 1 teaspoon of chocolate in one of the egg mold. Paint the sides of the egg mold with the paint brush. Repeat with each cavity. If there are any bare or thin spots, add a little more chocolate to the thin spots. Make sure to get to the top edge as well. Let the chocolate sit for about 20 minutes or until completely dry.

There should be chocolate left that we can reheat to finish our eggs and truffles. Set it aside.
Cookie Dough
While the chocolate is drying, let's start on the cookie dough.

In a medium bowl, add in the Country Crock spread and brown sugar. Beat for about 2 minutes until light and fluffy.

Add in the vanilla extract, milk and flour. Mix on low until the flour is about incorporated and then beat the cookie dough until it comes together. It took about 2 minutes for me.

For the tiny truffles, scoop about ½ teaspoons of cookie dough and roll in a ball. Place the balls into the fridge and let chill for about 1 hour.

If you want to fill the smaller egg molds with cookie dough like I did, I pressed about ½ teaspoon into each half of my mold. Make sure the cookie dough isn't sticking out from the top of the rim.

Once the tiny cookie dough truffles are chilled, reheat the chocolate candy melts in the 30 second intervals and stirring after each interval.

Once the chocolate is completely smooth, roll each truffle into the chocolate. Scoop it out with a fork and tap it off. Push the truffle off the fork with a tooth pick or butter knife. Repeat with all of the truffles. They should dry in minutes because the truffles have been chilled. Set aside.
Assemble
Reheat the chocolate candy melt by microwaving it for 30 seconds and stirring. Repeat microwaving and stirring until completely smooth. Transfer the chocolate candy melt into a sandwich bag or disposable piping bag.

Remove the dried chocolate shells from the egg molds. Just give the sides and bottom a push on the plastic side and the shells should come flying out. Be careful not to break them.

Add 3-5 truffles depending on the size of your truffles in one half of the egg. Place the other half of the egg on and hold it together.

Cut a tiny hole in the bag with the chocolate candy melt in it. Run a thin line of chocolate around where the two parts meet. Work quickly to do this. Run your finger along the seam to smooth out the chocolate and wipe the excess off in a bowl or on a towel. Let the eggs dry about 15 minutes.

Wash out your paint brush with hot water and dry it thoroughly.

In a microwave-safe bowl, add in the white candy melts. Microwave in 30 second intervals and stir after each interval. This will keep the candy melt from seizing up and burning.

Once the white candy melts are completely melted, paint little designs on your eggs with the white candy melt and add some festive sprinkles.
(Nutrition facts are an estimate and not guaranteed to be accurate. Please see a registered dietitian for special diet advice.)
Look further down for the egg molds that I used. You can use larger egg molds as well and just pack the Easter eggs full of cookie dough truffles. If you do that though, feel free to send one to me. Thanks!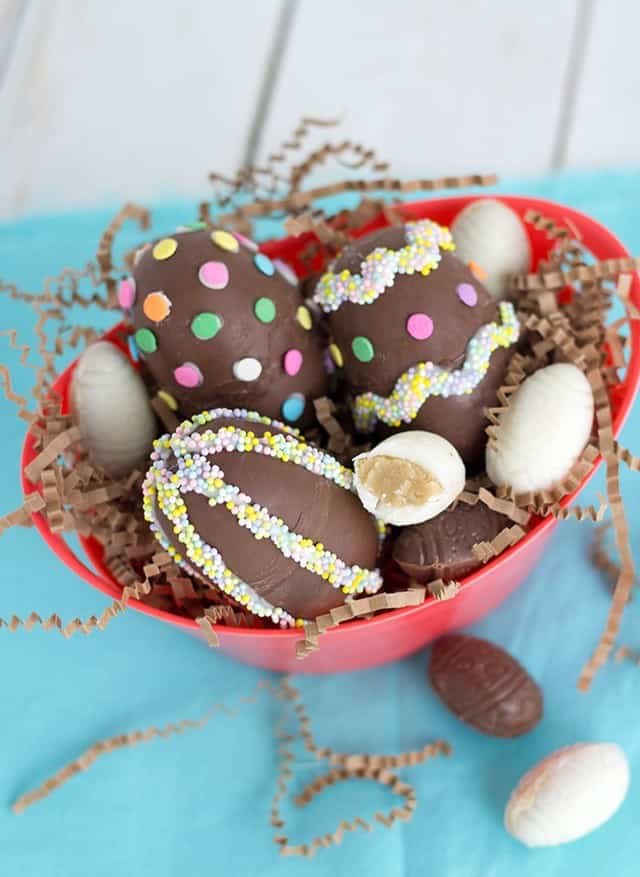 The second guy doesn't have the design that my small one has, but it will do the trick for tiny cookie dough egg truffles.
I was provided a Country Crock spread for this recipe contest post. I was not compensated in any way. #WhenWeBake
This post contains affiliate links. Cookie Dough and Oven Mitt is a participant in the Amazon Services LLC Associates Program, an affiliate advertising program designed to provide a means for sites to earn advertising fees by advertising and linking to Amazon.com