Strawberry hand pies. Somehow, I think they taste better than classic strawberry pies. I think it's because there's more delicious, flaky pie crust to enjoy with the strawberry pie filling. It helps that the crust is a beautiful golden color with a little heart cut out.
Strawberries are one of my favorite, in case you haven't noticed. If you love them and missed my last post for strawberries and cream trifles, you should probably check them out. They are ooooh-la-la yum.
MY LATEST VIDEOS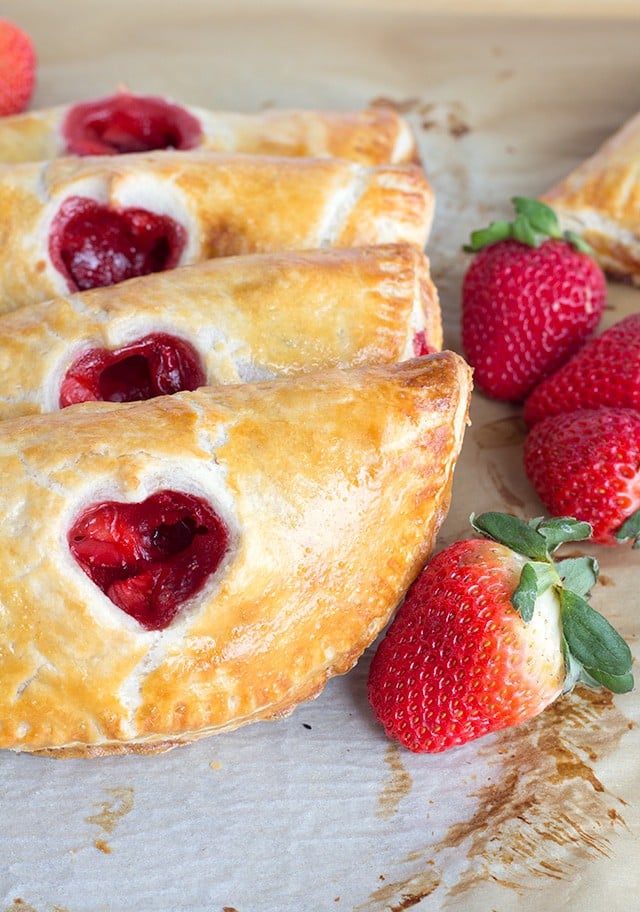 These little strawberry hand pies with the vivid red hearts in the center remind of the queen of hearts poem. I've always been pretty obsessed with Alice in Wonderland which is where I think I may have learned it. By the way, pretty psyched they announced they were making a new movie with all the same people called Alice Through the Looking Glass. I'll be standing in line to see that in the theater. Tim Burton + Alice in Wonderland = Absolute love.
Ingredients
store bought or homemade pie dough
Instructions
In a medium saucepan, add in sugar and cornstarch. Stir to combine. This will prevent lumps.

Add in 1 1/2 cups strawberries. Turn on medium heat and stir often. Mash the strawberries with the back of a wooden spoon. Bring to a boil over medium heat and let boil for 4 minutes until thick. The filling will become thick.

Add the remaining 1/2 cup fresh strawberries and vanilla extract into the mixture and stir in.

Place in a bowl and cover. Chill in the fridge.

Preheat oven to 425 degrees.

Generously flour your counter top. Roll out your pie dough to about ⅛ inch thick. Cut out 6 inch circles. I used a small cake pan for mine.

Spread about 2 - 3 tablespoons of strawberry filling on one half of the circle.

Using a pastry brush, spread egg wash around the edges of the pie crust. Fold over the pie crust so it's half a circle and press the edges down.

Place the hand pies on a parchment paper lined cookie sheet.

Using a clean fork, press the edges carefully but firmly to seal them. You don't want the filling to leak out!

Cut steam holes in the top of each hand pie with a knife. I used a round piping tip and cut out two holes and then a V shape with a knife to form a heart.

Use the pastry brush to egg wash to entire top and sides of the hand pies.

Place the cookie sheet with the hand pies in the oven for 18 minutes until the tops are golden brown and the filling is bubbly.