This post is sponsored by ClubsGalore. I was provided a chocolate box to review. As always, all opinions are mine alone.
Inspired by an insanely delicious chocolate I had out of this ClubsGalore chocolate box, I had to try making some coffee caramel. Guess what? It came out perfect.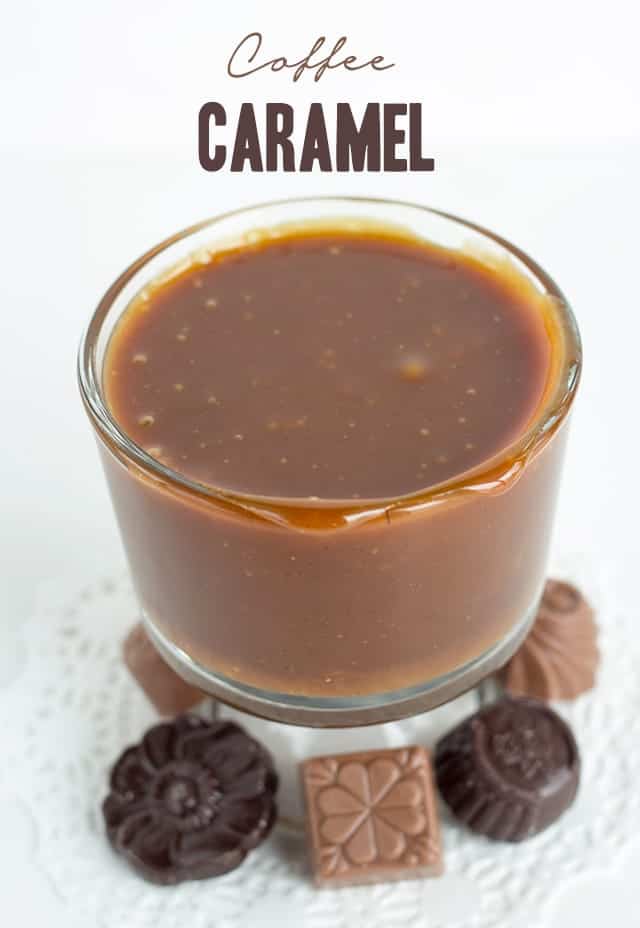 The caramel flavor is intense and the coffee accent gives it a richness. I know you can see black specks in my caramel. That would be my vanilla bean paste that I used. I've been using a ton of vanilla bean paste instead of extract. The thing about this recipe though, I think it's better to use the paste. I feel like the extract can sometimes seize up the caramel if added too soon.
I truly love the variety and quality of chocolate in this box. Did I mention how adorable they are? I'm a girl that loves the flowery look so I had to include that dark chocolate flower above. The dark chocolate has the perfect snap. The caramel was gooey. The truffles were rich and decadent. Down below is that one and only coffee caramel that came in the box. I wish I could have gotten a box of just those.
No, no I don't. That will not get me a beach body, but neither is eating ¾ of the box for "review purposes." Well, I guess it's good that we don't have a beach near by.
ClubsGalore has 41 clubs to pick from including a mix and match variety club. They clubs aren't just food either. There's beer, tequila, vodka, college care, gift card, plant, bath and body, candle etc. The list is long and you'll see more in the photo below.
You know what else is pretty wonderful about this club? The payment and club delivery can be customized. You can get your delivery monthly, every other month, or every third month. You have to join for at least 3 months, but it goes up to 12 months and you have the choice of paying monthly or making a full payment. I don't know about you, but I'm a monthly payment kind of girl.
You also have an option to print out your gift announcement, because yes, this would make the perfect gift. Mother's day, Birthday, Christmas, Valentine's Day, whichever one you choose will make an awesome gift for me someone special. Also, I that special person would love to try the gourmet club.
Seriously though, I was provided a $5 off code and free shipping to give to my readers. Head over and get your mama something special for Mother's day and use the code CGMOM5. The offer is valid 5/10/15, but to get it to your mama in time place your order by April 25th. If you're a last minute shopper and don't mind spending a little extra on shipping, two day shipping is available 4/26 - 5/7 and overnight express delivery will be available ⅚ - ⅝.
Coffee Caramel
Ingredients
1

cup

granulated sugar

½

cup

heavy cream

½ - 1

T.

instant coffee

½

cup

butter

cubed

½

tsp.

vanilla extract
Instructions
In a saucepan over medium heat, add in the granulated sugar. I swirl the sugar in the pan occasionally. I don't stir the sugar with any utensils.

Once the sugar starts to brown and melt, swirl the sugar more often and keep utensils out of it.

In a small saucepan, add heavy cream and instant coffee. Heat on low until the heavy cream forms bubbles around the edges. Stir occasionally to incorporated the coffee granules.

Continue to move the sugar around by swirling it and picking it up off the burner to do so. Let the sugar get a dark amber color. Be very careful not to burn yourself or let the sugar get too dark. Burnt caramel isn't tasty. It took mine about 24 minutes to melt and caramelize to my liking.

Once all the sugar is melted and an amber color, add in the vanilla bean extract and cubed butter. Whisk until the butter is thoroughly incorporated into the sugar. It will take some heavy whisking to get it to come together.

Turn off the heat and add in the coffee heavy cream mixture. Continue to whisk until the caramel comes together. Be sure to get the edges of the pan because caramel likes to stick there.

Pour into a heat-proof dish and let cool. Serve on ice cream, brownies, spoon.
Nutrition
Calories:
1336
kcal
Carbohydrates:
135
g
Protein:
2
g
Fat:
90
g
Saturated Fat:
57
g
Cholesterol:
271
mg
Sodium:
571
mg
Potassium:
59
mg
Sugar:
133
g
Vitamin A:
3055
IU
Calcium:
70
mg
(Nutrition facts are an estimate and not guaranteed to be accurate. Please see a registered dietitian for special diet advice.)
Now because I know you want to see what all those gorgeous chocolates were that I showed you earlier, here's a picture with all of the names of the chocolates.
My favorites:
Coffee Caramel
Irish Cream Truffle
Caramel
Solid Chocolate
Almond Toffee
Pretzel Twists
What ones intrigued you? Be sure to tell me below and I'll tell you how delicious it was! hehe