Skillet pineapple upside down cake is a cast iron skillet recipe for classic pineapple upside down cake.
A classic recipe will always hit the spot for me. I've always had a special place in my heart for a pineapple upside down cake.

Today I'm joining the Virtual Mad Men Finale Party. Yes, it's true. The finale will be airing this Sunday, April 5th. I'm bringing this skillet upside down pineapple cake. This scratch cake recipe was featured in the first episode of season 2.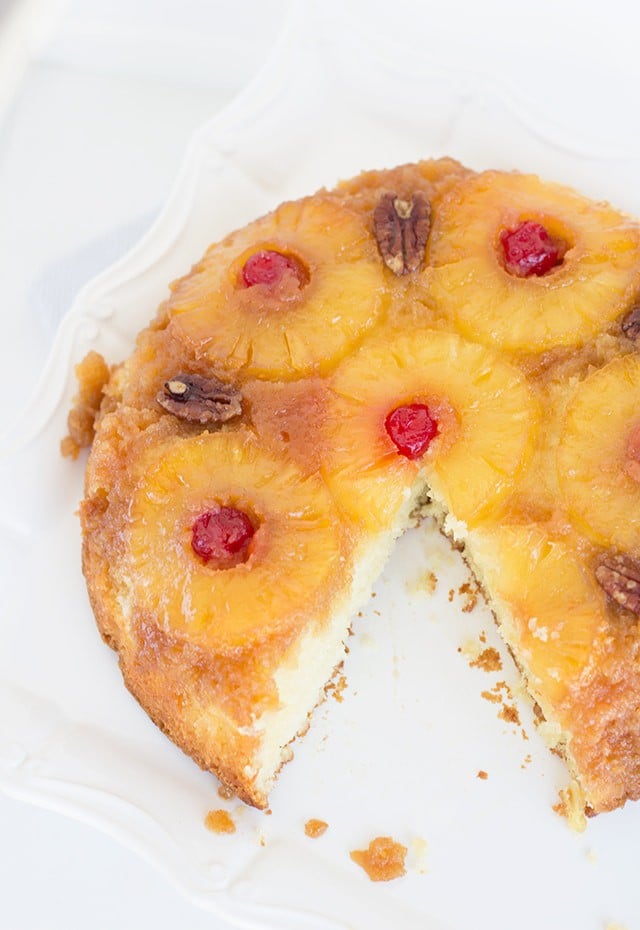 Skillet Pineapple Upside Down Cake Q & A
Here are commonly asked questions, and my answers, about making pineapple upside down cake.
How do you make pineapple upside down cake from scratch?
You'll be happy to know that THIS recipe is for a pineapple upside down cake from scratch! Many of the recipes you'll find start with a boxed cake mix, but making this scratch cake recipe is so easy, there is really no reason to use a shortcut.
What can I substitute for shortening in pineapple upside down cake?
You'll also be happy to know that I don't use shortening in this recipe! I use butter in this skillet cake recipe. It tastes so much better!
NOTE: If you decide to make this skillet pineapple upside down cake recipe, don't leave out the pecans. Those guys become so sweet and have the most delicious brown sugar coating. If I didn't love every single thing about this cake, the pecans would be my favorite part.
I was sent the amazing Unofficial Mad Men Cookbook for participating in the party. It's packed full of all the classic recipes that were on Mad Men and fun little bits of information about the recipes. Did you know pineapple upside down cake first appeared in the 1920's when Jim Dole (Dole Food Co.) started canning and selling his pineapple crop? You know now, anyway!
Pineapple Upside Down Skillet Cake
Skillet Pineapple Upside Down Cake is an easy cast iron skillet recipe for classic pineapple upside down cake.from scratch, made with NO shortening!
Ingredients
For the topping
5

T

. butter

cubed

¾

cup

brown sugar

packed

6

canned pineapple rings

reserve syrup

pecan halves

for garnish

maraschino cherries

for garnish
Instructions
Topping
Preheat oven to 350 degrees. Line a 10-inch cast iron skillet with tin foil.

Place the 5 tablespoons of butter in the skillet and place in the oven to completely melt the butter. It will take about 5 minutes.

Once the butter is melted, add in the brown sugar. Stir the brown sugar and butter together carefully using a rubber spatula. You don't want to tear the tin foil at all.

Spread the brown sugar mixture evenly across the bottom of the pan.

Place the pineapple slices side-by-side in the bottom of the pan. Place a maraschino cherry in the center of each pineapple ring. Between each pineapple ring, add a pecan half.
Cake
In a large mixing bowl, add in the butter and granulated sugar. Mix on medium until combined. The mixture will be crumbly, not light and fluffy.

Add in the eggs one at a time. Mix each egg thoroughly before adding the next. Scrape down the sides.

In a separate bowl, sift together the flour, baking powder and salt.

In a liquid measuring cup, add in the buttermilk. If you don't have buttermilk, use milk and vinegar. I used heavy cream and cider vinegar. Let the milk and vinegar mixture sit for about 10 minutes.

Add the pineapple syrup into the buttermilk.

Alternately add the flour and buttermilk, starting and ending with flour. Mix each addition thoroughly before adding the next addition. The batter will be thick.

Spread the batter evenly on top of the pineapple topping.

Place in the oven for 50 minutes to 1 hour or until done. Place a toothpick in the center of the cake and if it comes out with moist crumbs, it's done. If there's still batter on the toothpick, let it bake a little longer.

Remove from the oven. Turn the cake out onto a cake plate. Carefully remove the tin foil from the sides of the cake. Cut and serve!
Notes
This recipe was from The Unofficial Mad Men Cookbook.
(Nutrition facts are an estimate and not guaranteed to be accurate. Please see a registered dietitian for special diet advice.)
This post contains affiliate links. Cookie Dough and Oven Mitt is a participant in the Amazon Services LLC Associates Program, an affiliate advertising program designed to provide a means for sites to earn advertising fees by advertising and linking to Amazon.com