Candy apples are such a fun treat to make for Halloween. They have a fresh, juicy apple center with a crunchy candy coating outside! Try my red candy apples with a nice cinnamon flavor in every single bite. If you grew up eating cinnamon candy apples, this apple recipe will be exactly what you are looking for.
Candy apples are something we make every single fall. I wanted a cinnamon twist on these apples, and boy were they delicious. The sweet sugary coating paired with the crisp apple just works perfectly together. Give these homemade candy apples a try!
Candy Apples
Now, these are not just a Halloween candy apple, they can be made and served any time of year. They do make a fun Halloween dessert as well, if you are looking for something easy.
Want More Halloween Recipes
What Are The Best Apples for Red Candy Apples
I love using Granny Smith Apples! They are tart and crisp so when you bite into the sweet sugary coating paired next to the tart, it just works well together.
You can also use a Honeycrisp for a sweeter take or even a Jonagold.
How Do You Get The Wax Off Apples For Candy Apples
Add 1 to 2 tablespoons of baking soda to water that's steaming hot. Stir and let the baking soda dissolve before adding the apples.
You will want to soak your apples in really hot water for around 10 minutes. This is going to remove the waxy outside so the candy coating sticks to the apples nicely.
Homemade Candy Apple Ingredients
Apples
Sugar
Water
Corn Syrup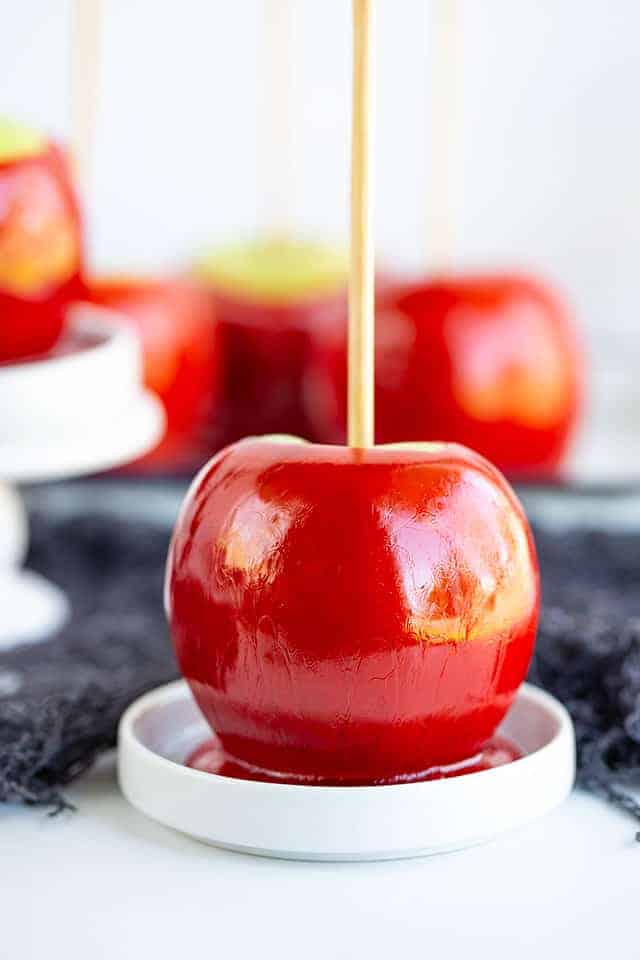 How To Make Candy Apples
First, you start out by soaking your apples to remove the waxy outside. Now place sticks into the center of each apple and place them on parchment paper or wax paper.
Then in a large saucepan, bring your sugar, water, and corn syrup up to a boil. Use a candy thermometer and let it come up to 300 degrees F.
Once it is up to temperature, you will dip each apple. Then place each apple on the parchment paper and allow it to set up fully before serving. Be careful this mix is super hot and can be messy.
How To Make Colored Candy Apples
For a milky colored candy apple, simply use 1 - 3 drops of white gel food color plus colored gel food color. The gel food color will start lighter and the more drops you add the deeper the color will be.
You can use any color of food coloring you want to fit the theme you are going for. I've seen black, pastel colors, and even glitter candy apples, but that has more to do with just rolling the candy apples in an edible glitter about 10 seconds after dipping in the sugar coating.
Why do I have bubbles in my candied apples?
If you get the dreaded warty candy apples, it's okay. They add to the creepy Halloween look. But I get it. If you're going for a smooth candied apple look, bubbles are the worst.
From what I can tell, bubbles can be caused by wax on your apples and from water sitting on your apple when you dip it in the hot sugar.
Tips to Prevent Bubbles
Soak your apples in extremely hot water with a little baking soda added to it. You can use a soft brush to scrub them but be gentle about it because you can get brown lines all over your apple if you're too rough.
Make sure the apples have had plenty of time to air dry after they've been soaked. Even if you dried them off with a paper towel, give them some extra time to air dry.
Make sure the apples are at room temperature. A cold apple can build condensation on the outside of the peel and cause bubbles.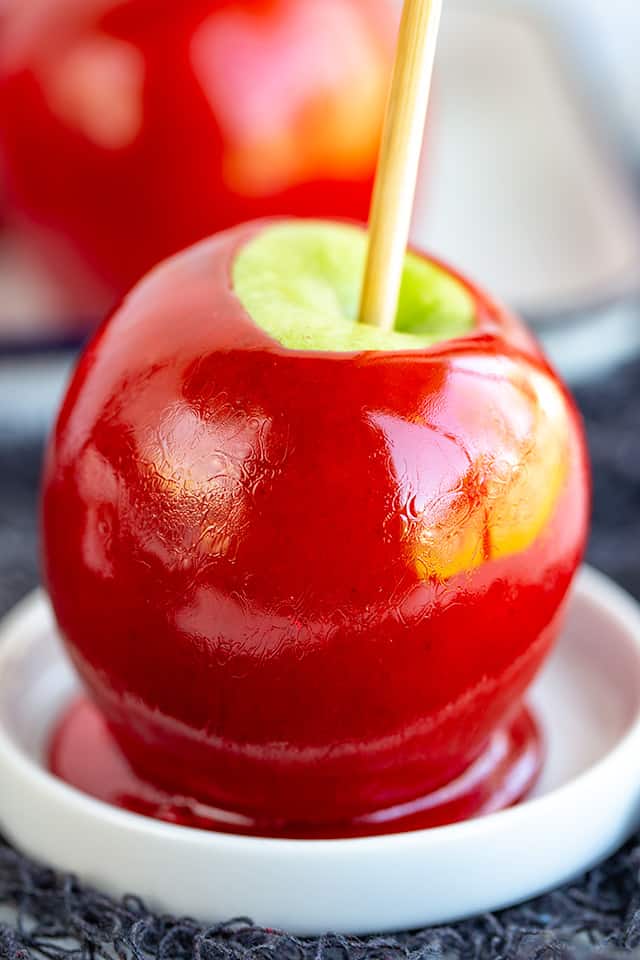 How to store Candy Apples
Store your apples in a cool, dry place. Humidity and heat can cause the apples to become sticky.
Storing candy apples in the fridge will allow the apples to last longer but can make them sticky once they're brought back up to room temperature.
Tools for Making Candy Apples:
Candy Apples
Candy apples are such a treat to make. They have a fresh, juicy apple center with a crunchy candy coating outside!
Ingredients
8

Granny Smith Apples

2 ½

cups

granulated sugar

¾

cup

water

½

cup

light corn syrup

½

teaspoon

red gel food color

or 1 teaspoon liquid red food color

1 - 3

drops cinnamon oil for candy

optional
Instructions
Remove the stem of the apples and wash and dry the apples thoroughly. I fully submerged the apples in really hot water for 10 minutes to remove the wave from the apples.

Stick a candy apple stick or lollipop stick in the top of the apple where the stem was and place on a piece of parchment paper located close to where you're making the sugar mixture.

In a large saucepan, add in the granulated sugar, water, and corn syrup.

Place over medium heat and stir until everything is combined. Let it boil and come up to 300 degrees F. I would highly recommend using a candy thermometer for this.

Remove the candy from the heat and stir in the red food color and cinnamon oil if you're using it. Cinnamon oil tends to be really strong so be very cautious when adding drops.

Quickly begin dipping the apples in the hot candy. Carefully tilt the pot on its side slightly and roll the apple in the mixture. Let it drip off for a few seconds and set on the parchment paper.

Let cool completely until the candy apples are fully hardened and then you can move them.
Nutrition
Calories:
396.83
kcal
Carbohydrates:
103.99
g
Protein:
0.47
g
Fat:
0.35
g
Saturated Fat:
0.05
g
Sodium:
16.83
mg
Potassium:
194.74
mg
Fiber:
4.37
g
Sugar:
97.65
g
Vitamin A:
98.28
IU
Vitamin C:
8.37
mg
Calcium:
13.69
mg
Iron:
0.25
mg
(Nutrition facts are an estimate and not guaranteed to be accurate. Please see a registered dietitian for special diet advice.)