This dense chocolate mocha layer cake with coffee frosting will excite any coffee lover or chocolate cake fanatic. It's the best of both worlds! The dense chocolate cake has strong coffee baked into it, a drizzle of coffee simple syrup to moisten it up, a healthy dose of coffee frosting and last but definitely not least chocolate ganache for the finish.
This post is sponsored by Gourmia. All thoughts and opinions are my own.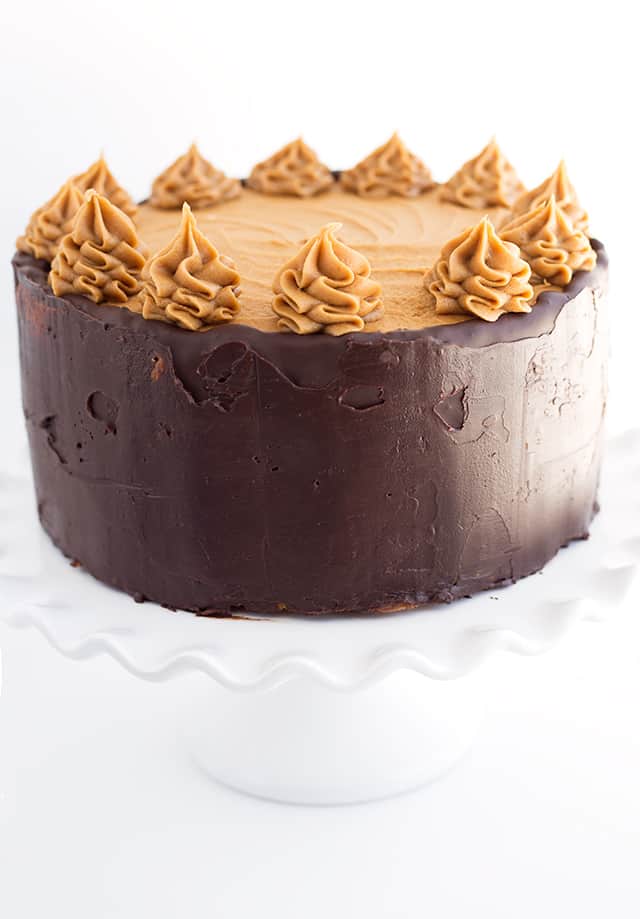 Normally I do a ganache drip on my cakes. It's sort of my thing, but I did such a terrible job with the coffee frosting last night that it just wasn't pretty enough or smooth enough to even be peeking through the ganache drizzles. I'm not really sure what happened.
If I had to guess I would say it was that I had worked all day testing recipes and I was ready to be done. I still had to cook dinner and sit down to finish up some work on the computer. That sort of sounds like a lame excuse, right? It's the truth though.
I'm pretty psyched about this post. For one, it has loads of coffee in it. For two, Gourmia sent me their multi capsule coffee machine to review. I can use k-cups and Nespresso pods in it! Soooo, I immediately hopped onto Amazon, my favorite place to buy goodies, and ordered up these nespresso pods. I also went to the store to grab some k-cups.
First thing, the coffee machine has a spot that can be pulled out. It's pictured on the lower right-hand corner in the picture above. You'll find your additional cartridge there. The cartridge panels are pictured on the lower left-hand corner. They are what tells the machine whether you're using k-cups or nespresso. I nearly had a melt down because I couldn't find the k-cup cartridge and cartridge panel. So I wanted to give you a heads up just in case you wanted to get your hands on one of these machines.
I love that the used pods/cups automatically drop down into that spot that can be pulled out. Give it a quick rinse and it's back to looking just like new again!
The cartridges are color coated and the LED screen will indicate which cartridge you have in. Check out the two middle photos that are pictured above to see what I mean. Also you'll see up and down arrows on both the left and right hand side of the LED screen. The left side controls the temperature of the coffee and the right controls the amount that goes into your coffee cup no matter which cartridge you have in.
I've tested this machine several times a day for the last week. It works like a charm for both coffee and espresso. I did have a problem when I first added water to the water reservoir. I had to take the reservoir out and jiggle it around a few times while on the machine to get the water to start brewing. I've filled it several times afterwards without any issues.
The coffee comes out at the perfect temperature. I had read some reviews saying it doesn't come out hot enough, but I haven't experienced that. It's plenty hot on my end.
The machine does make some noise. It's more than a regular coffee maker perking sound. It will make your guests ask what in the world is that sound. It doesn't bother me, but it's just something I thought you would like to know.
Lastly, you'll have to de-calcify just like with any coffee maker pretty regularly. Use any coffee maker tablets or solutions to do so.
Let's make a list of of Pros and Cons!
Pros
Uses both k-cups and nespresso
Adjustable temperature
Adjustable brewing amount
It's very slim
Has a milk frother that makes both warm and cold milk froth
Milk frother can be taken off easily and the platform folds into machine
Cons
Yep, you should totally buy this Gourmia multi capsule coffee machine and also make this chocolate mocha layer cake with coffee frosting.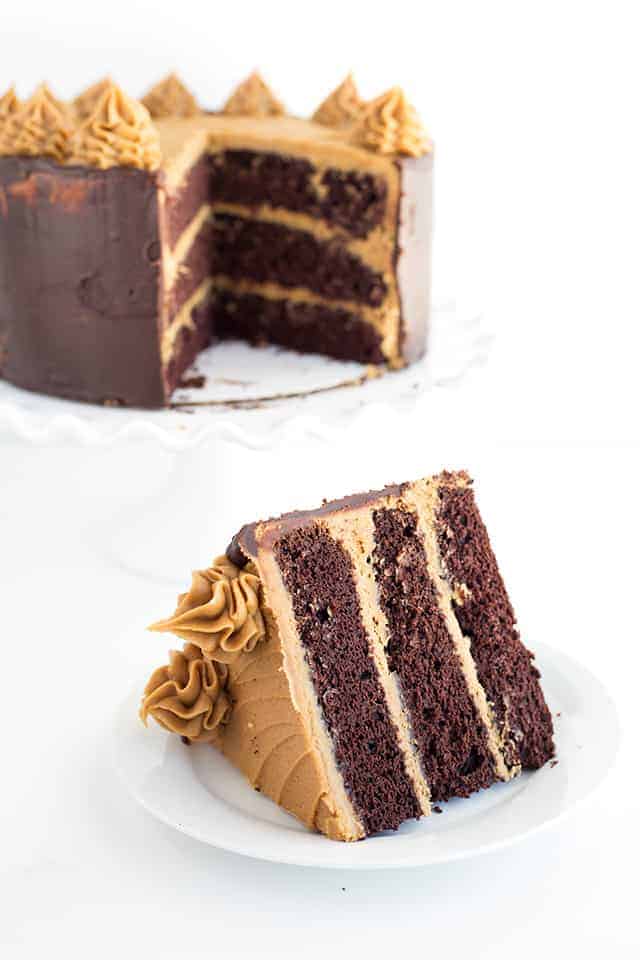 One of my favorite things about this cake is that it doesn't need to be mixed with a stand mixer or a hand mixer. It can easily be whisked together. I don't know why I feel that using a hand mixer is a lot of work or dirties more dishes. I guess maybe it's more about the hassle of dragging the mixer out and putting it away, not that I already do it 15 times a week anyway. Woohoo for one less time though!
Here's a fun fact. I almost threw this cake in the garbage the night I was frosting it with just the coffee frosting. I told my husband, "This is horrible. I'm so unhappy with it. I'm just going to throw it out and start over tomorrow." Wesley, being the calm and collected person he is, says to me, "Why would you do that? Babe, it looks fine."
We're opposites.
More coffee recipes
How to make a mocha layer cake with coffee frosting
Mocha Layer Cake with Coffee Frosting
This mocha layer cake with coffee frosting is tastes amazing! The chocolate cake has plenty of strong coffee baked into it, a coffee simple syrup drizzled into the baked cake, loads of coffee frosting and a delicious semi-sweet ganache finish!

Ingredients
Coffee Frosting
2

cup

butter

room temperature

6

tablespoons

instant coffee granules

6

teaspoons

water

6

cups

powdered sugar

5

tablespoons

milk
Ganache
1

cup

semi-sweet chocolate chips

½

cup

heavy cream

pinch of salt

coffee syrup

for brushing the cakes
Instructions
Prepare

coffee syrup

and let cool. You'll only need about quarter of the recipe.
Cake
Preheat oven to 350 degrees. Spray 3 8-inch round cake pans with nonstick cooking spray. Place a circle of parchment paper in the bottom of each pan.

In a medium microwave-safe bowl, add in the butter and the 1 cup of strong coffee. Microwave for 2 ½ minutes.

Add in the vegetable oil and cocoa powder and whisk until smooth.

Add in sour cream and vanilla. Continue to whisk until the sour cream in incorporated.

In a separate large bowl, add in cake flour, sugar, baking soda, baking powder, salt and espresso powder. Whisk until combined.

Pour the cocoa mixture in with the dry ingredients.

Add in the lightly beaten eggs. Whisk until most of the lumps are gone and the dry ingredients are incorporated.

Divide the batter into the 3 prepared cake pans. You can wrap the pans with Wilton's even baking strips to help make them level.

Bake for 24 - 26 minutes or until they're done. Place a toothpick in the center of the cake and if it comes out clean or with moist crumbs it's done. If there's batter on the toothpick, let the cakes bake a few minutes longer and test them again.

Let the cake cool in the pan for about 15 minutes and then turn out onto a cooling rack to finish cooling.
Frosting
In a large mixing bowl, add in the butter. Mix with the hand mixer until the butter is creamy.

In a small bowl, add the instant coffee granules and water. Mix until all the granules are dissolved.

Add the coffee mixture and powdered sugar in with the butter. Mix until it comes together.

Add in the milk and continue to mix for about 2 minutes. It will make the buttercream light and fluffy.
Ganache
In a microwave-safe bowl, add in the chocolate chips, heavy cream and salt. Stir to combine.

Microwave for 30 seconds. Stir. Repeat microwaving for 30 seconds and stirring until everything comes together and is smooth.

Place in the fridge for about an 30 minutes to an hour to cool down and thicken to a spreadable consistency.
Assemble
Trim the tops of the cakes if they have a dome so they are flat and level.

Drizzle 2 - 3 tablespoons of the coffee syrup on the first cake.

Add a generous layer of coffee frosting to the cake. Make sure to level the frosting out so there's a flat surface for the next layer.

Add the second cake. Repeat the drizzle of coffee syrup and coffee frosting.

Add the top layer of cake.

Drizzle the coffee syrup on top of the cake.

Add a thin layer of frosting all over the cake to fill in any grooves and catch all of the crumbs. This is the crumb coat. Let it sit and form a crust. This will take maybe 10 - 15 minutes.

Add a couple large scoops of frosting to the top of the cake. Using an offset spatula, flatten it and let the excess frosting start working its way down the sides of the cake.

Once the top of the cake is flat, work the frosting down the sides of the cake. Grab more frosting as needed. You can use a bench scraper or a large offset spatula to smooth the sides of the cake.

For a drizzle of ganache, add it into a sandwich bag or disposable piping bag. Cut a small hole and drizzle it down the sides of the cake. For a shell of ganache on the sides of the cake, place the warm ganache in the fridge for about 30 minutes or until it becomes a spreadable consistency. Spread it on the sides of the cake.

Place the remaining coffee frosting into a piping bag fitted with a 1M tip. Pipe swirls on the top of the cake.

Cut and serve. Store in a cool place or fridge.
Nutrition
Calories:
3462
kcal
Carbohydrates:
451
g
Protein:
25
g
Fat:
183
g
Saturated Fat:
112
g
Cholesterol:
533
mg
Sodium:
2216
mg
Potassium:
1216
mg
Fiber:
13
g
Sugar:
360
g
Vitamin A:
5030
IU
Vitamin C:
0.7
mg
Calcium:
276
mg
Iron:
8.5
mg
(Nutrition facts are an estimate and not guaranteed to be accurate. Please see a registered dietitian for special diet advice.)