These Bread Machine Hot Cross Buns are a sweet dough spiced with cinnamon and studded with dried cranberries or raisins. They're easy to whip up with or without the bread machine and perfect for your Easter celebrations!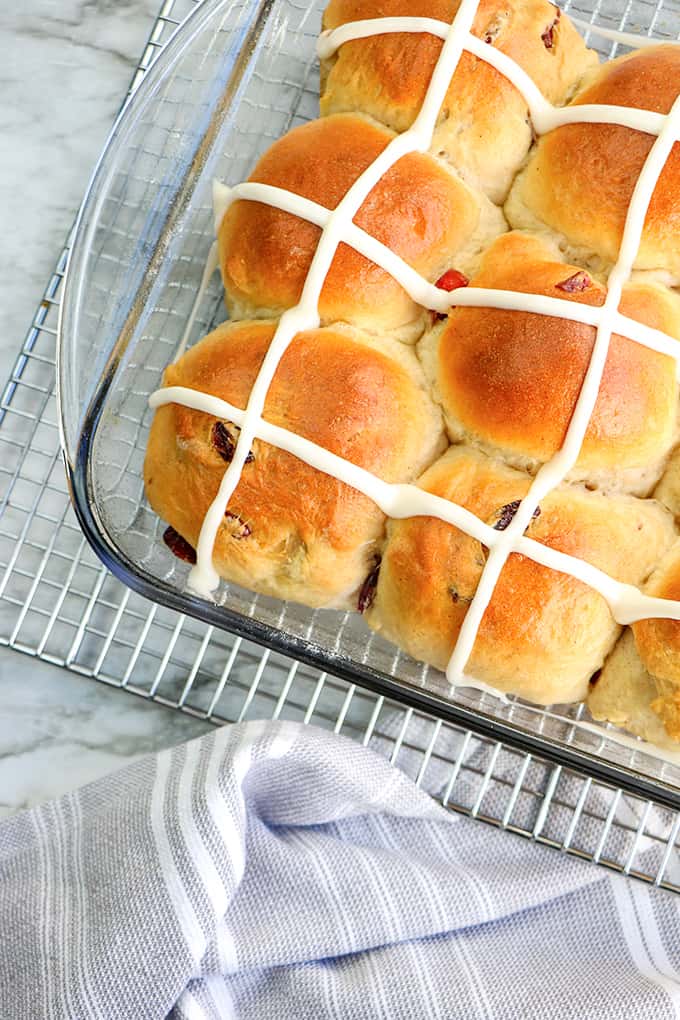 Making hot cross buns in your bread machine is one of the easiest and tastiest ways to make these delicious treats. The bread machine helps make the hot cross buns easier and ensures that the dough is perfectly mixed. If you are planning on making hot cross buns for Easter, or any other time of year, give this recipe a try! You're going to love this method.
Jump to:
What are Hot Cross Buns?
How cross buns are a spiced, sweet roll that usually has small pieces of fruit mixed into the dough. The buns are iced with two straight frosting lines going across the top of the buns. They are traditionally eaten on Good Friday as the icing cross on top looks like the church's cross symbol. Hot cross buns are light, fluffy and a wonderful sweet treat.
How to Make Hot Cross Buns in Bread Machine
Using a bread machine to make hot cross buns is a great way to make the dough faster, giving you less hand-on kitchen time. Essentially you will be making the dough in the bread machine. Making the icing and baking the buns will come in later on. The bread machine is going to help to mix, knead and rise the hot cross bun dough.
Start by adding the water, butter, powdered milk, sugar, eggs, cinnamon, flour, and dry yeast to the bowl of your bread machine. No need to mix- the machine will do that for you! Choose the "dough" cycle on your bread machine and press start. That is all you need to do to make your perfect hot cross bun dough!
Most bread machines will beep or make a sound when you can add in fruit or nuts to the dough. This is usually after the dough has been well mixed but before the rise cycle. This is when you can add the ¾ cup of dried fruit to the dough.
If your bread machine does not beep to indicate the time to add in ingredients, add the dried fruit after the bread machine has been mixing for about 15 minutes. The dough should be smooth and there should still be some mixing time left on the bread machine cycle.
Your bread machine will rise the dough and complete the cycle once the dough is fluffy. Take the hot cross bun dough out of the bread machine and divide it into 12 small pieces. Roll each piece into a circle and then place it in your prepared baking pan. Brush the buns with the egg wash and bake! Make the hot cross bun icing while the buns bake and pipe it on after the buns have cooled.
Can You Freeze Bread Machine Hot Cross Buns
After your hot cross buns have baked to golden perfection, you can choose to freeze them. Do not ice the buns if you plan to freeze them. The icing will not freeze or thaw well. Let the baked buns cool completely and then wrap them tightly in plastic wrap. Place the wrapped buns in an airtight container and freeze for up to three months. When you are ready to enjoy the hot cross buns, remove them from the freezer and unwrap them completely. Place them on a plate or try at room temperature and let them thaw for about an hour. Ice and then serve! The buns will taste delicious.
Can You Freeze Hot Cross Bun Dough?
You can freeze hot cross bun dough by making the dough completely and then baking the buns later on.
Make the dough in the bread machine as directed in our recipe. Go as far as to divide the dough, shape the dough and place it in the pan that you will bake the buns in later on. Once the shaped buns are in the baking pan, wrap the pan tightly in plastic wrap and place it in the freezer. Freeze the dough for up to a month.
When you are ready to bake your hot cross buns, remove the pan from the freezer and place it in the fridge overnight. Thawing the dough slowly is key. After about a day in the fridge, the rolls will be thawed and ready to bake! Follow the baking and icing directions as written in our bread machine hot cross bun recipe.
How Long Will This Hot Cross Buns Recipe Last
Hot cross buns are definitely best when they are baked and eaten fresh. They are the softest and most flavorful the day they are made. However, after baking, the hot cross buns will last for about 4-5 days if wrapped tightly. Keep them in the baking pan and wrap it well with plastic wrap. Or, move the baked hot cross buns to an airtight container and store at room temperature. Reheat the buns when you are ready to eat to freshen them up.
FAQ's
Here are a few frequently asked questions we often receive about this hot cross bun recipe. If you have any other questions before you bake, send us an email or leave a comment below and we will try to help!
Can you bake this into a Hot Cross Bun Loaf in the bread machine?
You can bake this recipe into a hot cross bun loaf. Rather than choosing the dough cycle on your bread machine, select the "sweet dough" setting. This will knead, rise and then also bake your hot cross bun dough. The end result will be a sweet, soft bread. I like to ice the whole top of the loaf to ensure every slice has frosting.
Do I need a bread machine to make these buns?
This recipe was made with the bread machine, but it can be made in a stand mixer and then transferred to an oiled bowl and loosely covered with plastic wrap. Place the dough in a warm place and let it rise until doubled. Continue the recipe as directed below in the recipe card.
What other spices can I add to this recipe?
If you want a hot cross bun with a little more spice, try adding a touch of nutmeg (about ⅛th of a teaspoon), a bit of allspice, or even a quarter teaspoon of ground ginger to the dough. Only add small quantities as spices are very powerful!
What can I serve with these buns?
Hot cross buns go with so many dishes. They are traditionally served at breakfast alone or paired with other breakfast foods. Here are a few ideas of what to serve alongside your hot cross buns:
scrambled eggs
Bacon
quiche
fruit salad
Ham and cheese omelette
Or , you can enjoy your hot cross buns as a dessert after your meal!
No matter how you choose to eat your hot cross buns, we know that this recipe is a winner. Making the dough is nice and easy thanks to the bread machine. You can have perfect little buns in no time, ready to serve this Easter!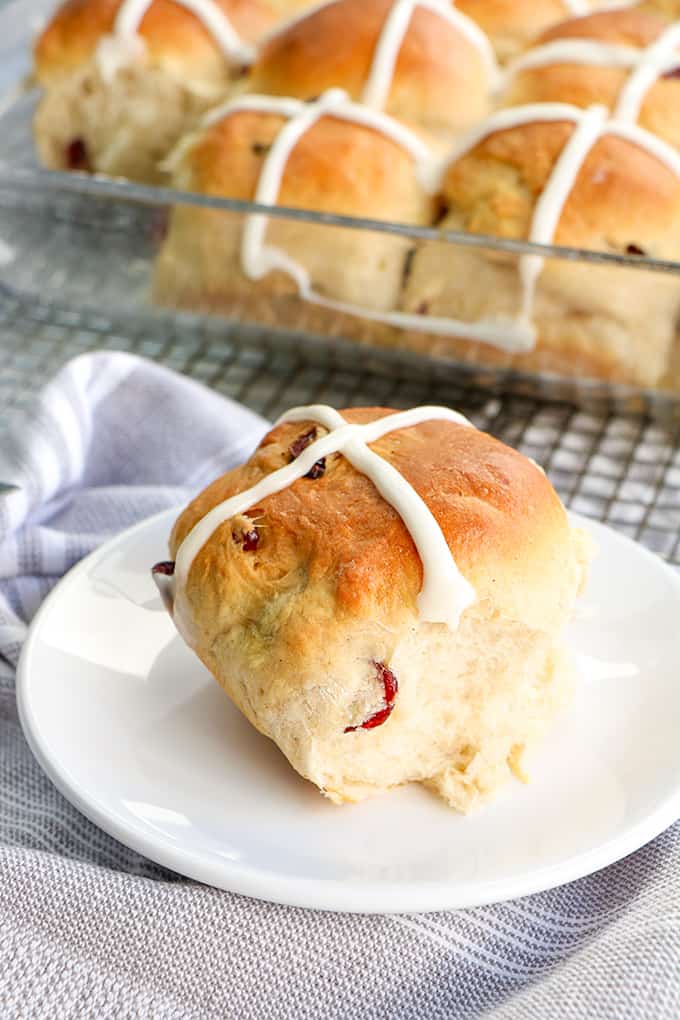 Get more Easter recipes to serve up
Bread Machine Hot Cross Buns
These Bread Machine Hot Cross Buns are a sweet dough spiced with cinnamon and studded with dried cranberries or raisins.
Ingredients
Buns
¾

cup

water

110 degrees

3

tablespoons

butter

1

tablespoon

instant powdered milk

¼

cup

granulated sugar

2

large eggs

divided

1

teaspoon

ground cinnamon

3

cups

all-purpose flour

1

tablespoon

active dry yeast or bread machine yeast

¾

cups

dried fruit like raisins

cranberries, or currants

1

tablespoon

water

for egg wash
Instructions
Buns
Preheat the oven to 375 degrees F. Grease a 9x13 baking dish with nonstick baking spray.

In the order listed, place these ingredients into the bread machine: water, butter, powdered milk, sugar, 1 whole egg, 1 egg white (set the yolk aside), cinnamon, flour, and yeast. Program using the dough cycle.

Add the dried fruit when prompted to add ingredients. If you don't have that setting, when the cycle is completed, turn the dough out onto a lightly floured surface and pat flat. Sprinkle with raisins and knead to combine.

Cover and allow to rest for ten minutes.

Divide the dough into twelve equal pieces. Form the dough into smooth balls and place them into the prepared baking dish.

Cover and allow to rise in a warm place for about one hour or until doubled in size.

Whisk together the remaining egg yolk and water for the egg wash. Brush evenly over the rolls.

Place the buns in the oven and cook for 20 to 25 minutes until the tops are golden brown. Remove from the oven and allow the buns to cool on a wire rack.
Glaze
Add the powdered sugar, vanilla, and milk to a large bowl and whisk until smooth.

Add the glaze to a piping bag or storage bag and cut a small hole in the corner.

Squeeze icing parallel and perpendicular over each row of rolls to create crosses.
Nutrition
Calories:
216
kcal
Carbohydrates:
41
g
Protein:
5
g
Fat:
4
g
Saturated Fat:
2
g
Trans Fat:
1
g
Cholesterol:
35
mg
Sodium:
42
mg
Potassium:
130
mg
Fiber:
2
g
Sugar:
9
g
Vitamin A:
135
IU
Vitamin C:
1
mg
Calcium:
21
mg
Iron:
2
mg
(Nutrition facts are an estimate and not guaranteed to be accurate. Please see a registered dietitian for special diet advice.)