Jazz up your usual meringue pie with this blueberry rhubarb meringue pie!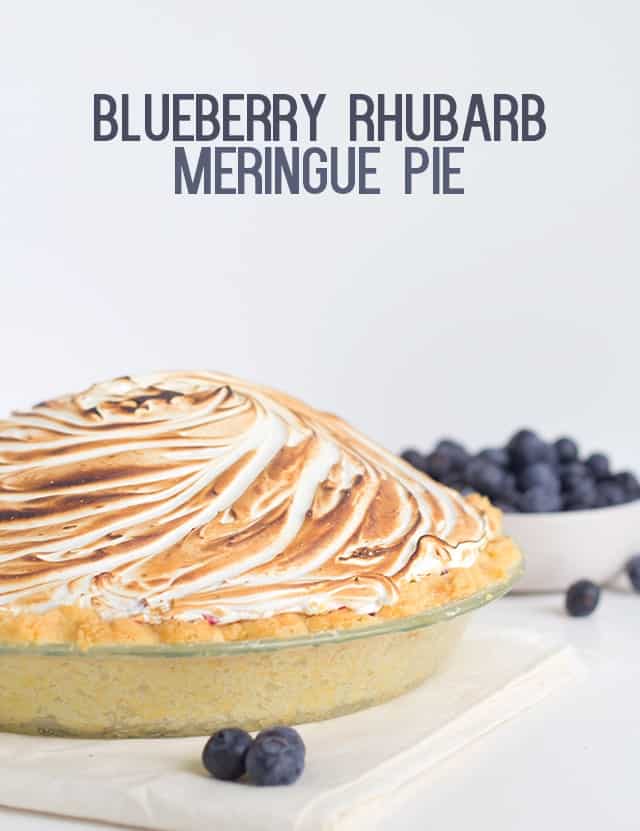 I know I said this once in the blueberry almond tart post, but I'm REALLY into blueberries this year. I made this this blueberry rhubarb meringue pie yesterday. It's always so exciting when I get to pull out my handy dandy torch to use on a recipe. I'm always so clumsy that I think my husband gets a twitch every time I break it out. I'm just mostly scared for my hair and eyebrows.
I made the blueberry rhubarb pie filling on the stove top. I added some fresh blueberries to the cooled filling to give it a fresh and slightly tart flavor. That soft meringue topping was perfect. It was soft, gooey and made me a happy lady. I cannot stand when a meringue is like styrofoam. I've had some of that kind of meringue at a local restaurant. I do not dig. I've also made meringues that have fallen flat. Also, do not dig.
When I cut this slice of pie, it didn't necessarily hold it's shape. Let the pie chill completely!! Don't be an anxious Annie like I am. This will happen if you don't chill long enough. I only placed this in the fridge for about 2 hours, but I recommend leaving it in there for at least 4 - 5 hours.
I have to admit that my rhubarb wasn't fresh, fresh. It was freezer fresh. I had picked it a week earlier then cleaned it, chopped it, measured it out and froze it. If I just let it sit there, it would have gone bad before I got my pie made. Those are the facts. I'm a procrastinator.
Blueberry Rhubarb Meringue Pie
Blueberry Rhubarb Meringue Pie is a combination of a pie crust, blueberry filling and topped with meringue.
Ingredients
Mom's Pie Crust
2

cups

all-purpose flour

¼

teaspoon

salt

1

cup

shortening

⅓

cup

milk

1

tablespoon

vinegar
Filling
1 ¾

cups

granulated sugar

¼

cup

cornstarch

2

cups

rhubarb

diced

4 ½

cups

fresh blueberries

divided
Meringue
4

egg whites

½

cup

granulated sugar

¼

cup

brown sugar

packed

½

teaspoon

cream of tartar

pinch of salt
Instructions
Crust
Preheat oven to 375 degrees.

In a bowl, add the milk and vinegar. Let it sit for about 5 minutes. Set aside.

In a mixing bowl, add in the flour and salt. Stir until combined.

Cut in the shortening until it's cut into small pea size pieces. You can use two forks to cut it in or a pastry cutter.

Add in the milk and vinegar mixture into the flour and stir until combined.

Flour a clean surface. Dump the pie crust onto the floured surface and roll it out. It can tear super easy. Use a spatula to release the crust from the surface. Pick it up and place it in an 8 inch pie pan. Cut off any excess crust.

Poke several holes in the bottom of your crust using a fork.

Place in the oven and bake for 12 - 15 minutes until golden brown.

Remove from the oven and let cool completely.
Filling
In a large pan, add in the sugar and cornstarch. Whisk to combine.

Add in the rhubarb and 3 cups of blueberries. Place over medium heat and let cook. Using a spatula or potato masher, mash down the blueberries. This will help release the juices and help the process.

Let the blueberries cook, stirring occasionally for about 20 minutes until the blueberries become a thick sauce. Run a spoon along the bottom of the pan. If you can get it across the bottom of a large saucepan before it starts filling back in, the filling is ready. Remove from the heat and let cool completely. You can place it in the fridge to hurry the process.

Stir in the extra 1 and ½ cups of blueberries into the cooled filling.

Pour the filling into the cooled crust.
Meringue
Place about 2 inches of water in a saucepan. Let it simmer and place a heat proof mixing bowl on top of the saucepan. Make sure the water isn't touching the bottom of the bowl.

Place the eggs whites and sugars into the mixing bowl. Whisk the whites and sugar until combined and foamy. Once the egg whites reach 140 °F, remove from the heat

Beat the egg whites until they form soft peaks. Add in the cream of tartar and pinch of salt.

Continue to beat the egg whites until they become glossy and forms stiff peaks.

Spread the meringue on top of the cooled pie. Make sure the meringue touches all sides of the crust. Form any designs in the meringue. I ran a knife in swirls on my meringue. You can also place the knife on the meringue and pull up and give the pie spikes.

Using a torch or the oven boiler, brown the top of the meringue. Watch it like a hawk, because it can burn very quickly.

Place in the fridge to chill for 4-5 hours to overnight. Cut and serve.
Notes
To store any leftover blueberry rhubarb meringue pie, place in an air tight container and keep at room temperature or in the refrigerator for up to 3 days.
Nutrition
Calories:
667
kcal
Carbohydrates:
104
g
Protein:
6
g
Fat:
27
g
Saturated Fat:
7
g
Polyunsaturated Fat:
7
g
Monounsaturated Fat:
11
g
Trans Fat:
3
g
Cholesterol:
1
mg
Sodium:
108
mg
Potassium:
266
mg
Fiber:
3
g
Sugar:
72
g
Vitamin A:
93
IU
Vitamin C:
11
mg
Calcium:
56
mg
Iron:
2
mg
(Nutrition facts are an estimate and not guaranteed to be accurate. Please see a registered dietitian for special diet advice.)
Because I also am all crazy about blueberries, I put together this cute little collection of recipes to share. Enjoy!
Check out Voilet Beauregarde Inspired Recipes: The Blueberry

by Miranda at Mode