Beach cupcakes are the perfect cupcake for a pool party, or a summer birthday party! This easy cupcakes recipe is made with a boxed cake mix.
You know you've made adorable cupcakes when your husband says, "those are some cute cupcakes that you made!" I love that I can respond with, "Yes, yes they are!" These beach cupcakes do use a french vanilla boxed cake mix instead of a homemade recipe. I wanted to go simple, but you can definitely use my fluffy yellow cake recipe. I also tested out a gadget called color cakes from Crayola. I found them at Walmart. Check out my post on how to make multi-colored cupcakes to see more about it.
How to Create Beach Cupcakes
So, I've partnered up with My Bakers Box again! They're sending me the boxes with everything that you will get in your subscription box and I'm making a few goodies with it. This month was a beach themed box which I loved! In the box were some sanding sugars, sugar dec-ons that you see above, cake pop mold that I used for the beach balls above, candy pebbles, cake pop sticks and a cute 2 piece bikini set cookie cutters. I have a recipe that I'm going to share next with the cookie cutters. Stay tuned!
The cupcake itself is a beach ball themed cupcake. It has red, yellow, blue and green in them. I went with a white cupcake liner in hopes that you could see the beautiful colors. This cake would be the perfect theme for a kids beach party.
I piped some caramel swiss meringue buttercream on top of the cupcakes and coated the tops of the cupcake and bottom of the frosting with graham cracker crumbs. That's my sand if you were wondering. Then topped each cupcake with a sea buddies sugar dec-on or beach ball cake pop.
Let's get to what you'll need to make these amazing beach cupcakes!
How to Make Beach Cupcakes
Beach Cupcakes
Beach cupcakes are the perfect cupcake for a pool party, or a summer birthday party! This easy cupcakes recipe is made with a boxed cake mix.
Ingredients
1

yellow boxed cake mix

2-3

drops of each gel paste color. red red

leaf green, lemon yellow and royal blue.

2-4

color cake dividers

2

cups

swiss meringue buttercream

¼

cup

caramel sauce

¼

cup

graham cracker crumbs

2-4

beach ball cake pops

6

sea buddy sugar dec-ons
Instructions
Preheat oven to the recommended temperature. Mine was 350 degrees. Line the cupcake pan with cupcake wrappers. Place the color cake dividers into the wrappers. If you don't have dividers, you can form a layered effect instead.

Prepare the cake according to the directions on the box.

Divide the cake into 4 equal amounts.

Add 2-3 drops of food color to each bowl of cake batter. Stir until combined.

Place the colored batter into sandwich bags. You want one color per a bag. Press out any air and seal shut.

Cut a very small whole in the corner of each bag. If you don't have or can't find the dividers that I'm using, layer the colors instead by piping in a swirl of cake batter until you don't see the color beneath.

Once the cupcakes are full, slowly pull out the dividers if you have them. Repeat with dividers.

I piped 11 multi-colored cupcakes and 1 cupcake of each solid color. The solid cupcakes are for the beach ball cake pops.

Set dividers aside and place in the oven and bake for recommended time. Mine took 14 - 15 minutes to bake.

Let cupcakes cool.

Prepare your swiss meringue buttercream. I made a whole batch and froze what I wasn't going to use. It will last in the freezer 2 months.

Add the caramel sauce to your buttercream. I used a store bought caramel ice cream topping sauce. Stir to combine. It make take a couple minutes for it to come together. It can look curdled at the beginning.

Add the buttercream in a piping bag with a 1M tip. Set aside the solid colored cupcakes. Pipe a nice tall swirl on all the multi-colored cupcakes.

Hold the graham cracker crumbs in your hand and roll the sides of the cupcake into the crumb. Sprinkle the crumbs on the frosting if you don't want to smash the piped frosting.

Tap off any excess crumbs. Set aside to prepare the beach balls.

Crumble each cupcake into a separate bowl. Add about 1 - 2 tablespoons of buttercream. I piped mine in from the remaining buttercream that was in the bag.

Mash each cupcake to combine the buttercream and cake. Keep mashing until a ball forms.

Press each color into a cake pop mold. If you don't have one, roll it in between your hands. Repeat with each color. Keep each cake pop the same size.

Chill the cake pops for about 15 minutes.

Remove from the fridge and cut each ball into 4 pieces.Add a wedge of each color together to form a ball. Gently roll it and press it together. You don't want to mix the colors.

Place each cake pop on top of a cupcake. If it's too big, cut it in half and press it slightly into the buttercream.

Top the rest with sea buddies sugar dec-ons and serve!
Nutrition
(Nutrition facts are an estimate and not guaranteed to be accurate. Please see a registered dietitian for special diet advice.)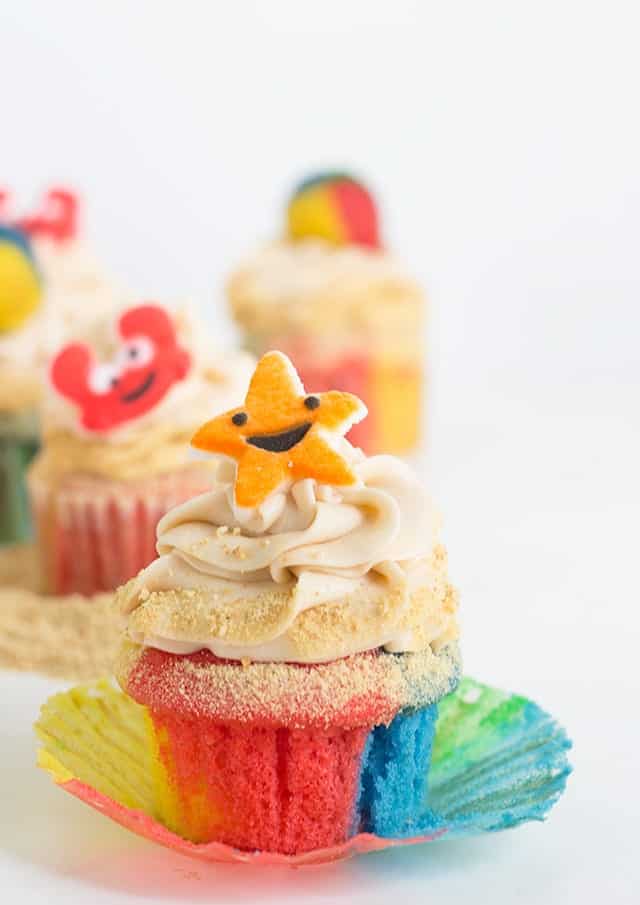 I was sent the My Bakers Box to create ideas and tips with. I was not compensated in any way. If you would like to join me in having some fun, head over and subscribe to next months box. We can make some incredibly fun recipes together!