First in my How to series is this how to make multi-colored cupcakes which happen to be beach ball inspired. I was browsing the aisles at Walmart like I always do, and came across a pretty neat cupcake gadget. I'm a sucker for baking gadgets and so I had to pick two of them up. They were about two dollars a piece and came in a 2 pack.
They're by Crayola and they're called color cakes. I found them in the baking aisle so keep your eyes peeled if you want them. I tried linking them through Amazon, but they apparently don't carry them yet. They do the job pretty well. They do wrinkle the papers a little when you put them inside the liners and hold a bit of the cupcake batter on the dividers themselves when you pull them out of the cupcake liner. I just filled them slightly extra to make up for the bit that sticks to the divider. I really think they're pretty fun though. They were perfect for my beach ball themed beach cupcakes.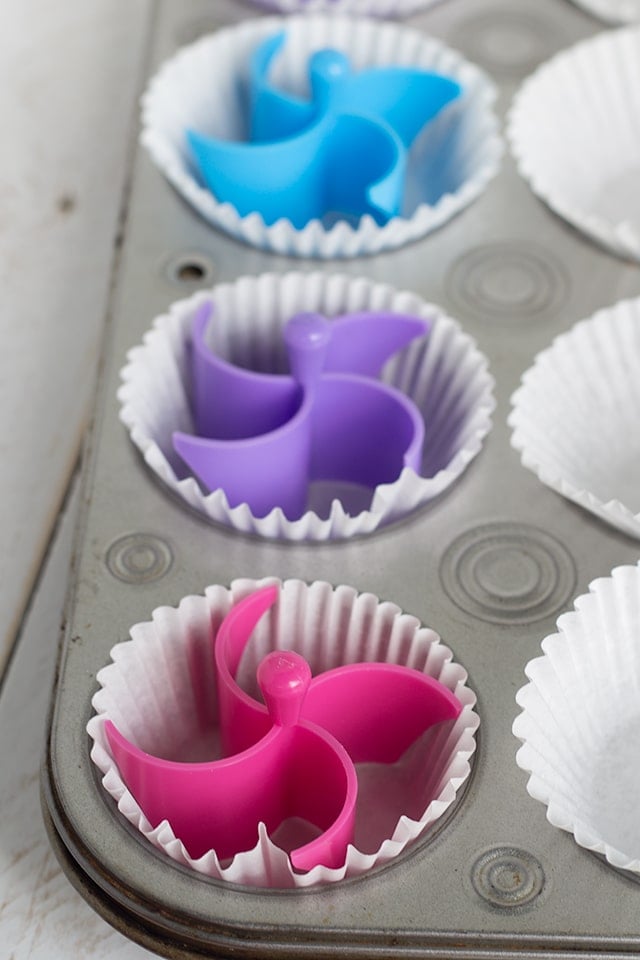 I used a boxed cake mix to try this out with. I got out my trusty gel paste color in red red, leaf green, lemon yellow, and royal blue. I'm sure regular food color will work, but it will be more of a pastel color rather than a vibrant color. After I divided my batter into four equal parts, I added a few drops of color to each of the bowls of batter. I then placed each colored cake batter into a sandwich bag and pushed out any air. Wait to cut tiny holes in the corners of the bags until you have the cupcake pans lined with cupcake wrappers and your color cake gadgets in place.
Once you cut a tiny hole in the bags, fill each slot with the batter. Try to put colors side-by-side that will go well together.
Slowly pull out the divider. By doing it slowly, you're less likely to mix your colors and pull all out batter up with the divider.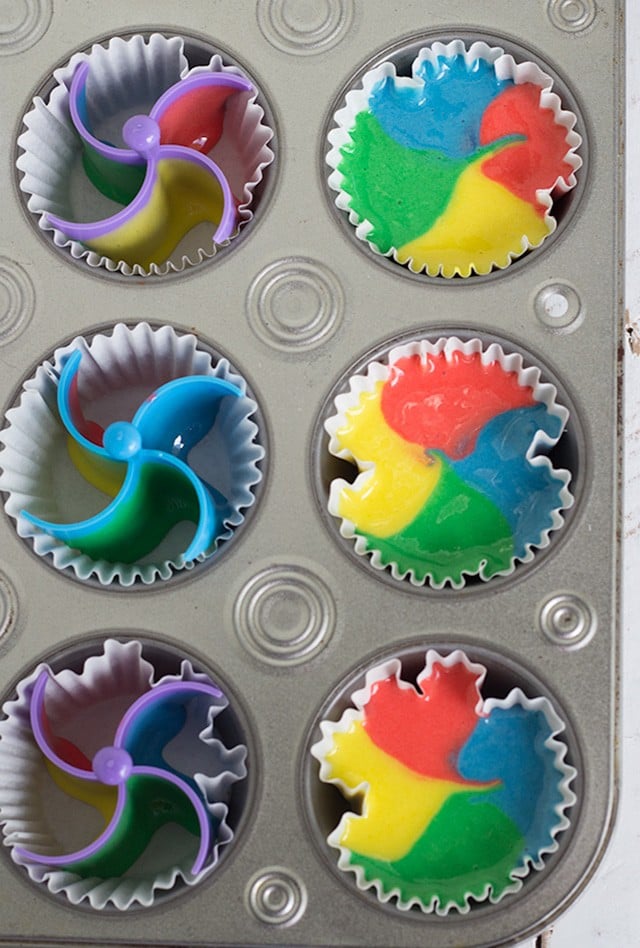 Notice how the cupcake liners have folds in them? Immediately place the dividers in the next liners and don't move them too much. The batter will be dripping from them and gathering at the bottoms of the wrappers. You can kind of see it in the picture above. Once you have them all filled, set the divider aside and make sure there's something there to catch the excess batter dropping from them. Messes are no fun! 🙁
Bake the cakes for the recommended time on the box mix or recipe you're using and voila! You have some pretty fancy multi-colored cupcakes! To see the finished cupcake, just out my beach cupcakes.