These Easy Baked Apples filled with warm spices, brown sugar, pecans, and much more are a fall favorite! They're baked to tender perfection and tastes great with a scoop of vanilla ice cream. Grab a spoon and enjoy.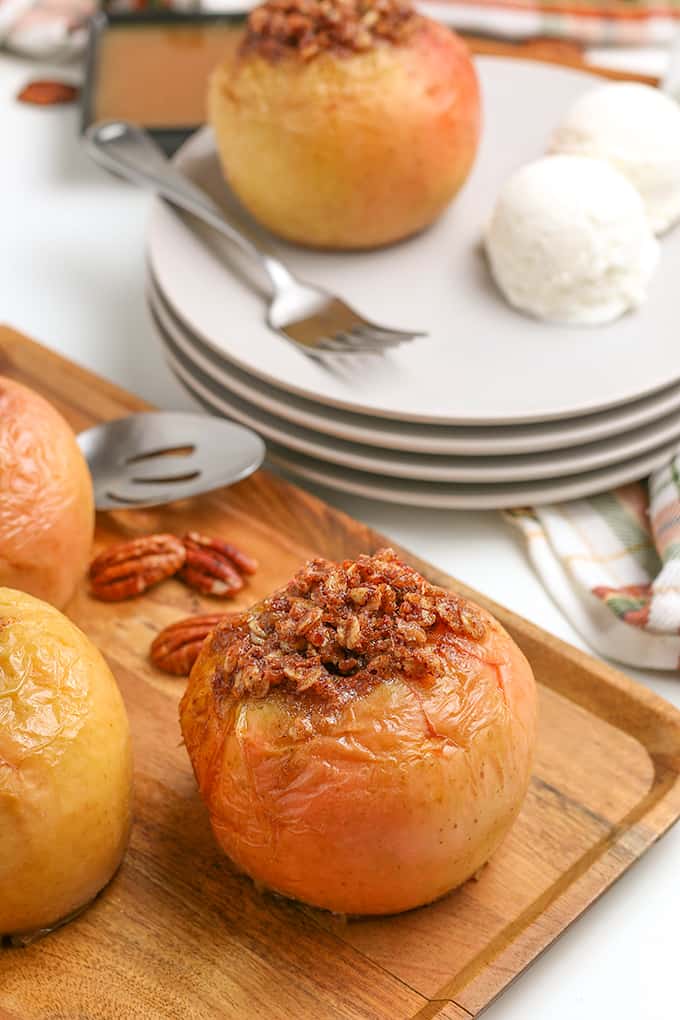 The weather is changing, the leaves are turning beautiful shades of red, orange, and yellow and I am ready for fall desserts. Fall might be my favorite season to bake. After a long, hot summer of avoiding the oven, it is exciting to finally be able to bake again! These warm, delicious apples are the perfect way to welcome the season and get back into my baking flow.
I want to tell you all about how to make easy baked apples. This recipe only takes a few minutes to put together but gives you a fantastic dessert. Baked apples are a great alternative to making a whole apple pie. They taste very similar to an apple crisp but, once again, they are even easier!
Need more fall desserts in your life?
What about these Pumpkin Hand Pies that are full of a sweet pumpkin filling and wrapped in a pie crust and then dipped in a glaze?
If you're not big on pumpkin desserts, try these Pecan Tassies instead. The cream cheese crust is tender and flaky. The pecan filling is gooey and similar to a pecan pie.
Jump to:
Baked Apple Ingredients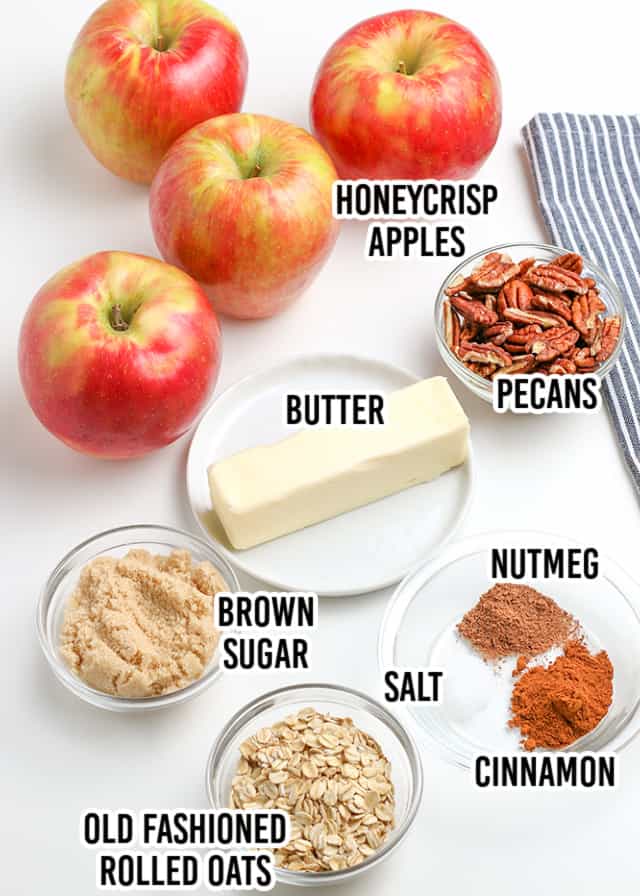 Think of this recipe as 4 individual servings of inside-out apple crisp. The crisp filling has the traditional crisp topping ingredients like oats, brown sugar, butter, cinnamon, nutmeg, and salt. I've added pecans, but you can use walnuts or even leave them out entirely if you want.
Lastly, you need 4 apples. I always use Honeycrisp, but I have some other suggestions down below. I'll list them.
Apples - I used Honeycrisp, but any baking apple will work great!
Oats - Old fashioned rolled oats hold their shape nicely, but quick cooking oats will do in a pinch.
Brown Sugar - Make sure you pack the brown sugar into the measuring cup. You can also substitute the light brown sugar for dark brown sugar.
Butter - I used unsalted butter, but salted butter works great too. You may not need the additional salt that's in this recipe if you're using salted butter.
Cinnamon & Nutmeg - These can be substituted with apple pie spice. You can also omit the nutmeg if you would prefer.
Salt - Salt is a nice addition and helps prevent the filling from being too sweet.
Pecans - Walnuts are a great substitute for the chopped pecans or you can leave them out entirely.
How to Make Baked Apples
My baked apple recipe starts with choosing the best apples. Apples that are firm and crispy are the best to bake with. I love using Honeycrisp apples because they have a wonderful sweet and sour taste. Honey crisp apples also hold up in the oven, keeping their shape and holding the filling well.
Once you have picked your perfect apples, use a sharp pairing knife to cut the core out of each apple, hollowing out the center but keeping the apple whole. You can also buy an apple corer which will easily remove the core from the apple. If you plan on making a lot of baked apples, an apple corer is essential!
Place the hollow apples in a baking pan.
Then, in a medium-sized bowl, mix together the oats, brown sugar, pecans, spices, and butter. Use your hands to blend the mix and really work the butter into the oats. Divide the oat mix between the apples, stuffing the hole in each apple as full as possible with the filling. You should be able to get about ¼ cup of filling into each apple.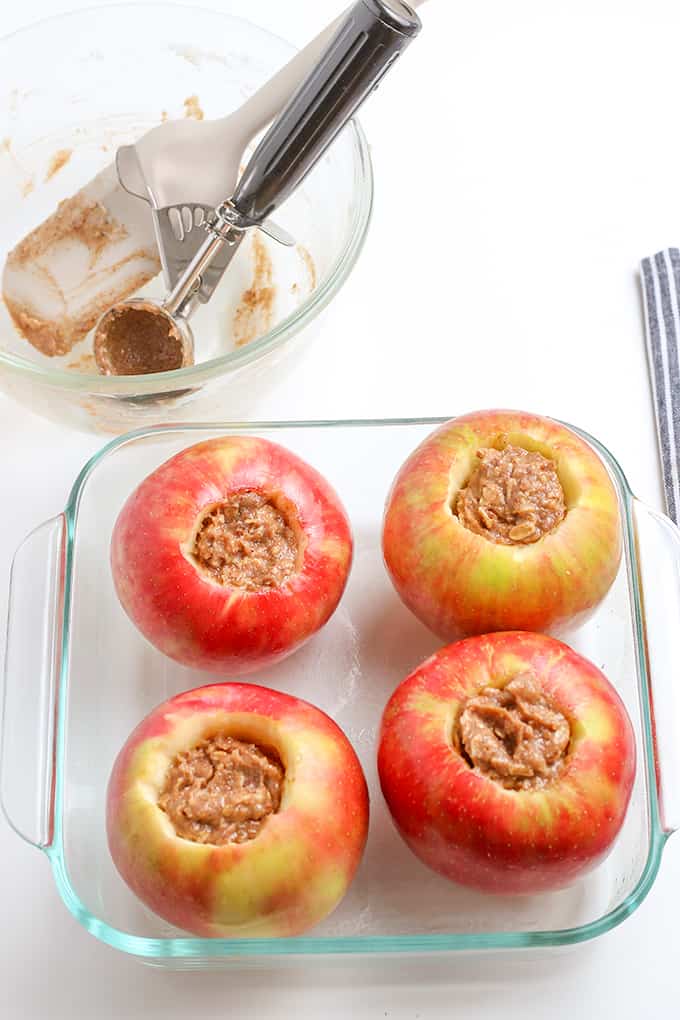 Cover the baking dish with foil and bake the apples in the preheated oven. The apples will be soft to the touch and the filling will be bubbling and golden brown.
Let the baked apples cool slightly before serving. They come out of the oven very hot! I know they smell amazing and it will be hard to wait a few minutes before diving in but you can do it!
Storage
After baking, the apples will keep in the fridge for about 4-5 days by placing them in an airtight container. Reheat the baked apples in the microwave for about 30 seconds before enjoying. They will get warm and soft quickly!
Tips and Serving Suggestions
After making these easy baked apples so many times (I really do make them every fall!), I have discovered a few tips and tricks to make them even easier. Read these before you start baking and I promise you will be happy you did!
Use an apple corer to cut out the center of each apple. Apple corers are cheap and easy to use. Well worth it!
You can easily make one or two apples rather than the full recipe of 4. One tablespoon of oats, brown sugar, and pecans mixed with a pinch of each spice and 2 tablespoon of butter will stuff one apple.
If you want to quickly make one apple, place the stuffed apple in a microwave safe bowl. Microwave the apple for 3-4 minutes, let cool and then enjoy.
I keep the peel on my apples because I think it helps them hold their shape. You can peel the apples before you remove the core and stuff them but they may easily fall apart in the oven. They will still taste great though!
Add a few raisins, dried cranberries or even chocolate chips to the oat mix. Get creative! There are a lot of ways you can make the filing for these apples.
Frequently Asked Questions
Before you start baking, read over these frequently asked questions. They may clear up any other questions you may have about making baked apples. If you still have questions, leave them in the comments below and I'll answer as soon as I can!
What apple is best for baked apples?
When choosing apples for baking, you want a hard, crisp apple that will hold its shape. Honeycrisp, Red Delicious, Jonagold, Pink Lady, Winesap, Granny Smith, and Braeburn are all fantastic for baking.

Are They Soft & Mushy?
These delicious baked apples are very soft and mushy after baking. You will easily be able to eat them with a spoon. They will be even softer and mushier if you peel the apples before baking.
Can I use apple pie spice instead of cinnamon and nutmeg?
You definitely can use apple pie spice! Use 1 ½ teaspoons of apple pie spice to replace the cinnamon and nutmeg.
Find any good tips? Or did you think of any tips on your own that you want to share? Leave any ideas you may have in the comments below. I'm always excited to make baked apples in a whole new way!
More Apple Desserts to try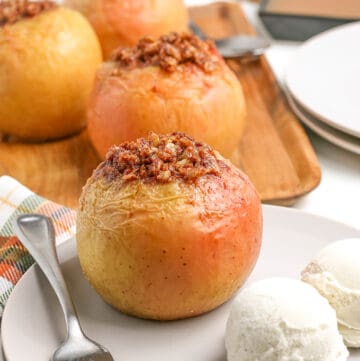 Baked Apples
These Easy Baked Apples filled with warm spices, brown sugar, pecans, and much more are baked to tender perfection and tastes great with a scoop of vanilla ice cream.
Ingredients
4

apples

honeycrisp or your favorite apple

¼

cup

old fashioned rolled oats

¼

cup

brown sugar

packed

¼

cup

chopped pecans or walnuts

1

teaspoon

ground cinnamon

½

teaspoon

ground nutmeg

⅛

teaspoon

salt

½

cup

butter

room temperature
Instructions
Preheat oven to 375 degrees F. Lightly spray a 9 inch square baking dish with nonstick baking spray.

Add the oats, brown sugar, nuts, cinnamon, nutmeg and salt into a medium bowl. Stir until well combined.

Add butter and mix and work into the oat mixture until the mixture becomes crumbly.

Using a paring knife or apple corer, core the centers out of apples, making enough space for filling, about 1 inch wide.

Scoop out any seeds with a spoon or small melon baller.

Divide the oat mixture evenly and fill the cored apples.

Place the apples in the prepared baking dish and cover the dish with foil.

Place in the preheated oven and bake for 25 minutes, remove foil and continue baking for an additional 15-20 minutes or until the apples are tender and the filling is browned and bubbly.

Serve warm or room temperature, add ice cream if desired.
Notes
Depending on the size of your apples, you may need to double the filling
Nutrition
Calories:
419
kcal
Carbohydrates:
44
g
Protein:
2
g
Fat:
29
g
Saturated Fat:
15
g
Polyunsaturated Fat:
3
g
Monounsaturated Fat:
9
g
Trans Fat:
1
g
Cholesterol:
61
mg
Sodium:
281
mg
Potassium:
269
mg
Fiber:
6
g
Sugar:
33
g
Vitamin A:
813
IU
Vitamin C:
8
mg
Calcium:
42
mg
Iron:
1
mg
(Nutrition facts are an estimate and not guaranteed to be accurate. Please see a registered dietitian for special diet advice.)