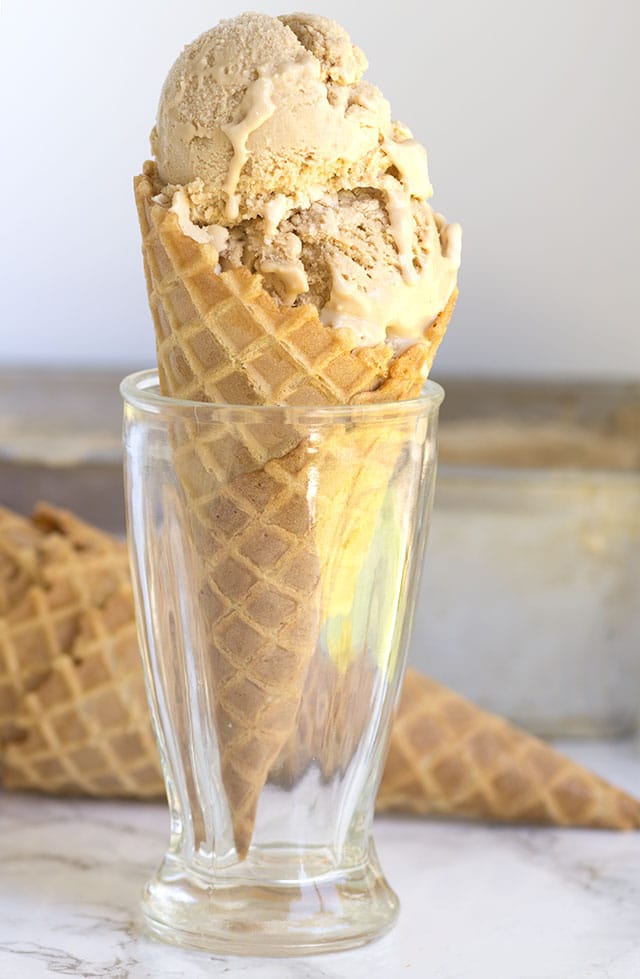 Okay, I love tea of any kind. I had this brilliant idea to infuse my tea into ice cream and make a sweet tea ice cream. Of course, you have to be a sweet tea lover to dig this unique ice cream, but c'mon! It's genius, right? Yeah, I thought so. I like that it doesn't take long to infuse the tea flavor and it gives the ice cream a gorgeous color. I'm all about pretty colors, if you haven't noticed.
I've had a killer busy week already, but this is my other recipe that I have made for ice cream week. My first recipe was the peanut butter lovers ice cream loaded with peanut butter, hot fudge, and bits of Reese's Pieces. Peanut butter happens to be my all time favorite ingredient. It's heaven. Tea is up there pretty high up there on the list, but peanut butter wears the crown.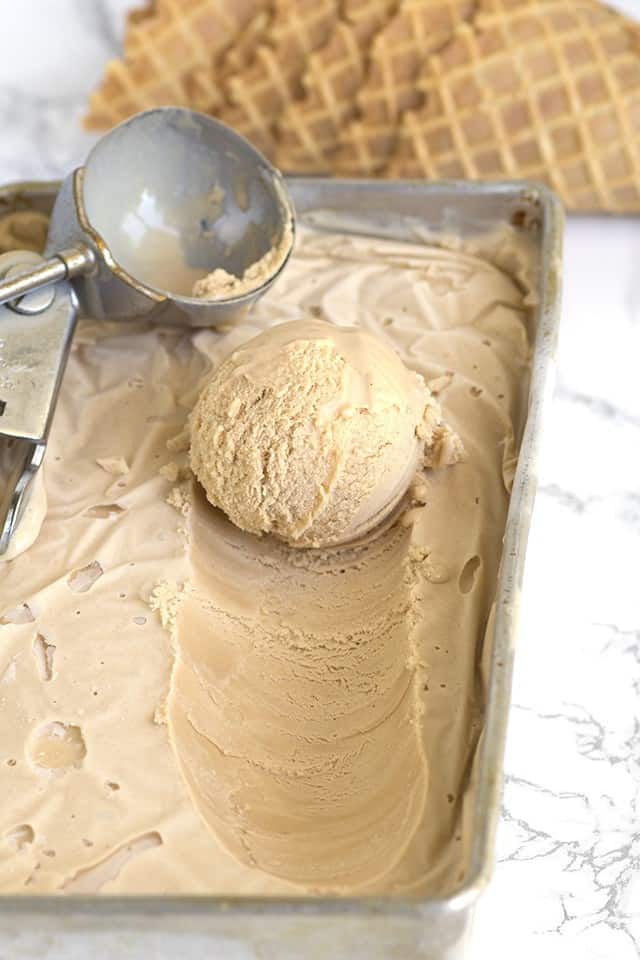 I was going to use loose leaf tea, but I had tea bags already in my cupboard. I figured that would be a little less messy anyway and I don't have to worry about straining out the bits of tea. You're probably more likely to have tea bags too! I'll leave the loose leaf tea to the Thai tea ice cream I want to make in the near future! It will definitely happen before summer is over.
Anyway, I'm adding the giveaway widget to the bottom of this post. It's the same one that was in the Monday's post. You should enter it and take a chance on winning some killer ice cream goodies. There's a Cuisinart ice cream maker, Rodelle vanilla pack, an ice cream book, ice cream containers and scoop and yeah. You can win and make this sweet tea ice cream and tell me how delish it is.
I get so giddy when I feel like I've thought of a recipe that's new and different. It's hard to do these days with all the amazing food bloggers out there. If there are more sweet tea ice cream recipes out there, I haven't come across them in my daily blog work. Do you like recipes like this? Let me know down in the comments!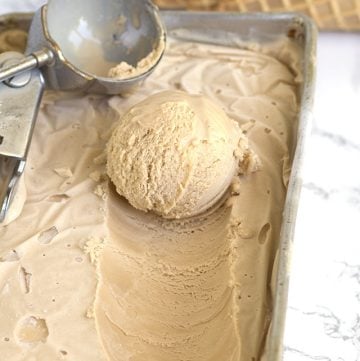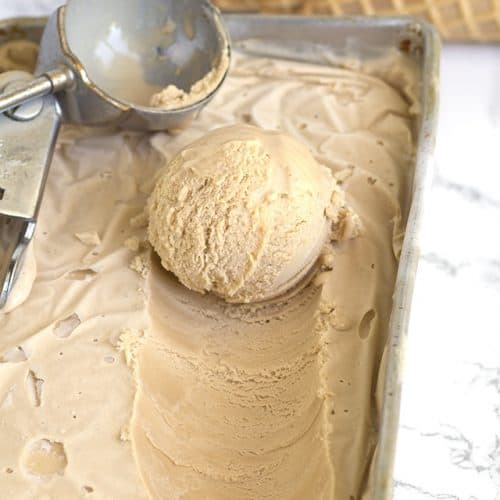 Sweet Tea Ice Cream
Ingredients
3

cups

heavy cream

1

cup

milk

1 ¼

cups

granulated sugar

6

tea bags

5

large

egg yolks

3

tsp.

vanilla extract
Instructions
In a medium mixing bowl, add in the egg yolks and whisk to combine. Set aside. Save the egg whites for another recipe.

In a medium saucepan, add in the heavy cream, milk, sugar and tea bags. Place over medium heat and let come up to a simmer. Let simmer for 3 minutes. Stir occasionally.

Remove tea bags from the cream mixture. Give it a squeeze to get all the cream and flavor out of the tea bag first.

Add about ½ cup of the hot cream into the egg yolks and whisk constantly until incorporated.

Add about another ½ cup of the hot cream into the egg yolks and whisk constantly until incorporated. This is tempering the egg yolks so they don't cook in the hot cream.

Pour the yolk mixture into the saucepan with the remaining cream mixture and whisk. Let it heat back up and thicken. Once it is thick enough to cover the back of a wooden spoon, it's done. It took about 4 minutes for me

Strain the mixture with a fine mesh strainer. Stir the vanilla extract into the ice cream.

Place the hot mixture into a bowl, cover with plastic wrap and let it chill overnight.

Place mixture in the ice cream maker for the recommended time required by your ice cream maker. Mine recommends no longer than 20 minutes.

Pour the ice cream into a freezer-safe bowl or loaf pan. Cover with plastic wrap and place into the freezer for 2 hours or until frozen.
Nutrition
Calories:
973
kcal
Carbohydrates:
71
g
Protein:
8
g
Fat:
73
g
Saturated Fat:
44
g
Cholesterol:
481
mg
Sodium:
105
mg
Potassium:
237
mg
Sugar:
66
g
Vitamin A:
3030
IU
Vitamin C:
1.1
mg
Calcium:
212
mg
Iron:
0.6
mg
(Nutrition facts are an estimate and not guaranteed to be accurate. Please see a registered dietitian for special diet advice.)

More amazing ice cream recipes that are happening today!
Horchata Ice Cream with Dulce de Lecha Swirl via A Cookie Named Desire
Strawberry Peach Ice Cream via The Tip Toe Fairy
Sweet Tea Ice Cream via Cookie Dough and Oven Mitt
Blueberry Lemon Ice Cream via The Bitterside Of Sweet