This Sweet Tea Ice Cream is for all of the sweet tea lovers out there! It's a homemade ice cream that starts by whipping up the sweet tea custard with your favorite tea and then churning it in the ice cream maker! It won't be ready on the same day, but it's worth the wait! The tea flavor is strong, sweet, and oh so creamy.
Okay, I love tea of any kind. I had this brilliant idea to infuse my tea into ice cream and make a sweet tea ice cream. Of course, you have to be a sweet tea lover to dig this unique ice cream, but c'mon! It's genius, right?
I've had a killer busy week already, but this is my second ice cream recipe this week. My first recipe was the peanut butter lovers ice cream loaded with peanut butter, hot fudge, and bits of Reese's Pieces. Peanut butter happens to be my all-time favorite ingredient. It's heaven. Tea is up there pretty high up there on the list, but peanut butter wears the crown.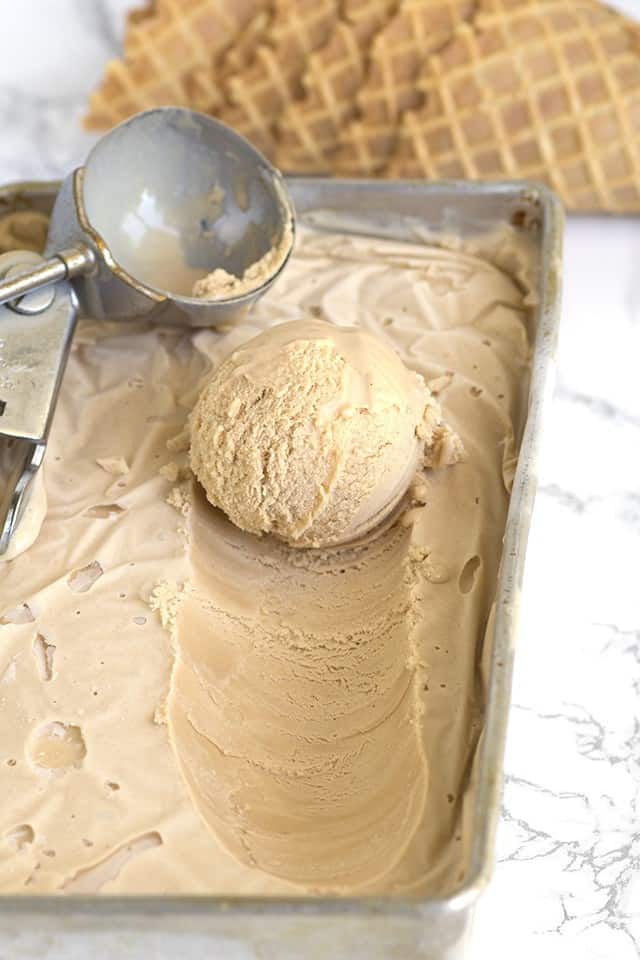 How To Make Sweet Tea Ice Cream
To make this sweet tea ice cream, first you'll need to separate the egg whites from the egg yolks. Set the egg whites aside for another recipe like these Hot Cocoa Meringue Cookies or this Swiss Meringue Buttercream Frosting. Give the yolks a quick whisk and set aside.
Next, it's time to infuse the tea in the custard mixture for the perfect sweet tea flavor. So you'll be adding the heavy cream, milk, sugar, and your favorite tea bags to a saucepan. Let the mixture simmer on medium heat for 3 minutes. Squeeze the tea bags to get all of the remaining tea flavor out of them and discard. If the tea bags are too hot to handle, you can use two spoons and gently press them together with the tea bag in between. Don't go crazy because you'll blow the little bag open and have tea bits all over.
Now you'll want to temper your egg yolks by adding a small amount of the hot liquid into the yolks and immediately begin whisking until it's incorporated. I used about ½ cup of hot mixture, I would recommend that amount or maybe even a little less. Add another ½ cup of hot mixture to the yolk mixture and immediately whisk until combined.
Now add the bowl of yolk mixture into the remaining hot sweet tea custard and whisk until incorporated. Place over the heat again and let simmer until it's thickened and coats the back of a wooden spoon. You should be able to run your finger down the back of the spoon after it has been dipped in the thickened custard and leave a strip from your finger. Don't let the mixture boil while it's thickening up.
I like to strain my ice cream custard to get out any bits of cooked yolks that didn't get whisked in fast enough before it cooked. Strain it with a fine mesh strainer into a shallow container. Stir in the vanilla extract.
Cover the container with plastic wrap and place it in the refrigerator until it's completely chilled, overnight is ideal.
Now it's time to get your ice cream maker out. I love my little cuisinart ice cream machine and can't recommend it enough. Pour the chilled custard into the frozen ice cream bowl and churn it for the recommended time. The Cuisinart says 20 minutes.
Pop the ice cream into an airtight freezer container or loaf pan and wrap it well with plastic wrap. Place in the freezer until frozen, at least 2 hours but probably more.
Storing Homemade Ice Cream
You'll want to store this ice cream in an airtight container or well-wrapped with plastic wrap and foil in a loaf pan. Homemade ice cream doesn't last nearly as long as store-bought because it doesn't have all of the preservatives. It will however last about 1 month in the freezer.
I did find these pint containers and these awesome reusable 1.5 quart ice cream containers on amazon and they're very well-reviewed.
Frequently Asked Questions
Can I use loose leaf tea?
Yes! I recommend either putting the loose leaf tea in a tea infuser or running the custard through a fine mesh strainer lined with cheesecloth to get the bits out. Either will work great.
Do I need an ice cream machine?
Yes! You'll need it to finish making this ice cream recipe. The Cuisinart ice cream machines are always at our consignment shops and thrift stores for cheap. I actually had 4 at one point until we moved to our new home last year. I sold one of them in a yard sale and now have 3!
Is my homemade ice cream freezer burnt?
Good question! Do you have small ice crystals on the top of your ice cream or throughout the ice cream? That's freezer burn. Your sweet tea ice cream will still be okay to eat but the taste may be slightly off.
More amazing ice cream recipes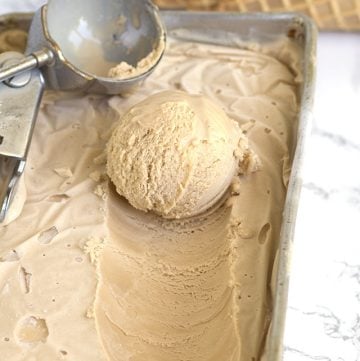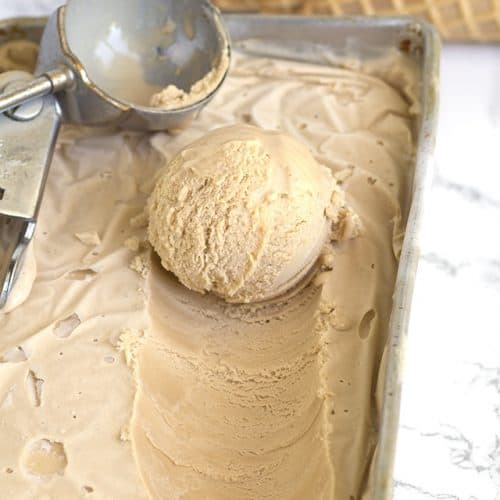 Sweet Tea Ice Cream
This easy homemade sweet tea ice cream is a must-try! The tea flavor is strong, sweet, and incredibly creamy!
Ingredients
3

cups

heavy cream

1

cup

milk

1 ¼

cups

granulated sugar

6

tea bags

5

large

egg yolks

3

tsp.

vanilla extract
Instructions
In a medium mixing bowl, add the egg yolks and whisk to combine. Set aside. Save the egg whites for another recipe.

In a medium saucepan, add the heavy cream, milk, sugar, and tea bags. Place over medium heat and let come up to a simmer. Let simmer for 3 minutes. Stir occasionally.

Remove tea bags from the cream mixture. Give it a squeeze to get all the cream and flavor out of the tea bag first.

Add about ½ cup of the hot cream into the egg yolks and whisk constantly until incorporated.

Add about another ½ cup of the hot cream into the egg yolks and whisk constantly until incorporated. This is tempering the egg yolks so they don't cook in the hot cream.

Pour the yolk mixture into the saucepan with the remaining cream mixture and whisk. Let it heat back up and thicken. Once it is thick enough to cover the back of a wooden spoon, it's done. It took about 4 minutes for me

Strain the mixture with a fine mesh strainer. Stir the vanilla extract into the ice cream.

Place the hot mixture into a bowl, cover with plastic wrap, and let it chill overnight.

Place the mixture in the ice cream maker for the recommended time required by your ice cream maker. Mine recommends no longer than 20 minutes.

Pour the ice cream into a freezer-safe bowl or loaf pan. Cover with plastic wrap and place into the freezer for 2 hours or until frozen.
Nutrition
Calories:
973
kcal
Carbohydrates:
71
g
Protein:
8
g
Fat:
73
g
Saturated Fat:
44
g
Cholesterol:
481
mg
Sodium:
105
mg
Potassium:
237
mg
Sugar:
66
g
Vitamin A:
3030
IU
Vitamin C:
1.1
mg
Calcium:
212
mg
Iron:
0.6
mg
(Nutrition facts are an estimate and not guaranteed to be accurate. Please see a registered dietitian for special diet advice.)