Another post with berries. What can I say? I love 'em!
I love strawberry shortcake. As a child, it's one of the desserts that we had every summer. I used to and still do love the syrup that is produced from adding sugar to the strawberries. That would quickly get soaked up into the biscuits or sponge cake and leave it tasting like heaven. I always wanted my shortcake to look more like a soup than a layered dessert. What can I say? Mama loves the syrupy juice.
I've never been fond of ice cream so I naturally gravitate towards desserts like these in the summer. Sometimes a slice of watermelon will even suffice. So I knew when I was invited to join Driscoll's contest by The Daily Meal, that I had to give it my best shot. I immediately started brainstorming ideas. I wanted to be original and build something that makes my taste buds go crazy. Then it hit me, with the help of my mama bear, strawberry banana. Yes, strawberry banana shortcake! What a perfect combination. I have a post coming up with the two once again combined. Once you get a girl started, she just can't stop.
I whipped together my banana bread recipe minus the rum for this recipe. The best way to have banana bread, in my opinion, is with butter all melted into it. So I buttered my slices and grilled them. It left beautiful grill marks and an amazing crunch to the exterior. Now this is a strawberry shortcake that I could eat every day, except I would quickly become a round little butterball.
You can always stick to one slice of banana bread and still make it look mouth watering. I couldn't get over how pretty this shortcake came out. I am thoroughly impressed with myself.
I made a delicious strawberry filling to lay my fresh strawberries on. It added a sweet addition to the shortcake and really complimented the slightly tart strawberries.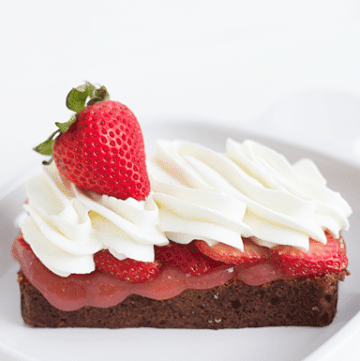 Strawberry Shortcake
Ingredients
Strawberry Filling
1

cup

strawberries

hulled and pureed

¾

cup

water

¾

cup

granulated sugar

3

T.

cornstarch

1

tsp.

vanilla extract

¼

cup

strawberries

thinly sliced
Whipped Cream
1

cup

heavy cream

½

cup

powdered sugar
Instructions
Banana Bread
Preheat oven to 350 degrees. Spray an 8 inch loaf pan with nonstick cooking spray. Line the bottom with parchment paper and spray that.

In a large mixing bowl, add in the butter and granulated and brown sugar. Mix on medium until combined.

Add in the brown bananas. Continue mixing on medium until the bananas are incorporated.

Add in the eggs one at a time and vanilla. Mix until combined.

Add in the flour and baking soda and mix on low until the flour is somewhat incorporated. Bump the mixer up to medium and mix until combined.

Place the batter in the 8 inch loaf pan.

Bake for 1 hour and 8-10 minutes. Place a toothpick in the middle of the loaf and if it comes out clean or with a few small crumbs on it, it's done. If there is still batter on the toothpick, give it a few more minutes and test it again.

Let cool in the pan for 10 minutes and then turn out onto a cooling rack to finish cooling.
Strawberry Filling
Puree the 1 cup of strawberries in a food processor. I used my bullet to puree mine. If you're worried there are chunks, strain the puree.

Place the puree with the water into a medium saucepan. Place over medium heat.

Place the sugar and cornstarch in a bowl. Mix until the cornstarch blends in with the sugar and there are no lumps.

Once the strawberry mixture comes to a boil, scoop about ½ cup into the sugar mixture and stir. If there are some small lumps, use the strainer and strain the mixture into the saucepan. Let the mixture come back up to a boil and stir constantly. Let it boil for about 5 minutes until the filling covers the back of a wooden spoon and becomes somewhat clear. Let cool.
Whipped Cream
In a cold mixing bowl, pour in the heavy cream. Using the whisk attachment, turn the mixer on medium.

When the cream begins to thicken and starts leaving the whisk strokes, add in the powdered sugar. Bump the mixer up to high and continue whisking until stiff peaks form. When you turn the whisk attachment upside down and the heavy cream still has a nice firm peak that hasn't fell, you're ready. Place in the fridge until ready to use.
Assembling
Slice the banana bread in about ½ inch slices. Spread a thin layer of butter on one side of the bread and grill on a grill pan over medium heat. It will take about 3 minutes to get the beautiful grill marks. Remove from the pan and let cool.

Spread the strawberry filling on the side of the banana bread without grill marks. I used a piping bag and cut a small hole to spread the filling on my shortcake.

Layer ¼ cup of strawberries on top of the filling.

Using another piping bag and a 1M tip, fill it with the chilled whipped cream. Pipe the whipped cream on top of the strawberries in a zigzag motion.

At this point, you can either add a fresh strawberry on the top and serve it or add another slice of banana bread that shows off the grill marks. Place a swirl of whipped cream in the corner of the top piece of banana bread and top with a strawberry.
Notes
The banana bread can make up to 5 or 6 shortcakes. If you want to make this many I would recommend doubling the recipe.
Nutrition
Calories:
2360
kcal
Carbohydrates:
308
g
Protein:
21
g
Fat:
119
g
Saturated Fat:
73
g
Cholesterol:
556
mg
Sodium:
1426
mg
Potassium:
731
mg
Fiber:
6
g
Sugar:
220
g
Vitamin A:
4230
IU
Vitamin C:
60.1
mg
Calcium:
178
mg
Iron:
6
mg
(Nutrition facts are an estimate and not guaranteed to be accurate. Please see a registered dietitian for special diet advice.)
Disclosure: I was provided with Driscoll's strawberries. As always, all opinions are my own.