Sweet and tart raspberry lemonade cupcakes.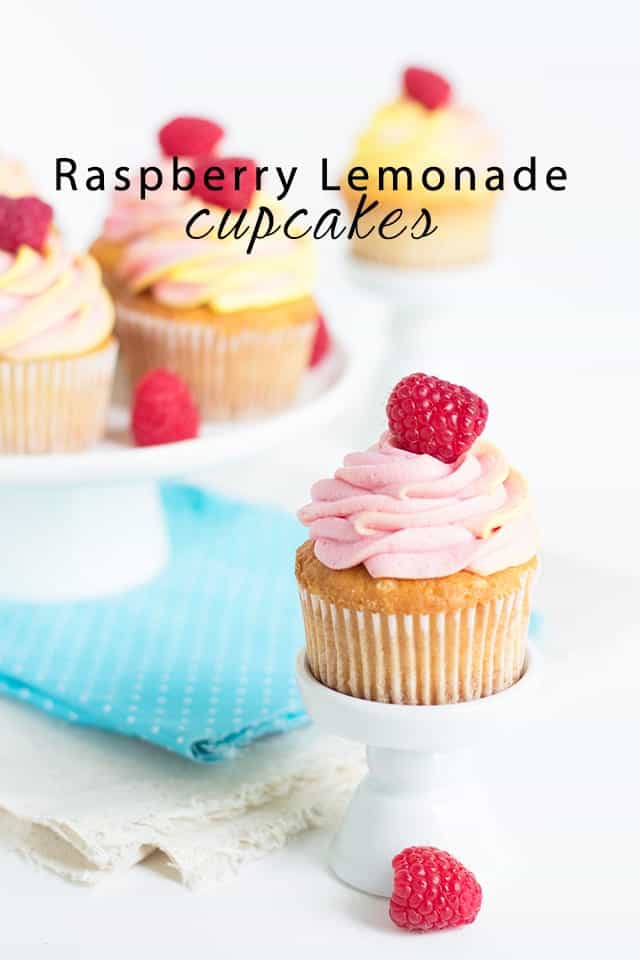 I love using any kind of fruit or berry in my baked goods, in case you haven't noticed. These cupcakes are so scrumptious. They are sweet and tart, lemony and packed full of raspberries. This cake is so spongy and best part is there is raspberry lemonade filling in the center of it. YUM. Also, I've adapted my fluffy yellow cake recipe for this post. Check out that amazing peanut butter and jam yellow cake. Do it. Please?
So, I'm entering these cupcakes into a #raspberrydessert contest with @Driscoll's. I don't know how you feel about my cupcakes in general, but I feel as if I make some show stopping cupcakes. Maybe it's just in my head, but I don't think so. I think these guys are the winning ticket. Of course, I can't see the future so I could be very wrong on being the winning ticket. I'll definitely let you know though!
These raspberry lemonade cupcakes kind of remind me of a strawberry shortcake, but with raspberries and with a dash of decadence to it. I used to eat shortcake all the time as a kid. My mom would be those sponge cakes which were good. Not nearly as delicious as this homemade lemon sponge cake, but good.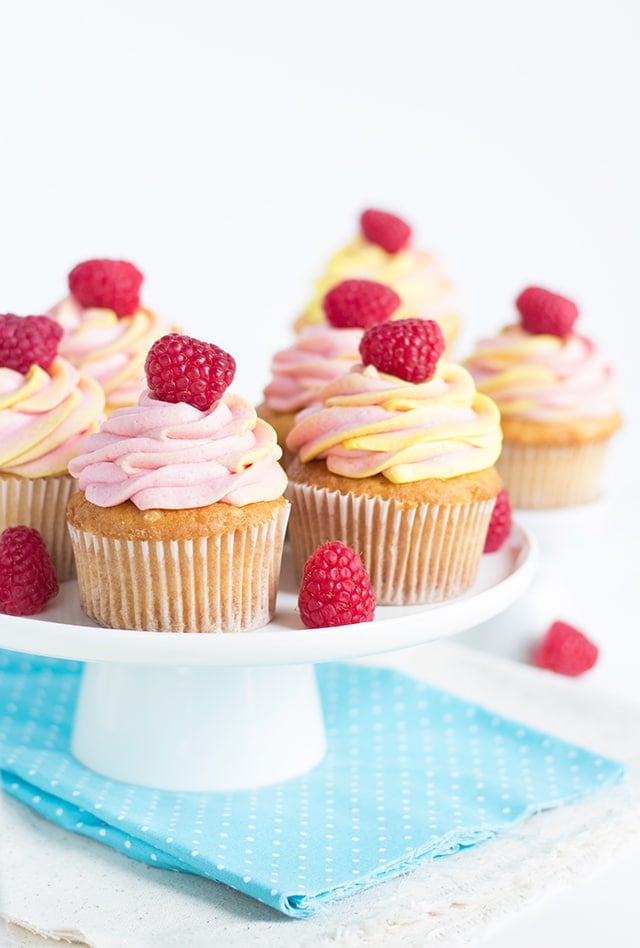 Let's also take a minute and look at how plump and beautiful these raspberries are. I kept popping them in my mouth. 🙁 I'm sad because my will power was obsolete. I'm lucky I got an excessive amount of them while I was at the store, because I could not stay out of them.
Raspberry Lemonade Cupcakes
Ingredients
Raspberry Puree
1 ¾

cups

fresh raspberries
Raspberry Lemonade Filling
¾

cups

granulated sugar

3

T.

cornstarch

⅓

cups

lemon juice

2 small lemons

1

cup

fresh raspberries
Raspberry Lemonade Frosting
1

cup

butter

5 ½

cups

powdered sugar

divided

5 - 6

T.

milk

¾

tsp.

lemon extract

1

drop of yellow gel paste food color

21

fresh raspberries for garnish
Instructions
Puree
Strain the raspberries with a fine mesh strainer into a small saucepan. Heat to medium and reduce the raspberry puree until thick. I cooked mine for 13 minutes.

Place in a small dish, cover with plastic wrap and chill. You want the puree to be completely cool to add it to the frosting. If you're in a hurry, pop it in the freezer for 30 minutes or until it's chilled. Check on it occasionally.
Raspberry Lemonade Filling
In a medium saucepan, add in the sugar and cornstarch. Whisk to incorporate the cornstarch into the sugar. This will help prevent lumps when heating.

Whisk in the lemon juice and the fresh raspberries. Mash the raspberries in the saucepan.

Bring to a boil over medium heat and let boil for 4 minutes until thick. The filling will become clear and deep red. You can strain the mixture to get rid of the seeds. I kept the seeds.

Place in a bowl and cover. Chill in the fridge.
Cake
Preheat oven to 350 degrees. Place cupcake papers in the cupcake pan.

In a mixing bowl, add in the butter, sugar and oil. Mix until light and fluffy. This will take about 2 minutes.

Add in the room temperature eggs one at a time and mix until combined. Once they are mixed in, turn the hand mixer to high and beat for another 3 minutes until the mixture becomes thick and very pale. This is crucial otherwise the cake will fall.

Measure out the milk, lemon extract and zest. Set aside.

Measure out the cake flour, baking powder and baking soda.

Add a third of the flour mixture into the egg mixture. Beat just until combined.

Add half of the milk and beat until just combined.

Repeat adding another third of the flour then the rest of the milk. Finish with the last bit of flour. The batter will be runny.

Scoop out the batter and place in the cupcake liners. Only fill about ⅔ full.

Place in the oven and bake for 17 minutes or until done. Place a toothpick in the center of the cupcakes and if it comes out clean or with moist crumbs it's done. If there's still batter, give it another minute or 2.

Remove from the oven and let cool.

Once completely cooled, cut out holes in the center of the cupcakes. Only go about three-quarter of the way down the cupcake for the holes.

Place the chilled raspberry lemonade filling in each of the cupcakes. Keep the filling flush with the cupcakes and not peaking out of the top.
Frosting
In a large mixing bowl, add in the butter, 4 and ¾ cups powdered sugar, and 5 tablespoons of milk. Mix on low until combined. If it's too thick, add the additional tablespoon of milk. Beat for 2 minutes until fluffy.

Remove ¼ cup of the frosting and place in a bowl. Flavor with lemon extract and color with a drop of yellow gel paste food color. Mix until combined. If you use regular food coloring, it may make your frosting extra runny. In that case, add a tablespoon of powdered sugar at a time until thickened up.

In the large bowl of frosting, add in the raspberry puree. Mix until combined. If it looks curdled and runny, it has too much liquid. Add the remaining ¾ cup of powdered sugar and whip an additional minute until fluffy.

Place a 1M piping tip in a large piping bag. Press the lemon flavored frosting down one side of the bag. Using a large skewer, push the frosting down to the tip. Add all the raspberry flavored frosting into the other side of the piping bag.

Pipe tall swirls on the cupcakes.

Place a fresh raspberry on each cupcake. Admire and serve.

Add in the chilled raspberry puree into the
Nutrition
Calories:
383
kcal
Carbohydrates:
62
g
Protein:
2
g
Fat:
14
g
Saturated Fat:
8
g
Cholesterol:
75
mg
Sodium:
167
mg
Potassium:
109
mg
Fiber:
1
g
Sugar:
53
g
Vitamin A:
475
IU
Vitamin C:
5.6
mg
Calcium:
42
mg
Iron:
0.4
mg
(Nutrition facts are an estimate and not guaranteed to be accurate. Please see a registered dietitian for special diet advice.)