These pumpkin cheesecake snickerdoodles are the best shortcut cookies.  They're perfect for any holiday cookie tray! They have a delicious pumpkin cheesecake filling inside them that adds a creamy, flavorful bite. The outside has a crunch from the cinnamon sugar coating. 

This post has been sponsored by Krusteaz. All thoughts and opinions are my own.
Pumpkin Cheesecake Snickerdoodles
I have the holidays on the brain, but at this time of the year, who doesn't? I'm thinking of the perfect holiday cookie trays and how to simplify them. I'll be honest, I've made so many cookies in the last 5 – 6 months for my cookie cookbook that simplifying for me is to add my twist on some of my favorite cookie mixes.
Seriously. Everyone is rushing this time of the year, it's acceptable to do that.
MY LATEST VIDEOS
In the middle, you can see the pumpkin cheesecake snickerdoodles. Off to the right side are salted caramel chocolate chips bars. I made those from Krusteaz triple chocolate chunk cookie mix and added bits of those caramel squares and sprinkled coarse grain kosher salt on top. On the left are some Krusteaz sugar cookies dipped in white chocolate and festive nonpareils. Lastly, I made the best darn peanut butter fudge a girl could ask for. Not really a cookie, but everyone loves to see a little fudge on the cookie tray. It's delicious and decadent.
I have a method to my madness on this perfect holiday cookie tray, I just forget what it was. I'm so kidding.
Pick out a pretty tray to hold your cookies on. Raised sides are always a plus to keep the cookies wrangled on your tray especially if you'll be moving them around.
Add a decadent treat. In my case, it was peanut butter fudge because I could eat that every. single. day. You can also go with rich, gooey chocolate cookies, thumbprints with a rich filling, something you would define as decadent or sinful.
Several different shaped and sized cookies/bars. It makes the tray more appealing. I would recommend colors too, but I didn't follow that rule.
Go for different textured cookies and bars as well. Some are soft, gooey. Others can be crunchy. Some can be creamy and crunchy like these pumpkin cheesecake snickerdoodles. *wink wink*
Let's get on with these big ol' snickerdoodles.
First, I should show you the inside of them.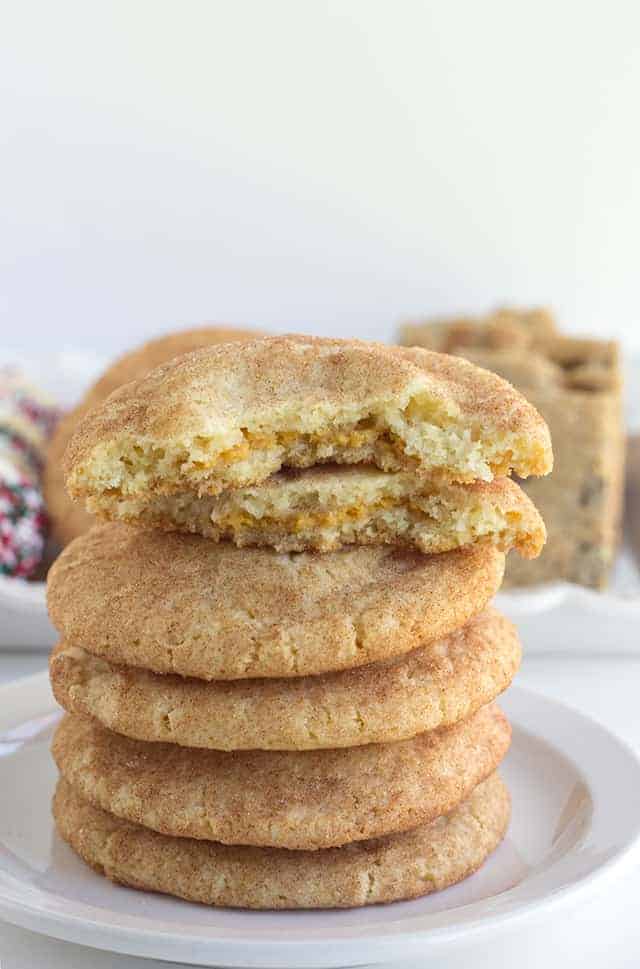 Gorgeous right? When the filling is made, it's going to be runny from the pumpkin. That's okay though. Make the filling first per the instructions at the bottom of the post and let that sit for a minute as you whip up the delicious (yet, so easy) Krusteaz Snickerdoodle cookie mix. First, empty out your box of Krusteaz Snickerdoodle cookie mix, add in the butter and egg, and stir until it comes together.
Be prepared to get a little arm workout. I was tempted to bust out the hand mixer, but the directions said stir and so I did. Then, using a cookie scoop, scoop the dough up and while it's still in the scoop, press a hole into the center of the cookie. Don't go all the way to the bottom of the scoop. Then, you'll want to place the pumpkin mixture. Place it into a piping bag or sandwich bag like I did. Pipe the filling into the hole without overfilling it and cover it up with the dough you pushed out while making the hole. Pretty simple stuff. If you're still a little confused, check out the video included in the post for step by step directions!
How to make Pumpkin Cheesecake Snickerdoodles
Pumpkin Cheesecake Snickerdoodles
These shortcut pumpkin cheesecake snickerdoodles have a crunchy shell from the cinnamon sugar and a creamy, flavorful pumpkin cheesecake center.
Servings
10
large cookies
Ingredients
Cookie
1

box

Krusteaz Snickerdoodle Cookie Mix

1/2

cup

(1 stick) butter, room temperature

1

egg
Instructions
Filling
In a large bowl, add in the cream cheese and pumpkin puree. Beat on medium with hand mixer until creamy. Scrape down the sides.

Add in the brown sugar and pumpkin pie spice and beat until incorporated. Scrape down the sides and beat in any bits that were on the sides.

Place the filling into a disposable piping bag or sandwich bag. The filling will be runny. Set aside.
Cookies
Preheat oven to 375 degrees. Line cookie sheet with parchment paper.

In a mixing bowl, add in the cookie mix, butter, and egg. Work the ingredients in by stirring until incorporated.

Scoop the dough into a 2 T. cookie scoop. While the dough is still in the scoop, place your finger into the center of the cookie dough and form a well.

Snip off a small hole into the end of the piping bag. Fill the hole three-quarters full.

Press the dough that was pushed up above the cookie scoop over top of the filling. Be sure to cover all of the cracks so the filling doesn't leak out.

Add the cinnamon sugar packet into a small bowl. Scoop the dough out into the bowl of cinnamon sugar and roll it around until covered.

Place the cookie dough ball onto the prepared cookie sheet and place into the preheated oven to bake for 15 minutes. The edges will be golden brown. If your cookies are small, do them for less time.
Estimated Nutrition Facts
Calories:
352
kcal
|
Carbohydrates:
46
g
|
Protein:
5
g
|
Fat:
15
g
|
Saturated Fat:
6
g
|
Cholesterol:
42
mg
|
Sodium:
261
mg
|
Potassium:
98
mg
|
Fiber:
1
g
|
Sugar:
31
g
|
Vitamin A:
25.4
%
|
Vitamin C:
0.3
%
|
Calcium:
7.4
%
|
Iron:
2.6
%
Video
DID YOU MAKE THIS RECIPE?
Share it on Instagram with the hashtag #cookiedoughandovenmitt