Do we have any fans of The Walking Dead in the house? Tonight is the season 6 premiere and we're prepared with this peanut butter and jelly pull apart brain bread. Daryl shot this sucker though. That's right, I shoved a crossbow arrow into my food. I'm pretty amazed at how much this looks like a brain. It makes me a happy lady.
This pull apart bread tastes amazing. It's similar to my monkey bread recipe, but this one is stuffed with peanut butter and jelly and isn't rolled in a cinnamon and sugar. Yeah, so I guess it's nothing like my monkey bread now I think about it. The biscuits probably won't seal completely and some of the jelly will run out. The jelly will brown and leave a dark circle around the edges of the biscuits. It helps accentuate all the wrinkles in the brain.
Now that I'm looking at the brain bread, it could also become a turtle shell.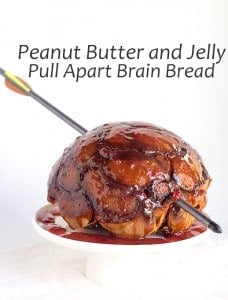 Peanut Butter and Jelly Pull Apart Brain Bread
Ingredients
4

pack tube biscuits

½

cup

peanut butter

¾

cup

strawberry jam

divided

¼

cup

powdered sugar

1

teaspoon

. hot water
Instructions
Preheat oven to 350 degrees. Spray an 8 inch round pan with non-stick cooking spray.

Press out each biscuit with your fingers . Smear on about 1 teaspoon of peanut butter. I just eyeballed it, but you can add more or less.

Add about 1 - 2 teaspoons of strawberry jam inside the biscuit. Press the edges together and to help seal in the peanut butter and jam.

Place in the round pan. Repeat with all of the rest of the biscuits.

Place in the oven and let bake for about an hour. I let it bake longer than my monkey bread because it is a ball of dough and isn't separated in the center like it is in a bundt pan.

Turn out onto a cake plate.

Stir ¼ cup of the remaining strawberry jam in with the powdered sugar and hot water. Whisk until combined.

Pour over the hot bread.

Serve.
(Nutrition facts are an estimate and not guaranteed to be accurate. Please see a registered dietitian for special diet advice.)