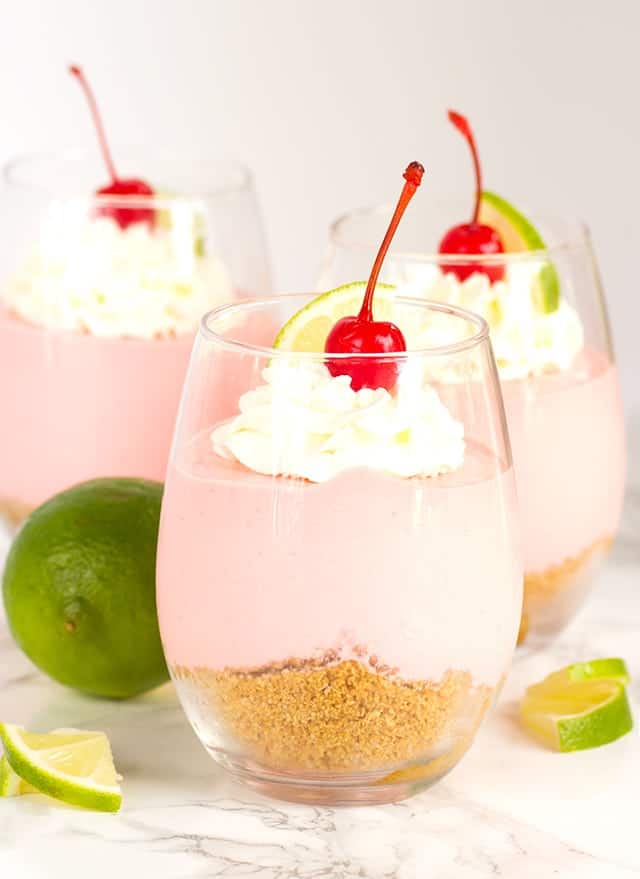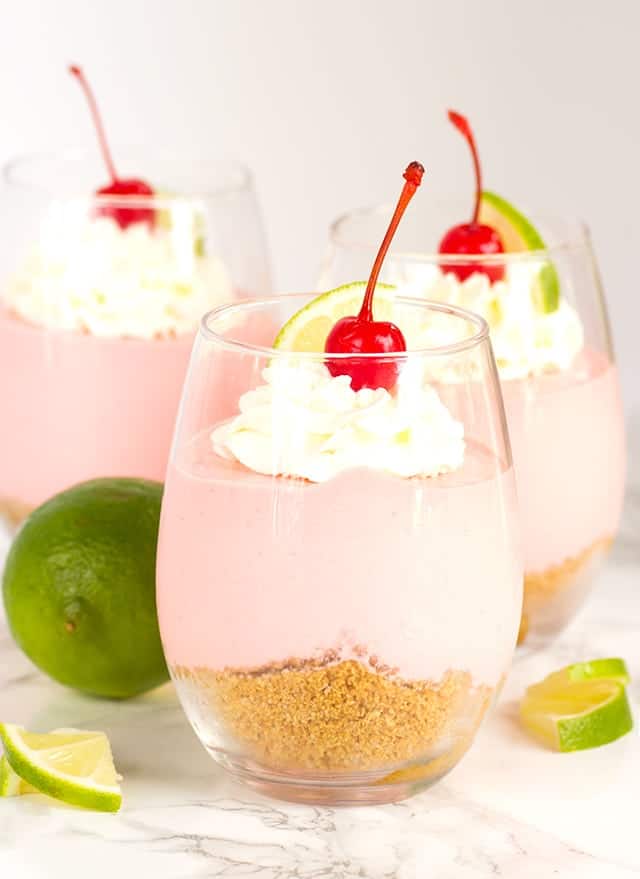 Finally!! I got my no bake cherry limeade cheesecakes perfected. I'm so excited to be sharing it! I tried to do this recipe baked and loved the flavor but it just wanted to dip in the middle. I didn't love what it was doing so I switched it to a no bake recipe. The flavor is outstanding and shouts summer dessert.
This recipe might not be for you if you don't love maraschino cherries, but give it a try anyway. I just.. well, I just can't control myself. I can eat a jar of the cherries and juice in one sitting. Now I'm not saying that I don't walk away regretting it, but YUM. Let's be clear, I only regret it because I get stomach cramps from the sugary syrup.
I've always wanted to make homemade maraschino cherries. It's probably not going to happen this year, but it's on my list.
This recipe makes four servings. That means, you can either feed 4 people each a serving, 2 people each 2 servings, OR (this is my favorite) keep them for yourself and have 4 servings. Okay, the last option might not be great for your waist line, but stand outside for a couple hours and sweat it out. Go weed-eat a large yard with far too many kids items in it. Trust me, that will burn some calories.
The weather has finally done the hubby in. I came home from the dentist today to find one of our air conditioners stuffed in the kitchen window. I thought we were going to make it the entire summer without using them, but when the weather is already unbearable and I'm in the kitchen baking up a storm it can break a person.
No Bake Cherry Limeade Cheesecakes
Ingredients
Filling
8

oz

. cream cheese

softened

10

oz

. jar of maraschino cherries

about 30 cherries, drained

⅓

cup

granulated sugar

2

T

. sour cream

3

+ ½ T. key lime juice

1

+ ½ cups heavy cream

whipped

4

maraschino cherries

with stems
Instructions
In a small bowl, add in the graham cracker crumbs, sugar, and melted butter. Stir to combine. Divide the crumbs into four glasses. Tap the glass to even out the crumbs.

In a blender, add in the cream cheese and maraschino cherries. Blend until mostly smooth. You'll have to stop the blender and push the cream cheese and cherries around. It won't be completely smooth yet.

Add the granulated sugar, sour cream and key lime juice into the blender. Blend until completely smooth. Stop and stir. Blend again to make sure everything is blended and smooth.

Set aside.

In a large bowl, whip up the 1 and ½ cups of heavy cream until it reaches stiff peaks.

Pour the cherry limeade into the whipped cream and whip with the hand mixer until blended. It will be semi-thick, but pourable.

Pour the filling into the 4 cups. Tap to smooth the filling out.

Place into the fridge until chilled. I left mine overnight. Top with a dab of whipped cream and a maraschino cherry.
(Nutrition facts are an estimate and not guaranteed to be accurate. Please see a registered dietitian for special diet advice.)
I love making no bake recipes during the warm months. What's your favorite no bake recipe? I would love to read all your comments!