This post has been sponsored by the The Folger Coffee Company. All thoughts and opinions are 100% my own.
I'm a sucker for all things vintage, especially recipes and cookbooks. Folgers® sent over their new Folgers® Limited Edition Collector's Can that you can get from Target which immediately inspired this old fashioned coffee cake that I made. What goes better with a cup of coffee than a piece of coffee cake? I also threw in a splash or two of strong coffee into the recipe. Okay, so it was a little more than a splash. Just enough to give it another layer of flavor.
I really, really enjoyed digging through my stash of ancient cookbooks for inspiration. In the end, I took a few ideas from the books and adapted my peanut butter jelly coffee cake for this recipe. My favorite part of any coffee cake is the streusel. I tend to find the cake part a little boring because it normally is! Between the flavor of the coffee and the extra layer of streusel thrown in there, I think I put the pizzazz back into this cake. I'm going to go ahead and give myself a quick slap on the back. I like to do that on occasion, if you haven't noticed.
I know I've talked about this before, but it's times like this that I wish that I could have gotten my gram to share her recipes before she passed away. It wasn't at all that she thought of them as top secret, but she just did everything by memory and rarely wrote down recipes. I did share my best version of gram's peanut butter bars a year or two ago with you. We made them together for so long that I should have known that recipe by heart, but I have a terrible memory.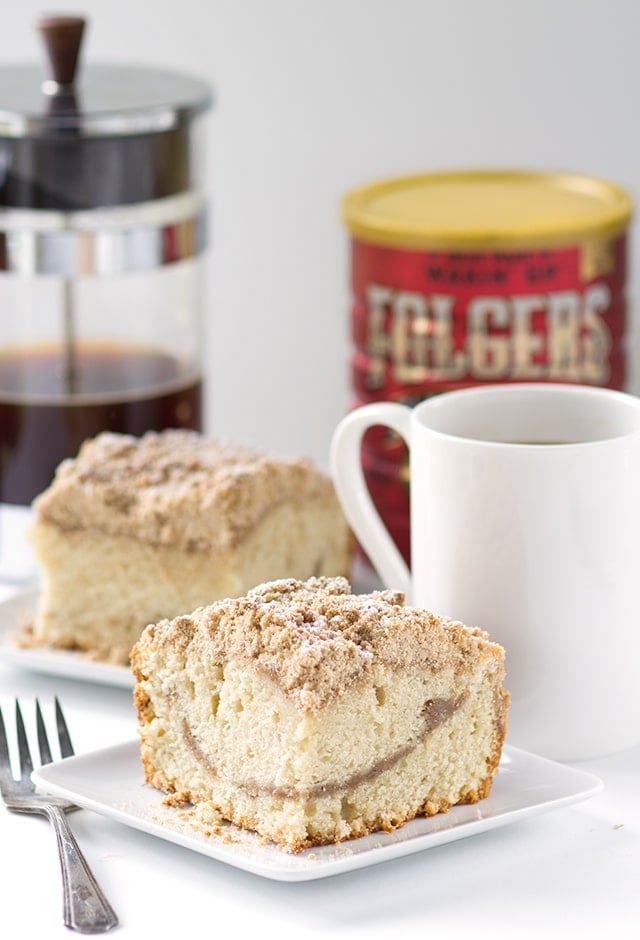 I love the deep red and gold colors on this coffee can along with the classic font. I almost love it as much as the actual coffee inside.
Almost.
I don't know about you, but I'm always eager to get my hands on new things that look vintage. It saves me some cash and still gives the classic look. If you're the same way, you can get these Folgers® Limited Edition Collector's Cans exclusively at Target. They're only going to be around for a limited time, so don't hold off on getting it.
After making my new breakfast favorite, I was debating on whether I should add a glaze drizzle or a powdered sugar coating to the top. I wanted to keep with the "old fashioned" theme so I went with a dusting of powdered sugar. I could be totally wrong, but the feel I get from these types of recipes is that they tend to try to keep things simple.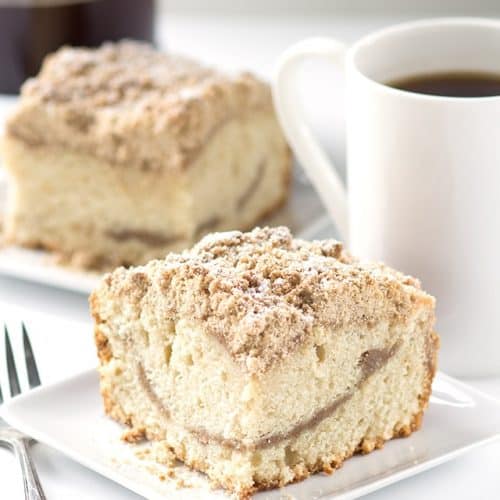 Old Fashioned Coffee Cake
Instructions
Streusel
In a large bowl, add in the brown sugar, flour, and ground cinnamon. Stir to combine.

Add in the butter and cut in with two forks. I normally start with the forks and finish crumbling the streusel together with my fingers. You don't want any large chunks of butter, work it in until it comes together and forms clumps. Set aside.
Cake
Preheat oven to 350 degrees. Grease a 9x13 cake pan with non-stick cooking spray. I lined the bottom of the pan with parchment paper for easy removal of the cake slices. The parchment paper isn't necessary though.

In a mixing bowl, add in the cooled melted butter, vegetable oil, and sugar. Beat with a hand mixer until incorporated.

Add in the eggs one at a time and vanilla and beat until incorporated. Scrape down the sides and bottom of the bowl.

In a separate bowl, add in the baking soda, baking powder, and flour. Whisk until incorporated.

Add half of the flour into the wet mixture and mix until just combined. Scrape down the sides.

Add all of the coffee and sour cream. Beat on low until just combined.

Add in the remaining flour and beat until just combined.Scrape down the sides and stir in.

Pour half of the batter into the prepared pan and spread it out evenly.

Sprinkle half of the streusel topping onto the batter.

Pour the remaining batter on top of the streusel. Gently spread the batter out as best as you can to try to cover the middle layer of streusel.

Sprinkle the rest of the streusel on the top of the cake evenly. Make sure all the cake is covered with streusel.

Place the cake into the oven and bake for 1 hour or until the cake is done. Place a clean toothpick in the center of the cake. If there's batter on the toothpick, let it bake longer. If it comes out with moist crumbs or clean, it's done.

Let cool completely. Dust the powdered sugar on the cake. Cut and serve.
Nutrition
Calories:
505
kcal
Carbohydrates:
78
g
Protein:
5
g
Fat:
18
g
Saturated Fat:
11
g
Cholesterol:
74
mg
Sodium:
315
mg
Potassium:
109
mg
Fiber:
1
g
Sugar:
44
g
Vitamin A:
585
IU
Vitamin C:
0.1
mg
Calcium:
50
mg
Iron:
2.4
mg
(Nutrition facts are an estimate and not guaranteed to be accurate. Please see a registered dietitian for special diet advice.)
Are you a coffee lover? Do you have a favorite breakfast to eat with your cup of coffee? Spill the beans in the comments!