These green tea french macarons are great any time of the year! They have a roasted green tea infused white chocolate ganache filling. The best part is there is no need to buy matcha powder for this recipe! Check out my fruity pebbles french macarons too.
This is a sponsored post for HemisFares™ brand that is available exclusively at Kroger family of stores. All opinions are honest and 100% my own.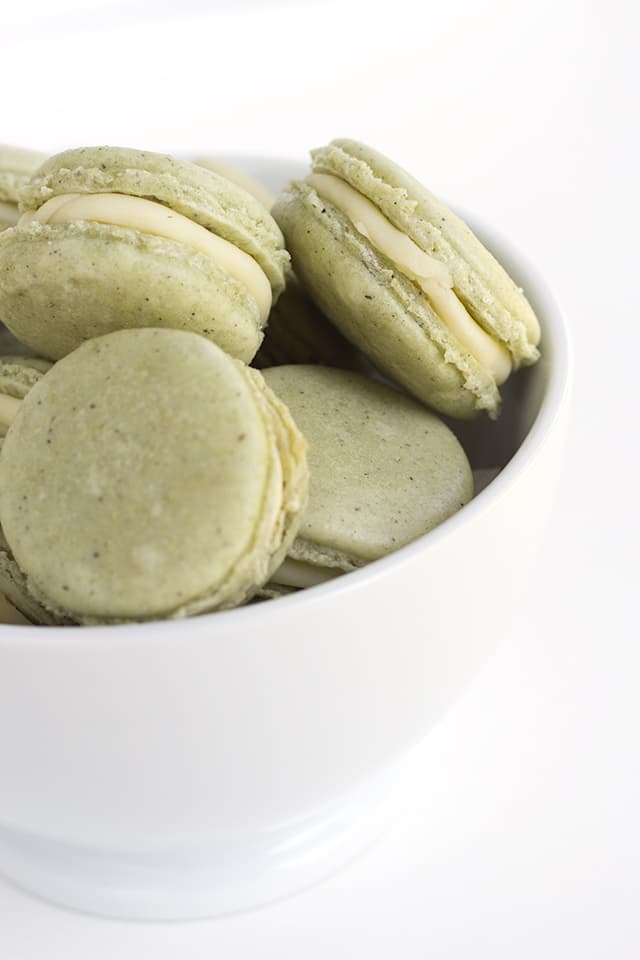 Green Tea French Macarons
I haven't made a new French macaron recipe for the blog in such a long time! I forgot how fun they are. Tricky, but fun just the same. There is nothing more satisfying than when they come out with the perfect feet on them. The foot is the pretty ruffled part of the macaron.
I made these the same day I made some peach cream cheese frosting. My kiddo wanted to try one of these macarons and so he did. I was expecting him to say, "It's good. You can have it." which is what he says when he, in fact, does not think it's good, but he didn't. I was in shock over it. He likes the tea flavor.
I whipped up my incredibly delicious peach cream cheese frosting and scooped out a spoonful. I called him out to give it a try. He took a tiny taster and curled up his lips. Yeah, he's not great at hiding how he feels about food. I'm just lucky he only curled his lips and didn't gag because he was NOT feeling the frosting.
French macarons can be tricky to flavor. Basically, if you want to add flavoring of any sort, it needs to be in powder form or in a strong extract. Some things that might work with a little tweaking of a recipe are:
Teas
Freeze-dried fruit
cocoa powder
zest of a lemon, lime, orange, grapefruit
instant coffee
spices like pumpkin pie spice, cinnamon, apple pie spice
different nut flours such as finely ground hazelnuts or pistachios
most extracts in small amounts
In this case, it's loose leaf roasted green tea. Green tea will work great as well. I broke out my new mortar and pestle that HemisFares™ sent me as a gift. You can also use a food processor. We'll be sifting out any bits that aren't powder so don't stress about getting every little piece of tea ground into a powder.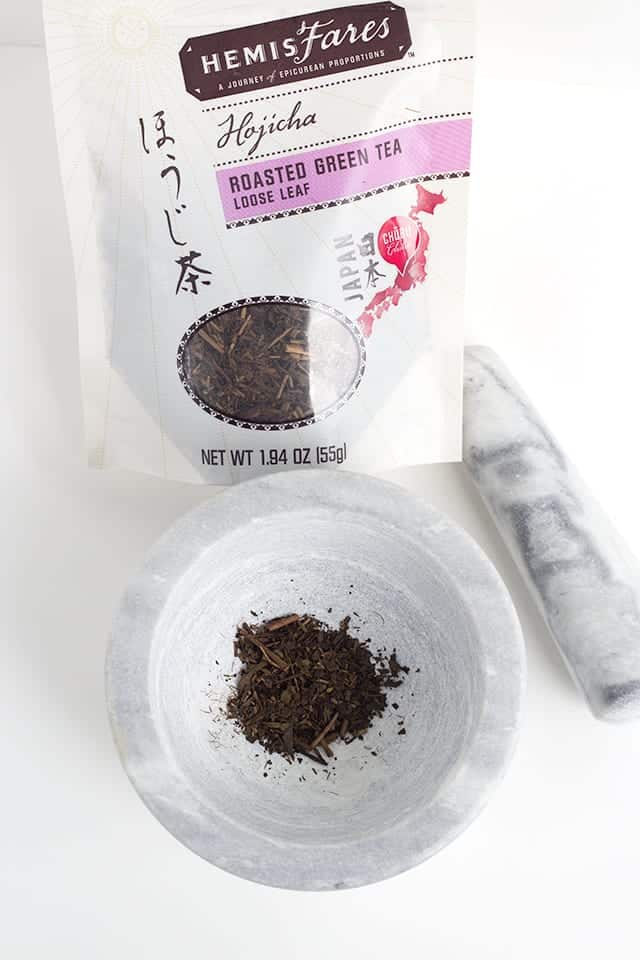 Also, the roasted green tea almost tasted like a black tea to me with a hint of nuttiness to it. Maybe I'm just crazy, it's hard telling.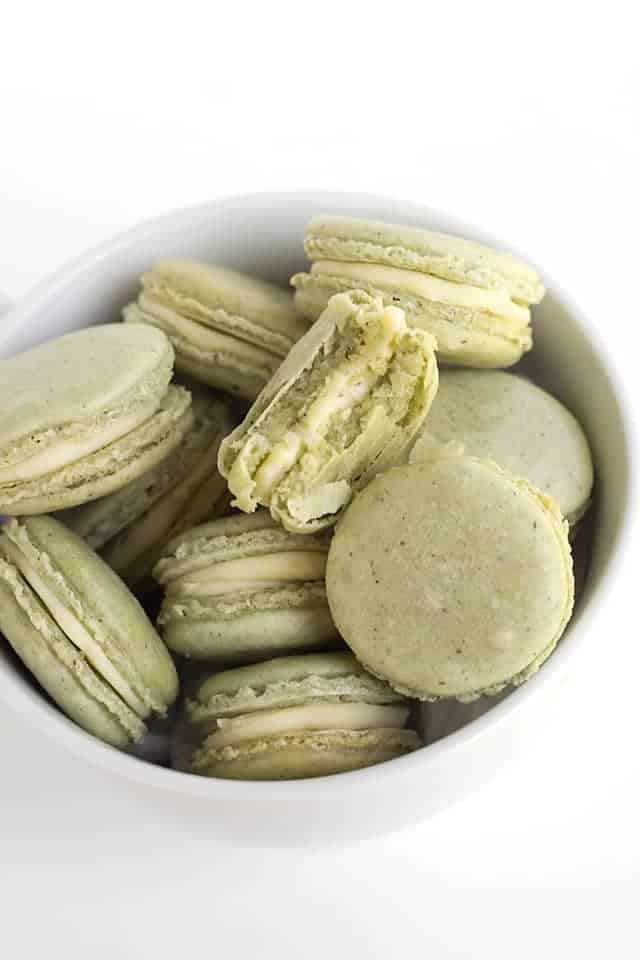 Pro Tip: If you can't find almond flour you can always make it with almonds and a food processor. Finely grind the almonds and sift through a fine mesh sifter. Discard or snack on any large pieces.
Other great French macaron recipes:
How to make green tea french macarons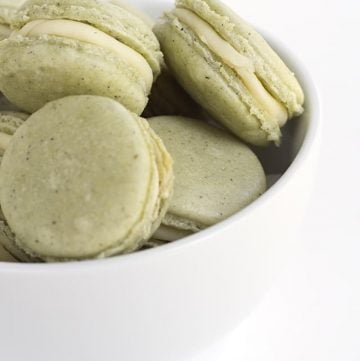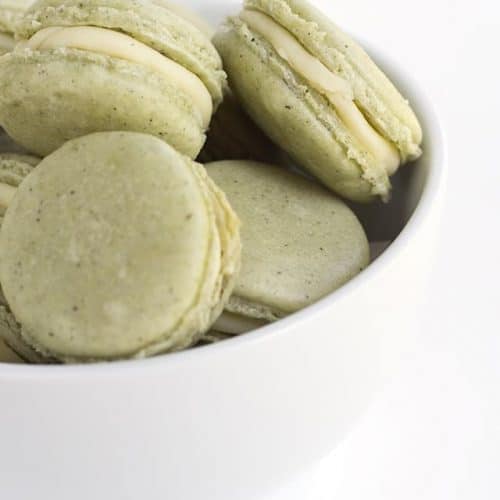 Green Tea French Macarons
These green tea french macarons with roasted green tea infused white chocolate ganache filling will satisfy any tea lovers craving! The roasted green tea provides a nutty, caramelized tea flavor!
Ingredients
Macarons
1

cup

almond flour

1 ½

cups

powdered sugar

1

tsp.

HemisFares Roasted Green Tea

finely ground

3

eggs

room temperature

¼

cup

granulated sugar

¼

tsp.

cream of tartar

pinch of salt

1

drop

juniper green gel food color
Ganache
⅓

cup

heavy cream

1

tsp.

HemisFares roasted green tea

1

cup

white chocolate chips
Instructions
Ganache
In a medium microwave-safe bowl, add in heavy cream and loose leaf tea. Microwave for 45 seconds. Stir and microwave for an additional 30 seconds. Let steep for 5 - 10 minutes. Strain out loose leaf tea.

Add white chocolate into the bowl with the strained heavy cream. Microwave for 30 seconds and stir. Repeat for 30 seconds and stir until the white chocolate is all melted.

Cover with plastic wrap and let it firm up at either room temperature or in the fridge. If it becomes too hard in the fridge, microwave for about 15 - 20 seconds and stir.
Macaron Shells
Line a baking sheet with parchment paper or a silicone mat

Sift together the almond flour, powdered sugar, finely ground tea. Discard any large pieces.

In a large mixing bowl, add in egg whites. Turn on high and beat until the egg whites form a soft peak meringue.

When soft peaks forms, add in the cream of tartar and salt. Mix on high and gradually add in the gel food color and granulated sugar slowly but constantly. Mix until stiff peak meringue forms.

Very lightly and carefully fold in a third of the almond flour/powdered sugar into the meringue with a spatula. Repeat with the next third and the last third of the almond flour/powdered sugar mixture. All together you'll want to have about 50 turns of this mixture. If you don't mix enough the macaron shell will be extremely fluffy and cracked. If you over-mix, the macaron shell will be extremely flat and may not form a foot.

Preheat oven to 300 degrees.

Fill a piping bag with the macaron shell filling. I just used a #12 Wilton straight tip on the end of my piping bag. You can also use a coupler or any straight tip. Pipe macaron shells on the baking sheet.

Let the macarons dry until they are no longer tacky to the touch. It will take 20 minutes to 1 hour.

Place in the oven for about 11 - 12 minutes until they no longer stick to the parchment paper or silicone mat.

Let the macaron shells cool.

Add the firm ganache in a disposable piping bag with a straight tip. I used the same wilton #12 tip. Pipe a thin layer of ganache onto the bottom side of a macaron shell. Add a top shell and twist it back and forth to squish the ganache down slightly.
Nutrition
Calories:
123
kcal
Carbohydrates:
15
g
Protein:
2
g
Fat:
6
g
Saturated Fat:
2
g
Cholesterol:
26
mg
Sodium:
16
mg
Potassium:
39
mg
Sugar:
14
g
Vitamin A:
80
IU
Calcium:
30
mg
Iron:
0.3
mg
(Nutrition facts are an estimate and not guaranteed to be accurate. Please see a registered dietitian for special diet advice.)