These dulce de leche cookie dough grahamwiches have an insanely long name, but guess what? You know exactly what's in them, don't you! I'm a pretty big fan of all graham crackers, but since I made the peanut butter cookie dough grahamwiches last year with plain graham crackers I had to try out the chocolate. They went over so, so well!
This all came about because I could crack open a can of dulce de leche and scoop it out with a spoon, my finger, or maybe a graham cracker if there was one close by and devour it. It's so addicting.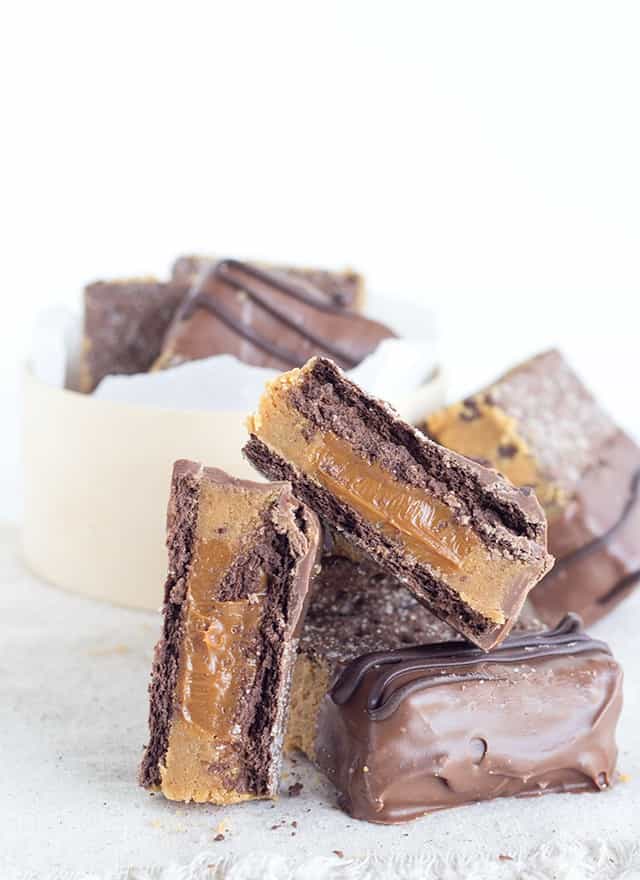 I think I have a trend starting. I like to make things filled with dulce de leche like my caramel thumbprint cookies and these grahamwiches. What should be next? Cupcakes? Maybe. I always feel like my cupcakes come out so much prettier than any other recipe I make. I don't know.
Dulce De Leche Cookie Dough Grahamwiches
Ingredients
Chocolate Shell
1

cup

melting chocolate

1

teaspoon

. shortening
Instructions
Break the graham crackers in half. Try to apply even pressure so they break along the line.

In a mixing bowl, add in the butter and ½ cup dulce de leche. Beat with a hand mixer until incorporated.

Add in the brown sugar and vanilla and beat on high until light and fluffy, about 2 minutes. Scrape down the sides.

Add in the flour and mix on low to avoid a flour shower. Once almost all the flour is incorporated, turn the mixer on high and beat until the flour is combined.

Stir the mini chocolate chips into the cookie dough.

Roll out four logs for each grahamwich. I would make them about ½ an inch thick. Line the outer edge of the graham cracker with the cookie dough. Use the remaining can of dulce de leche to fill in the center of each grahamwich.

Add the top cracker and press the cookie dough out to the edges. Using a butter knife, even out the edges by removing the excess and press any cookie dough into missing spots. My grahamwiches were quite thick.

Once all 11 grahamwiches are made, set them aside.

Place the chocolate candy melts and shortening in a microwave-safe bowl. Microwave for 30 seconds and then stir. Repeat the microwaving and stirring 3 more times to completely melt the chocolate.

Lay out a piece of parchment paper for the dipped grahamwiches to dry on.

Dip the grahamwiches completely or partially in the chocolate. Tap the wrist of the hand holding the grahamwich to help get the excess chocolate off the grahamwiches.

Place each grahamwich on the parchment paper to dry. It will take 20-30 minutes. After they're dried, place in an air tight container to keep fresh.
(Nutrition facts are an estimate and not guaranteed to be accurate. Please see a registered dietitian for special diet advice.)
If you're wondering what dulce de leche that I'm using and digging on, here it is!
This post contains affiliate links. Cookie Dough and Oven Mitt is a participant in the Amazon Services LLC Associates Program, an affiliate advertising program designed to provide a means for sites to earn advertising fees by advertising and linking to Amazon.com.