These Dr. Seuss Cupcakes are a great recipe to make for a kid's party or with your child. What better way to celebrate Dr. Seuss's birthday on March 2nd than with a chocolate cupcake topped with green eggs made out of frosting?!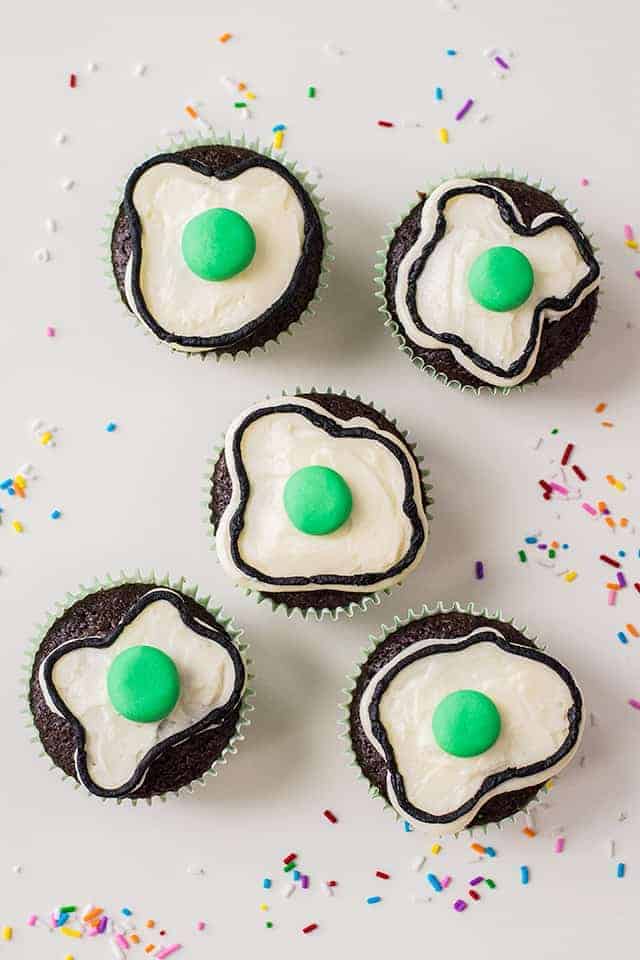 I have a 7-year-old that is currently doing Dr. Seuss week at school. He missed the first day because it ended up being a snow day, but it's been smooth sailing since. Yesterday he got to wear his indominus rex costume for dress like an animal day and Friday he can wear his Minecraft jammies to school.
When he was REALLY little, he would always pick a Dr. Seuss book for me to read to him. I'm horribly tongue-tied in general and any of the Dr. Seuss books would send me in a downward spiral of scrambled words. Either way, he would enjoy his bedtime stories which makes me happy.
Dr. Seuss Cupcakes
These DIY Dr. Seuss Cupcakes take no time to whip up. They're perfect to have the kids can jump in and help too! If you're thinking that they're complicated to make, you're totally wrong. You'll want to have these items on hand for the Dr. Seuss Cupcakes.
chocolate fudge cake mix - I always use the chocolate fudge cake mix, but any chocolate cake mix will work great. You can also make the chocolate cupcakes from scratch. Here's one of my cupcake recipes.
store-bought black icing - It can take a lot of black gel food coloring to get a black frosting, so I opted for the store-bought icing.
green fondant - if you're thinking that the kids won't eat the fondant, you're probably wrong. Every single time I have fondant on a cake, the kids eat that first. There are never any complaints either. You can use green modeling chocolate as a substitute.
Wilton tip #10 - This is a great way to get the frosting in the egg shape. It will keep the edges clean and perfect.
Wilton tip #4 - A smaller tip is necessary to outline the egg in a thin black frosting.
offset spatula - The offset spatula is perfect to smooth out the white frosting so it looks more like an egg.
How to make Dr. Seuss Cupcakes
Begin by baking up the cupcakes. I used a chocolate fudge cake mix that required 1 ¼ cups of water, ½ cup of vegetable oil, and 3 eggs. Beat until smooth and fill green cupcake liners a little over half full. Bake until done and let cool.
The next step is to make the homemade vanilla frosting. Start by beating the butter, vanilla extract, powdered sugar, and milk until it's smooth. Beat for an additional minute to have a fluffy consistency. Fill the piping bag fitted with the Wilton #10 tip with the frosting and draw the outside of the egg first. It can be extra squiggly or just a little wavy.
Fill the eggs with the frosting. Use the offset spatula to smooth out the piped lines. Try not to move the egg outline while you're smoothing out the top of the frosting.
Place the Wilton #4 tip on the tube of store-bought black icing and trace the white outline with the black icing.
Here's a great tip! To get the black frosting to look smoother than mine, I recommend holding the black icing about an inch above the white frosting, while lightly squeezing the tube of icing and outlining the frosting egg. When you come close to completing the black outline, stop squeezing and lower the icing down for the remaining black icing to meet up with where you started.
Lastly, roll small balls of fondant to form the egg yolk. Slightly flatten the fondant on one side. That side will sit in the frosting and gently press the fondant in.
Dr. Seuss Cupcake Toppers
You can make your own Dr. Seuss cupcake toppers and there are so many ideas out there! There's I also have a
Dr. Seuss Cupcakes
Ingredients
Frosting
1

cup

butter

room temperature

4

cups

powdered sugar

1

teaspoon

vanilla extract

4 - 6

tablespoons

milk
Dr. Seuss Cupcake Toppers
Instructions
Cupcakes
Preheat oven to 350 degrees. Line a cupcake pan with green cupcake liners

In a large mixing bowl, add in the chocolate cake mix, water, vegetable oil, and eggs. Beat with a hand mixer on medium until incorporated.

Fill the cupcake liners ½ full with the cake batter.

Place into the oven and bake for 15 to 20 minutes until done. Insert a toothpick and if it comes out clean or with moist crumbs, the cupcakes are done.

Let the cupcakes cool completely.
Frosting
In a large mixing bowl, add butter, powdered sugar, vanilla extract, and milk. Beat on medium until light and fluffy.

Scoop the buttercream into a piping bag fitted with a Wilton tip #10.

Frost each cupcake with a thin layer of frosting: making it look like the yolk of an egg. Start by piping wavy lines to form the outside of the egg white. Fill in by piping the frosting back and forth.

Use an offset spatula to smooth out the frosting on each cupcake.

Attach Wilton tip #4 to your black decorating icing and outline of each egg white

Roll out 24 ½-inch balls from your green fondant. Flatten it slightly and place in the middle of each buttercream 'egg yolk.'
Nutrition
Calories:
193
kcal
Carbohydrates:
20
g
Fat:
12
g
Saturated Fat:
8
g
Cholesterol:
40
mg
Sodium:
76
mg
Potassium:
9
mg
Sugar:
19
g
Vitamin A:
265
IU
Calcium:
5
mg
Iron:
0.1
mg
(Nutrition facts are an estimate and not guaranteed to be accurate. Please see a registered dietitian for special diet advice.)