This post is sponsored by Musselman's Apple Butter. As always, the opinions and content are my own.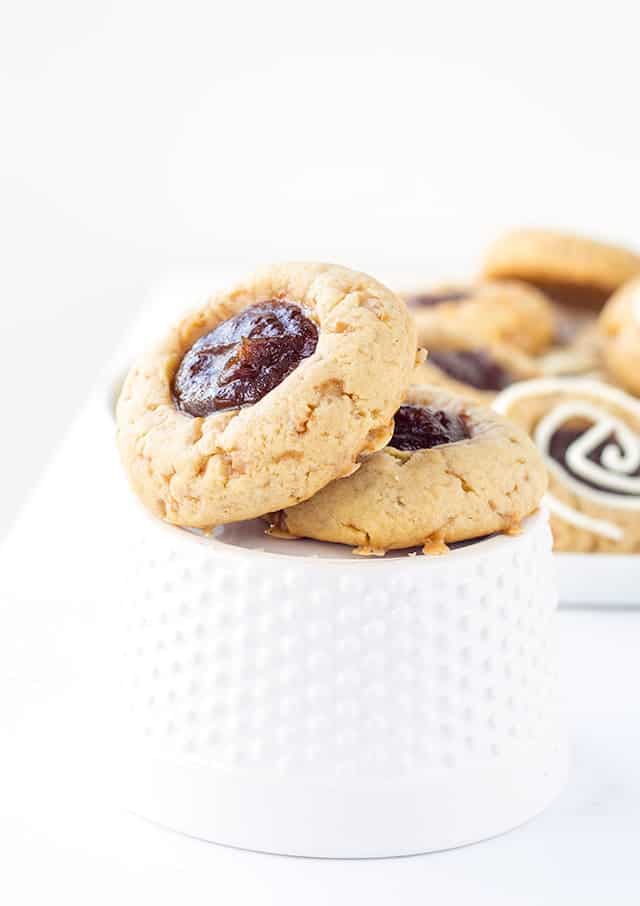 I've got cookie recipes for days, if you couldn't tell. These apple toffee thumbprint cookies with a cream cheese drizzle look and taste fantastic. The cookie is packed with the apple butter, toffee bits, and cream cheese. The three ingredients work amazing together in the cookie too. Surprisingly, the toffee bits aren't hard little rocks in the cookies either. They just melt in and add another depth of flavor. I have sensitive teeth, I don't think I could handle chewing on little stones.
Wesley laughed when I showed him my edited photos for this blog post. The cream cheese drizzle is so white and just popped out on the tops of these cookies. It almost makes it look like it was photoshopped into the photos. It wasn't, trust me. I'm not that talented.
I'm really digging the swirled drizzle. It looks like a cookie you would see in one of the Alice in Wonderland movies. I absolutely love every single cartoon and movie of Alice in Wonderland. My favorite would be the movie directed by Tim Burton, because his work speaks to my heart. There's something about his style that just screams to me. There isn't a single movie he has done that I don't love, except maybe Dark Shadows. I wanted to love it so hard, but couldn't. Okay, so there's one, but that's it.
So yeah, that drizzle is rocking. The apple butter center is the best though. If you've never tried apple butter, you must. It's one of my favorite things to eat. It has a great, unique taste. It's made by simmering the American-grown apples long and slow in kettles with sugar and spices. I like to spread it extra thick on my toast. I got my friend started on that and she's been cursing me since. You're so welcome, Nicole! lol
Apple butter is also deeee-licious in desserts. I have made some killer apple butter cheesecake blondies and easy apple butter cake pops. I hope to make an apple butter pie next fall too. I wanted to do it this year, but ran out of time. I always have so much to try to do before the season is over and sometimes it just doesn't all get done. You should see the list of recipes I didn't get done for Christmas. There's always next year, right?
Get more information about Musselman's Apple Butter. You can also follow them on Facebook, Twitter, and Pinterest.
Apple Toffee Thumbprint Cookies
Ingredients
Cookie
½

cup

butter

room temperature

¼

cup

shortening

4

oz

. cream cheese

room temperature

1

cup

granulated sugar

1

egg

1

cup

apple butter

divided

2

teaspoon

. vanilla bean paste or vanilla extract

½

teaspoon

. baking powder

1

cup

toffee bits
Topping
2

oz

. cream cheese

room temperature

½

cup

powdered sugar

¼

cup

milk
Instructions
Preheat oven to 350 degrees. Line a baking sheet with parchment paper.

In a large mixing bowl, add in the butter, shortening and cream cheese. Using a hand mixer, beat on medium until it all comes together.

Add in the granulated sugar and beat on medium until light and fluffy. It will take 1 - 2 minutes of beating to get there.

Add in the egg and beat until incorporated. Scrape down the bowl.

Add in ¼ cup of apple butter and vanilla bean paste or vanilla extract. Beat until combined and scrape the bowl one more time.

Add in the flour, baking powder and toffee bits and beat until all of the flour is worked into the dough.

Scoop the dough onto the prepared baking sheet using a small cookie scoop. I normally scoop four rows of three cookies for each baking sheet.

Roll each cookie between your two palms to form the perfect ball.

Press your finger into the center of each cookie. Spread the hole out so it's even and about the width of your thumb.

Using the remaining ¾ cup of apple butter, fill the centers of the cookies.

Place into the oven and bake for 15 minutes.

Let cool for about 5 minutes before transferring to a wire rack to cool completely.
Topping
In a mixing bowl, beat together the cream cheese and powdered sugar. It will be super thick.

Add in the milk 1 tablespoon at a time and beat until incorporated. This is so lumps can't form from from adding too much liquid at once. Add more milk if it's not thin enough for you. Start with about 1 tablespoon of milk at a time.

Scoop the glaze into a disposable piping bag or a sandwich bag. Cut a small corner off the sandwich bag or a small hole in the piping bag.

With even pressure, pipe the topping while moving your arm back and forth to look like a drizzle.

Store in the fridge in an airtight container.
(Nutrition facts are an estimate and not guaranteed to be accurate. Please see a registered dietitian for special diet advice.)