I like popcorn and I like cinnamon. I made a cutesy Christmas cinnamon popcorn. So festive, I know! I love the crunchy coating that the cinnamon candies provided for the popcorn. I also added red nonpareils to add a little bit more crunch.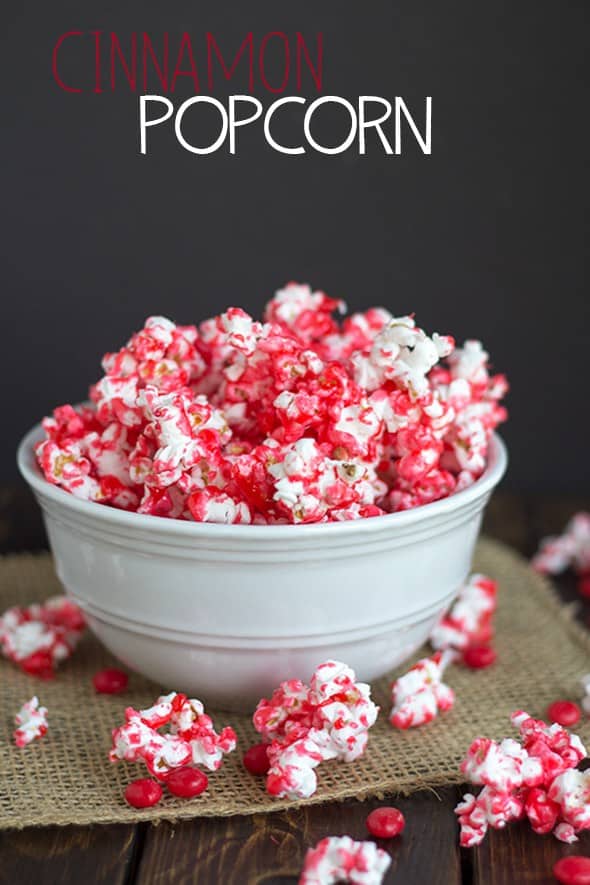 I've been on quite the cinnamon kick lately. This past weekend we stayed down to my parents. I ate an entire dish of fireballs. Thanks dad. Your stock pile of candy was delicious. I loved it very much.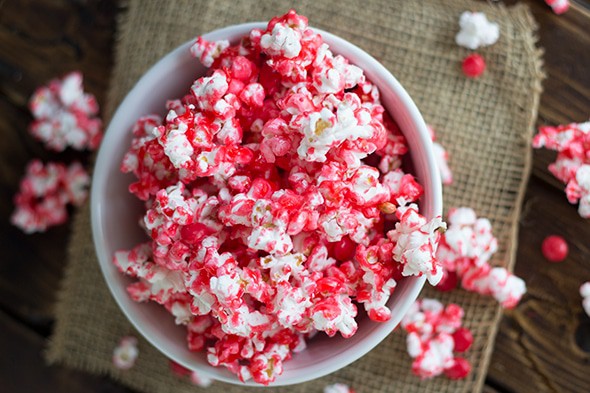 It's been such a long holiday weekend for our family. We just got home from visiting my parents. My husband drove the three hours back home to work Friday and Saturday while Lucian and I stayed with my parents. My mom and I have a tradition. We play our Christmas music loud and sing even louder on our way to shop our faces off Friday morning. Pitch perfect, of course.
I'm not a morning person, so it takes a lot for me to get to this point. Spending loads of money on a day full of shopping getting super duper deals kind of does it for me. Then we go to what seems like 50 different stores and walk around until our feet are numb. Ahhhh. Too much fun.
Cinnamon Popcorn
Ingredients
¾

cup

Red Hot cinnamon candies

½

cup

corn syrup

¼

cup

salted butter

¼

cup

granulated sugar

⅓

cup

popcorn kernels
Instructions
Preheat oven to 250 degrees. Line a large jelly roll pan (17 ¼ x 11 ½ Inch) with parchment paper.

Using an air popper, pop the ⅓ cup of corn kernels. You can also pop the corn kernels in a kettle with some vegetable oil. Keep the kernels moving and the lid on the kettle. I would use 1 to 1 and ½ tablespoons of vegetable oil.

In a large saucepan, add in the cinnamon candies, corn syrup, butter, and sugar. Let it come up to a boil over medium heat.

Once it comes up to a boil, boil for 5 minutes and stir constantly to help dissolve the candies.

Place the popped corn on a parchment lined jelly roll pan. Pour the candy syrup over the popcorn and stir until the popcorn is covered.

Place the popcorn into the oven for 45 minutes. Stir every 10 minutes. Be sure to get the yummy gooey candy syrup from the bottom of the pan back to the top.

Remove from the oven and let it cool. The candy coating will become hard and crunchy.
Nutrition
Calories:
1764
kcal
Carbohydrates:
348
g
Protein:
6
g
Fat:
48
g
Saturated Fat:
29
g
Cholesterol:
122
mg
Sodium:
515
mg
Potassium:
149
mg
Fiber:
6
g
Sugar:
292
g
Vitamin A:
1420
IU
Calcium:
36
mg
Iron:
1.7
mg
(Nutrition facts are an estimate and not guaranteed to be accurate. Please see a registered dietitian for special diet advice.)
Here's my hot air popper.
This post contains an affiliate link. Cookie Dough and Oven Mitt is a participant in the Amazon Services LLC Associates Program, an affiliate advertising program designed to provide a means for sites to earn advertising fees by advertising and linking to Amazon.com