Chocolate raspberry pie! It's creamy and chocolaty with a touch of raspberry flavor. To keep the pie as smooth as possible, the seeds were strained out using a fine mesh strainer. I love the flavors of raspberries and blackberries, but those seeds. They are a crunchy annoyance that I don't need, want, or enjoy.
I've been wanting to use the chocolate sweetened condensed milk that I've spotted in the stores. I finally got to! This idea was been hanging out in my brain since last summer, but I wanted to make the pie when raspberries were in season. So I missed raspberry season, but we're going to make this recipe happen anyway.
The blackberry key lime pie that this is adapted from is tangy and fruity. It has an amazing purple color. I thought I would take that recipe that I know works and switch it up. This time the fruity flavor is subtle and there's no tangy. Instead, there's an incredibly rich chocolate flavor that pairs well with the raspberry puree.
Guys! Lucian has been in school one whole week as of today. It's quite the adjustment on the whole family. I'm not a morning person, but I gather myself, do my hair, and drive him to school. He's so sweet though. Every morning he wakes me up with a kiss. Of course he crawls all over the bed and has a good ol' time playing with the dogs too, but his giggle warms my heart.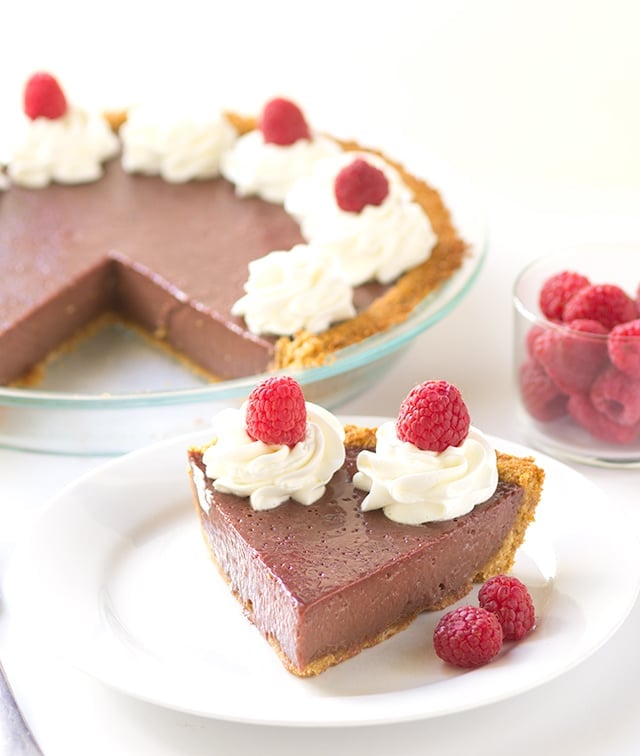 He's giving the teacher a hard time. Apparently he has a problem with new people touching him or redirecting him. She stopped me this morning to say he makes faces at her when she tries to help him hold his pencil. I could immediately picture the face he was making at her, because he does it to me too. I didn't really know what to say, but to tell her I completely understand and we're working on it. Kids go through phases. it'll eventually end, RIGHT?
Chocolate Raspberry Pie
Ingredients
Pie
2

cups

fresh raspberries

(1 cup raspberry puree)

14

oz.

chocolate sweetened condensed milk

5

large

egg yolks
Instructions
Crust
Preheat oven to 350 degrees.

In a mixing bowl, add in the graham cracker crumbs, sugar and butter. Stir until it looks like wet sand.

Press the graham crackers into an 8 inch pie plate.

Place in the oven and bake for 15 minutes. Set aside to cool while you make the filling.
Pie
Add the raspberries to a fine mesh strainer. Press the raspberries through until all that remains in the strainer are the seeds and a small amount of pulp. You will need 1 cup of raspberry puree.

In a large mixing bowl, add in the sweetened condense milk, yolks, and raspberry puree. Stir until combined.

Pour filling into the graham cracker crust.

Place in the oven at 350 and bake for 22 minutes or until the center is set.

Let cool and place in the fridge for 3 hours to overnight to finish setting up.

Cut and serve.
Nutrition
Calories:
294
kcal
Carbohydrates:
47
g
Protein:
6
g
Fat:
9
g
Saturated Fat:
4
g
Cholesterol:
133
mg
Sodium:
160
mg
Potassium:
264
mg
Fiber:
2
g
Sugar:
37
g
Vitamin A:
315
IU
Vitamin C:
9.2
mg
Calcium:
172
mg
Iron:
1.1
mg
(Nutrition facts are an estimate and not guaranteed to be accurate. Please see a registered dietitian for special diet advice.)