This chocolate macaron recipe produces light as air chocolate French macarons filled with sweet cherry frosting and milk chocolate ganache. Making this chocolate macaron recipe requires patience and practice, but hopefully, the tips here will help you to create a beautiful and delicious batch of French macarons!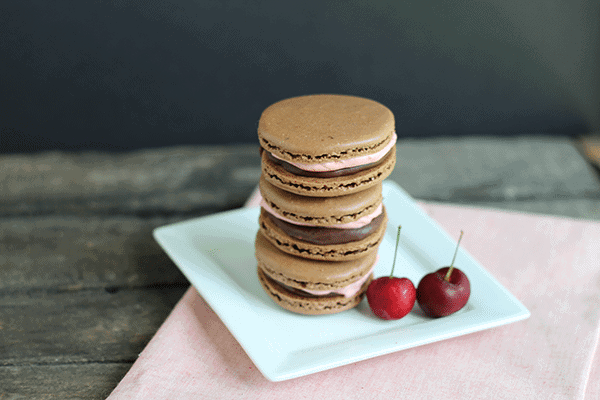 This month for the chocolate party the ingredients were cherries and chocolate. Before I made this chocolate macaron recipe, I originally tried a cherry shell with a chocolate ganache center. I think I'm still going to make them, but the cherry French macaron batter was too runny. I just need to do some fine tuning to that before I post it. I, however, was able to pull off this chocolate macaron recipe, filling them with cherry frosting and milk chocolate ganache.
Anyway, this chocolate party has me trying new things. I like it. I'm not sure how much my husband likes it considering fruit and vegetables are his enemies, but it might grow on him.
Chocolate Macaron Recipe Tips
A lot of people believe that making a French macarons recipe is intimidating. While this recipe is definitely not the easiest to make, it's not the most difficult either. Making this chocolate macaron recipe just requires patience and practice.
How to Make Uniform Chocolate Macarons
Using a template to make chocolate macarons will help them to be uniform in size. I used a lid to a salt shaker to draw circles on parchment paper so I had macarons all the same size. I flipped the parchment paper over and began piping my batter. Somehow, the batter didn't want to acknowledge I wanted them all uniform. Yep, I have a few of all sizes. It's cool though. I didn't have a melt down. I was just proud that they all came out right and not like one very flat, sticky mass of macaron, which is what happened to my cherry ones.
More French Macarons Recipes to Try:
Chocolate Macarons with Cherry Frosting
Ingredients
Chocolate Macarons
4

large

egg whites

¼

cup

granulated sugar

2

cups

powdered sugar

1

cup

almond flour

Pinch of salt
Cherry Puree
1

cups

cherries

halved and pitted

½

cup

granulated sugar

½

teaspoon

lemon zest
Cherry Buttercream
½

cup

salted butter

room temperature

2

cups

powdered sugar

1

T.

coffee creamer powder

3

T.

cherry compote

1

tsp.

vanilla extract
Instructions
Cherry Puree
In a saucepan, add the cherries and sugar. Put it on medium heat and let the cherries break down. To help them along, you could dice the cherries up.

After 15 minutes, I start mashing the cherries with the back of my spoon. Continue cooking for another 20 to 30 minutes.

Add in the zest and remove from the heat. You want the cherries to have broken down and the liquid to be a deep reddish purple.

Pour the juice and cherries into a food processor and pulse until there are no more big chunks. At this point, you can strain out the skins or leave them in. I left mine in for looks, but next time I would probably strain them out.

Place into a bowl and put in the fridge to cool down.
Cherry Buttercream
In a mixing bowl, add in the butter and the cooled cherry puree. If it's still hot, it will melt your butter and you'll have cherry soup instead of frosting.

With a paddle attachment, turn on medium and beat until everything is combined. If it starts to break, add in some of your powdered sugar. Make sure you turn the mixer on low so no one wears the powdered sugar.

Add in the rest of the powdered sugar, coffee creamer, and vanilla and mix on low until everything is combined.

Turn the mixer on medium/high and let it whip until your buttercream is light and fluffy. It will only take 2-3 minutes. Set aside.
Milk Chocolate Ganache
In a microwave bowl, add the chocolate chips and heavy cream.

Place the bowl into the microwave for 45 seconds and whisk. The chocolate chips should be melted and you should have a deep chocolate liquid. If there is still cream on the surface, keep whisking. It just needs to be mixed more.

Cover the bowl with plastic wrap and place in the fridge for a 2-3 hours until it sets up. We want it at a consistency that can be piped.
Chocolate Macarons
Preheat your oven to 300 degrees. Get out two baking sheets and cover them with parchment paper. I make a circle template for myself and flipped the parchment paper over so the ink wouldn't be touching my batter.

I couldn't find almond flour so I made my own. I placed 1 and ½ cups of almonds in my food processor. I turn it on high until everything was somewhat fine. I sifted the almonds and placed the coarse almonds back into the food processor and repeated the process. Once I got enough almond flour, I placed what I had sifted back into the food processor on high for another 3 minutes. I sifted it once more and discarded any coarse pieces.

In a mixing bowl, place your egg whites in. With the whisk attachment on high speed, whip until the white are at a soft peak. It would only take 2-3 minutes.

At this point, with the mixer still going, slowly add in the granulated sugar. Keep mixing until the egg whites come to a stiff peak. Turn the mixer off.

In a separate bowl, sift the powdered sugar, almond flour, cocoa powder, and salt. Whisk the dry ingredients together.

Slowly add a small portion of the dry ingredients into the stiff meringue. Fold it in with your whisk until it is incorporated. Continue to add in small portions. I would do thirds. If you over-mix the batter, the macarons will come out somewhat flat. Like mine. If you under-whisk them they come very fluffy.

Once you have all the batter combined, it should be thick. It will still have a little movement though.

Add the batter into a piping bag with a round tip. Pipe your circles of batter.

After you piped all your macarons, let them sit for 1 hour or until the tops are no longer sticky.

Place them in the oven for 20 minutes.

Remove them from the oven and let them cool.

Once they have cooled, unstick them from the parchment paper and match your shells so the tops and bottoms are the same size.

Place the ganache and cherry buttercream in separate piping bags.

One one half pipe the ganache and on the other half pipe the cherry buttercream.

Carefully sandwich them together without breaking them. Voila!
Nutrition
Calories:
324
kcal
Carbohydrates:
48
g
Protein:
3
g
Fat:
14
g
Saturated Fat:
7
g
Cholesterol:
24
mg
Sodium:
70
mg
Potassium:
37
mg
Fiber:
1
g
Sugar:
45
g
Vitamin A:
295
IU
Vitamin C:
0.7
mg
Calcium:
37
mg
Iron:
0.5
mg
(Nutrition facts are an estimate and not guaranteed to be accurate. Please see a registered dietitian for special diet advice.)
Have you made a French macarons recipe?
What's your favorite French macarons flavor combination?
Do you think you'll try to make this Chocolate Macaron recipe?