I love making jam. It's easy and loaded with sugar. What's not to like? Unless you're not the canning type. It's a lot of work.. hot, sweaty work.
It's worth it. Don't let the hot and sweaty part deter you from jumping into canning.
I came across the mother load of rhubarb as we planted the second half of our garden out back of my father-in-law's one rental house. The plants were ginormous and incredibly full. I think I heard angels sing as I got closer to it. So, after asking permission, I plucked those plants clean of their stalks.
I had already posted a strawberry rhubarb pie on the blog, so the next best thing is strawberry rhubarb jam! The rhubarb cooked down beautifully for the jam. I couldn't be happier with it!
I didn't know that people had such an aversion to rhubarb until this summer. The husband took a strawberry rhubarb bar that I was working on to work and only one person tried it. ONE. I get it. It's sour, but with a little sugar it's the perfect sweet and sour flavor. To each their own, I suppose.
This jam would be an excellent gift for friends or family. Make sure they don't hate rhubarb first, though! It's the perfect gift because you can't find it everywhere. I've never gifted my jam, but I like the idea.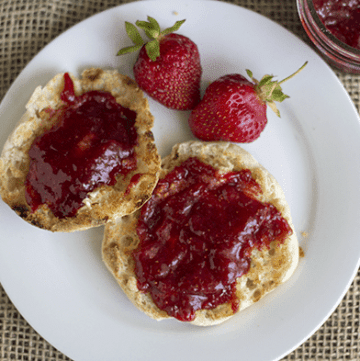 Strawberry Rhubarb Jam
Ingredients
8

cups

strawberries

hulled and halved

4

cups

rhubarb

peeled and sliced

2 ½

cups

granulated sugar
Instructions
Place all of the ingredients into a large saucepan. Turn the heat on medium and stir occasionally.

Let the rhubarb and strawberries cook down I let my jam cook down for 1 hour and 20 minutes. Smash the strawberries a bit with the back of your spoon against the sides of the saucepan.

Once the jam thickens and the fruit is cooked to your liking, you'll need 3 pint jars. The way I test my jam is by placing a plate in the freezer for 10-15 minutes and then putting a dollop of jam onto the chilled plate. If it sets up, it's ready to be canned. If it runs, cook it for a while longer.

Once the jam is ready, place it into hot sterilized jars. Clean the rim with a damp towel. Place a hot lid and ring onto the jar. Place the jars in the hot water canner and make sure the water covers the lids of the jars. Once the water comes up to a boil, boil for 10 minutes. Remove from the hot water canner and place under a warm towel. Let sit overnight.
Nutrition
Calories:
802
kcal
Carbohydrates:
203
g
Protein:
4
g
Fat:
1
g
Sodium:
12
mg
Potassium:
1056
mg
Fiber:
10
g
Sugar:
186
g
Vitamin A:
210
IU
Vitamin C:
238.8
mg
Calcium:
201
mg
Iron:
2
mg
(Nutrition facts are an estimate and not guaranteed to be accurate. Please see a registered dietitian for special diet advice.)