Strawberry shortcake truffles made with golden Oreos, freeze-dried strawberries, and cream cheese! They're dipped in a white chocolate and sprinkled with a strawberry golden oreo crumb. They make the perfect little treat!
Strawberry Shortcake Truffles
These disappeared incredibly fast. Too fast, if you ask me. They're so easy to grab and pop in your mouth.
I love to keep my cookie pops and truffles in the fridge because I'm all about that crunchy chocolate shell. In this case, you have to keep them in the fridge because of the cream cheese.
These strawberry shortcake truffles remind me of the strawberry shortcake ice cream bars that I used to get in elementary school. They have a crumb topping, a white layer, and then a pink center.
I haven't had an ice cream bar in such a long time, but these truffles taste just like how I remember the ice cream tasting. Well, actually better.
I'm not a huge lover of vanilla ice cream especially after I've eaten all of the toppings off from it.
How to make strawberry shortcake truffles
I actually remembered and wasn't too late to take pictures for you. Woohoo!
First, make sure you have all of the ingredients.
The next thing is, add those freeze-dried strawberries and cookies into a food processor. If you don't have a food processor, you are missing out!
A blender might work, I'm not positive since I haven't tried it before. If you have, please let us know in the comments!
Once you've pulsed the strawberries and cookies to a very fine crumb, scoop out 1 - 2 tablespoons of the crumb to save for the top. Toss in the cream cheese and pulse until a ball forms.
Get out your trusty cookie scoop. I always use the 1 ½ T. cookie scoop by progressive.
Seriously, it has literally been the best cookie scoop. It has stood up to all of my cookie making for the Easy Homemade Cookie Cookbook I published last year.
That's 150 recipes minus the brownies and multiply at least 3 for the times that I tested each recipe.
Anyway, back to these strawberry shortcake truffles. After you scoop the dough out, roll it into a ball to dip it in white chocolate.
Heat your white chocolate and coconut oil or shortening in the microwave until it's smooth. Using a fork and a skewer, roll the truffles around until they're coated and place on a piece of parchment paper. I use the skewer to slide the truffles off without leaving fork marks in the chocolate.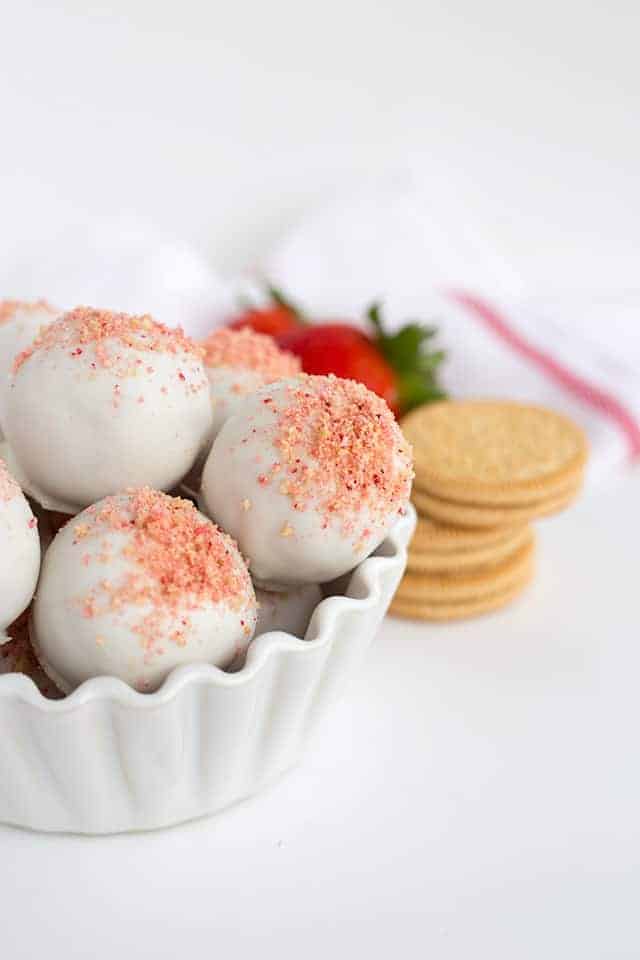 Where do I find freeze-dried strawberries? Pretty much anywhere. I grab mine from Walmart in the produce section with the figs and dried fruits.
Do I need a food processor to make these strawberry shortcake truffles? Yes. Crushing the cookies and strawberries by hand isn't going to get the crumbs small enough especially on the strawberries.
Can I use white chocolate chips instead of white candy melts? Yes, it will take longer for the chocolate to set up though. Just substitute the candy melts for the chips in this recipe. I have the most success melting chocolate chips in a double boiler rather than a microwave like in this recipe.
Can I use shortening instead of coconut oil? Yes.
Does the coconut oil leave a coconut taste in the truffles? Not if you use refined coconut oil. Refined coconut oil which has neutral flavor and scent. Unrefined has coconut flavor and scent.
These are the freeze-dried strawberries I used.
Strawberry Shortcake Truffles
These strawberry shortcake truffles are quick and delicious! They only need 5 ingredients to whip up!
Ingredients
Truffles
26

Golden Oreos

.8

ounce

bag freeze-dried strawberries

5

ounces

cream cheese

softened
Coating
1 ¼

cups

white candy melts

1

teaspoon

coconut oil
Instructions
TrufflesAdd the Oreos and freeze-dried strawberries into a food processor and pulse until a fine crumb forms.

Scoop out about 2 tablespoons and set aside for sprinkling.

Add the cream cheese into the food processor and pulse until a ball forms.

Using a 1 ½ tablespoon cookie scoop or whatever size you prefer, scoop the truffles out onto a piece of parchment paper.

Roll the truffles between your hands to form a ball.

CoatingIn a small microwave-safe bowl, add in the candy melts and coconut oil. Microwave for 30-second intervals and stir. Repeat until the candy melts are completely melted.

Dip the truffles into the candy melts and tap off any excess coating by tapping the fork on the side of the bowl.

Use a skewer and push the truffle back onto the piece of parchment paper.

Quickly sprinkle with the crumb that you set aside before the coating sets up.

Store in the fridge.
Nutrition
Calories:
135
kcal
Carbohydrates:
15
g
Protein:
1
g
Fat:
7
g
Saturated Fat:
2
g
Cholesterol:
10
mg
Sodium:
102
mg
Potassium:
31
mg
Sugar:
8
g
Vitamin A:
125
IU
Calcium:
15
mg
Iron:
0.5
mg
(Nutrition facts are an estimate and not guaranteed to be accurate. Please see a registered dietitian for special diet advice.)