These Strawberry Marshmallows with a chocolate drizzle are so delicious! They're made with strawberry jello and strawberry extract and smell just like candy. They are the perfect, homemade marshmallow to serve with a cup of hot chocolate.
Looking for a tasty new treat to make for Valentine's Day next year? Our strawberry marshmallow recipe is one you should definitely try! Making marshmallows isn't hard once you have a good recipe and the right tools. Anyone can whip up these delicious, picture perfect strawberry marshmallows right in their own kitchen and we can show you how.
Need more strawberry desserts to try? This Strawberry Swirl Cheesecake, Strawberry Shortcake Truffles, Strawberry Frosting, or Strawberry Sweet Rolls should satisfy that strawberry craving for you!
Jump to:
How to Make Strawberry Marshmallows
Making marshmallows mainly involves whipping hot sugar into gelatin. The gelatin and sugar mix will become very light and fluffy and then get more firm as the mix cools, creating perfect, soft marshmallows. Here is a little bit more detail about exactly how to make the best strawberry marshmallows possible.
Bloom the unflavored gelatin with water, softening it and also activating its gelling power.
Cook the sugar, corn syrup and water to 240 degrees F. This is called the "soft ball" stage of sugar cooking which means the syrup will be a soft, sticky ball once cooled. This is the texture you want to get soft marshmallows. If the sugar is over cooked, the marshmallows will end up being too hard. If it is undercooked, they will not hold their shape. 240 degrees is perfect!
Once the sugar has reached the ideal temperature, add the strawberry jello into the pan and stir well, dissolving all of the jello. This strawberry marshmallow recipe uses strawberry jello but you can really choose any flavor you'd like. This recipe is totally customizable!
Add the bloomed plain gelatin to a stand mixer with a whisk attachment. Turn the mixer on high and slowly stream in the hot strawberry sugar mix. Be sure to go slow so you do not cook the gelatin. A nice, steady stream of sugar into the mixer will be perfect.
Let the mix whip until it is very fluffy and looks like thick marshmallow.
Add strawberry extract and food coloring to the whipped marshmallow to really bring out the flavor and color.
Pour the thick strawberry marshmallow into a 8x8 baking pan that has been dusted with a cornstarch and powdered sugar mix. This will prevent your strawberries from sticking to the pan- they can be VERY sticky so be sure to get every corner of the pan with the sugary dust.
Dust the top of the marshmallows with the powdered sugar mix as well.
Let the marshmallows sit at room temperature to get firm. Overnight is best but they should be set in about 4 hours.
Cut the marshmallows into your desired shape and then enjoy!
Once you have made a batch or two of strawberry marshmallows, you will see how easy it can be. You just need to get the hang of it! Try it now so that when Valentine's day rolls around, you will already be a marshmallow-making pro!
How to Store Strawberry Marshmallows
After you have made perfect strawberry marshmallows, you want to be sure to store them well, ensuring they stay soft and fresh.
Wrap your marshmallows in parchment paper and then place them in an airtight container. Store in a cool dry place and they should stay fresh for about a month.
It is best to keep the marshmallows in a large sheet if you plan to store them for a long amount of time. Cut the strawberry marshmallows whenever you are ready to enjoy them. This will prevent them from drying out faster as there are fewer "edges" when stored in their original form.
Can You Freeze Marshmallows?
You may be surprised to learn that marshmallows freeze quite well. In fact, when stored properly, you can keep homemade marshmallows in the freezer for up to 4 months! Wrap your marshmallows in parchment paper and then place them in an airtight container or zippered freezer bag. Place the container in the freezer and your marshmallows will be preserved!
When you are ready to eat your frozen strawberry marshmallows, simply take them out of the container and let them thaw at room temperature. The marshmallows should be completely thawed in just a few hours. How easy is that! This is a great way to make strawberry marshmallows now and enjoy them later on. Time to get ahead on that Valentine's Day baking!
FAQ's
Here are a few commonly asked questions about our strawberry marshmallow recipe. Hopefully you find the answers helpful on your homemade marshmallow quest.
Can I cut these marshmallows with cookie cutters?
You definitely can cut these marshmallows with a cookie cutter. My first recommendation would be to pour the strawberry marshmallow "batter" into a 9x13 tray rather than using an 8x8 inch square. The larger pan will give you flatter marshmallows which will be better for cutting with a cookie cutter.
Once the marshmallows are firm, dip your cookie cutter in some cornstarch and then cut into any shapes you'd like! Cornstarch is essential to ensure that your cookie cutter doesn't stick to the marshmallow as you cut. Be sure to save the scraps between the shape cutouts- they will be perfect in hot cocoa or just for snacking on later!
Can I add freeze-dried strawberries to the marshmallows?
You can add freeze-dried fruit to your marshmallows! Once your marshmallows have whipped completely, fold in the freeze-dried strawberries using a rubber spatula. Just a warning that this will be a very sticky process.
Once the berries are mixed in, pour the marshmallow into the prepared pan and let cool. You may also want to try spreading the freeze-dried marshmallows over the bottom of the pan and then pouring the marshmallow mix on top of the berries. You can make an interesting pattern with the berries using this method and it is a little less messy.
What should I serve with these marshmallows?
There is so much you can do with strawberry marshmallows- your possibilities are endless! First, you can eat them plain. They are very flavorful and make for a delicious dessert.
You can also put them in a cup of hot cocoa for a chocolate-covered strawberry effect. Speaking of chocolate, you can try placing a marshmallow on a lollipop stick and dipping it into melted chocolate. Now you have a chocolate covered strawberry marshmallow lollipop!
You can use them to make s'mores or even to put on top of ice cream. You really can't go wrong with any creative idea that involves eating yummy strawberry marshmallows!
I bet by now you are dying to try making your own strawberry marshmallows. With our recipe, we know they will come out great! Let us know what you think and how you choose to enjoy your marshmallow treat. Enjoy!
Shop this post: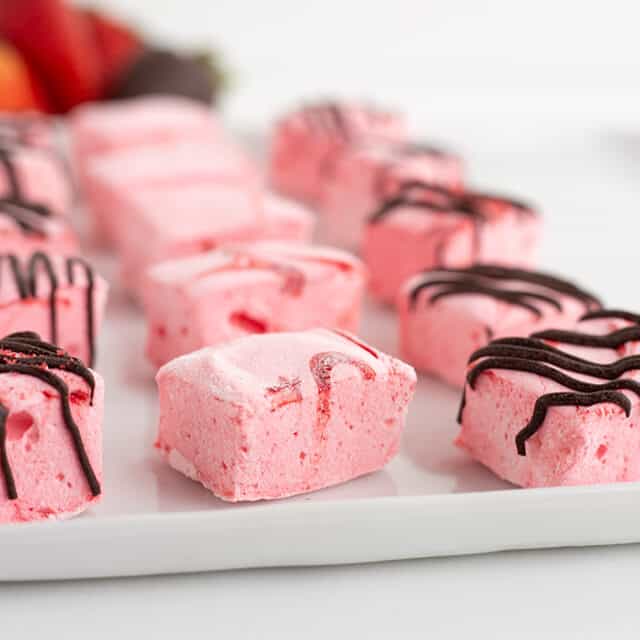 Strawberry Marshmallows
These Strawberry Marshmallows with a chocolate drizzle are made with strawberry jello and strawberry extract and smell just like candy.
Ingredients
¼

cup

powdered sugar

2

tablespoons

cornstarch

2

packets of unflavored gelatin

1

cup

water

divided

¾

cup

granulated sugar

½

cup

light corn syrup

¼

teaspoon

salt

3

ounces

strawberry jello

3

teaspoons

strawberry extract

2

drops red gel food coloring
Instructions
In a small bowl, add in the unflavored gelatine and ½ cup of water. Let bloom.

In a large saucepan, add in the sugar, corn syrup, the remaining ½ cup water, and salt. Place over medium heat and let it come up to 240 degrees F.

Add the strawberry jello to the large saucepan and stir to combine.

Add the bloomed gelatin to a stand mixer bowl and slowly begin to pour the hot sugar into the bowl. This will help dissolve the gelatin.

Begin whipping the mixture with the whisk attachment for 8 to 10 minutes until fluffy and stiff.

While the marshmallow mixture is whipping, prepare the pan.

Lightly spray an 8x8 inch square pan with nonstick baking spray.

In a small bowl, combine the powdered sugar and cornstarch. Reserve half of the mixture to dust the top of the marshmallows.

Dust the greased pan with the powdered sugar and cornstarch mixture.

In the last 1 minute of beating, add the strawberry extract and food coloring. Continue to beat.

Pour the marshmallow mixture into the prepared pan.

If you want a red swirl in your marshmallows add an additional 1 to 2 drops of food coloring on either side of the mixture and use a skewer to swirl it around.

Add the remaining powdered sugar/cornstarch mixture on top of the marshmallows. Spread it to cover all of the marshmallows.

Let the marshmallows rest for at least 4 hours to firm up before cutting. Overnight is best.

Using a sharp knife or pizza cutter, cut the marshmallows into 12 pieces. If the marshmallows are sticky, dust the knife with some of the powdered sugar/cornstarch mixture.

Toss the marshmallows in additional powdered sugar so the sides aren't sticky.
(Nutrition facts are an estimate and not guaranteed to be accurate. Please see a registered dietitian for special diet advice.)