This Homemade Strawberry Frosting with fresh strawberries takes a little more time and effort but tastes absolutely amazing. It has a beautiful pink color from the strawberry puree and specks of red from bits of strawberry. This is the perfect strawberry icing to top any Valentine's dessert with.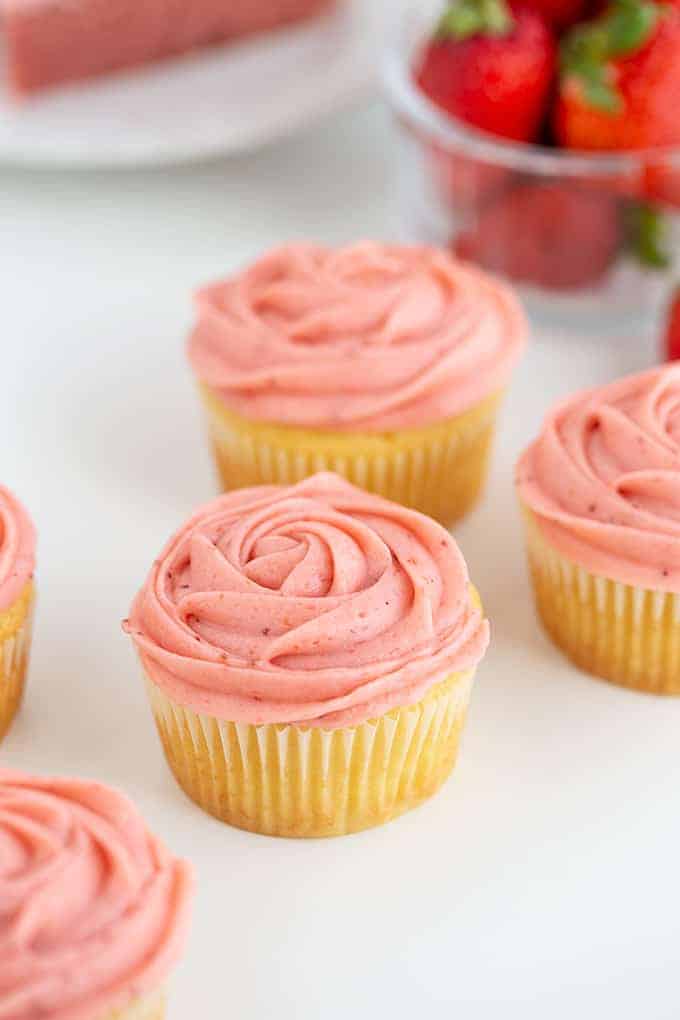 This strawberry frosting recipe would taste great on yellow cupcakes, these strawberry cupcakes, and this fluffy yellow cake recipe.
It has a great punch of fresh strawberry flavor and the prettiest pink color. The best part is no strawberry extract or food coloring is needed to achieve either the flavor or color.
Ingredients for Strawberry Frosting
As with most frosting recipes, well except swiss meringue buttercream frosting, this one doesn't require a lot of ingredients. That's my favorite part about making frosting.
You'll need:
strawberry - I used a 1 pound container of strawberries. When they're halved, it equals about 3 cups of strawberries.
butter - I used salted butter, but you can definitely use unsalted and just add a pinch of salt to your frosting.
powdered sugar - for that sweet, sweet flavor.
vanilla - for a little additional flavor
milk - I didn't use milk, but for some reason if your frosting is thicker than mine, feel free to use a little.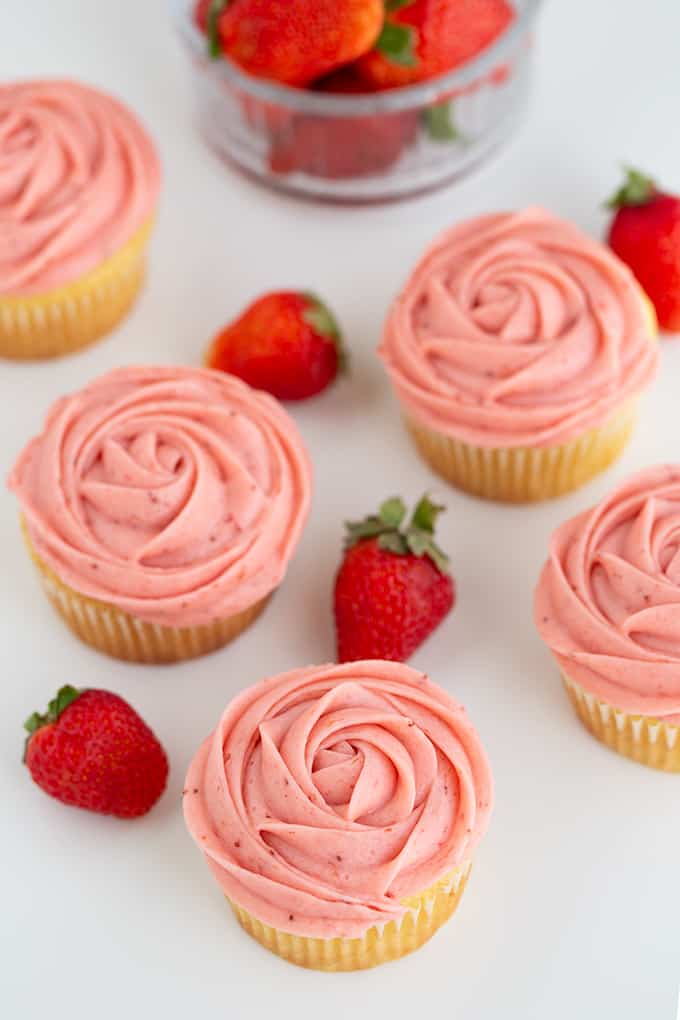 How to make Strawberry Frosting
The most important part of making this homemade strawberry frosting using fresh strawberries is cooking down the strawberry puree to a thick, paste-like consistency.
This way, you'll have a strong strawberry flavor and a bright pink color without all the additional liquid.
For the strawberry puree:
Wash the strawberries and remove the green leafy part.
Pop the strawberries in the food processor or blender and pulse until pureed.
Add the puree to a medium saucepan and place over medium heat. Let the puree reduce down to ½ cup. The thicker the puree gets, the more you will need to stir it so it doesn't burn.
Let the puree cool to room temperature.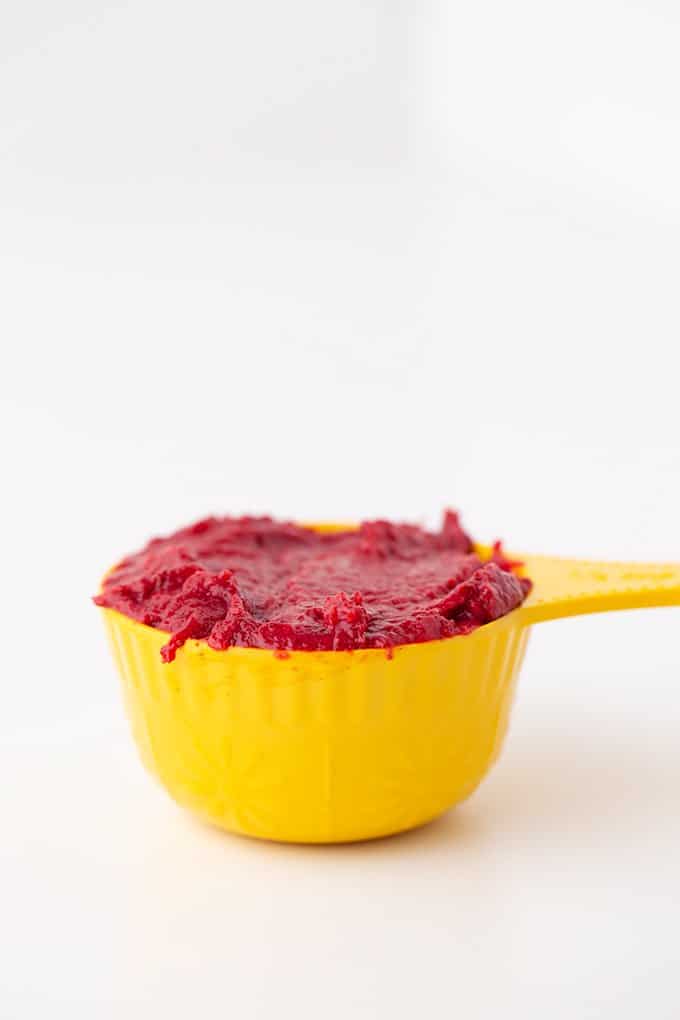 For the frosting:
Add the butter, vanilla extract, and 4 cups of powdered sugar to a mixing bowl. Beat until the powdered sugar is worked in.
Beat in half of the strawberry puree.
Add in the remaining powdered sugar and mix until combined.
Beat in the remaining strawberry puree.
How long will strawberry frosting last
The key to making any frosting last is placing it in an airtight container. It then will last 2 to 3 days at room temperature, about 1 week in the fridge, or 1 month in the freezer while being stored in a freezer bag or freezer container.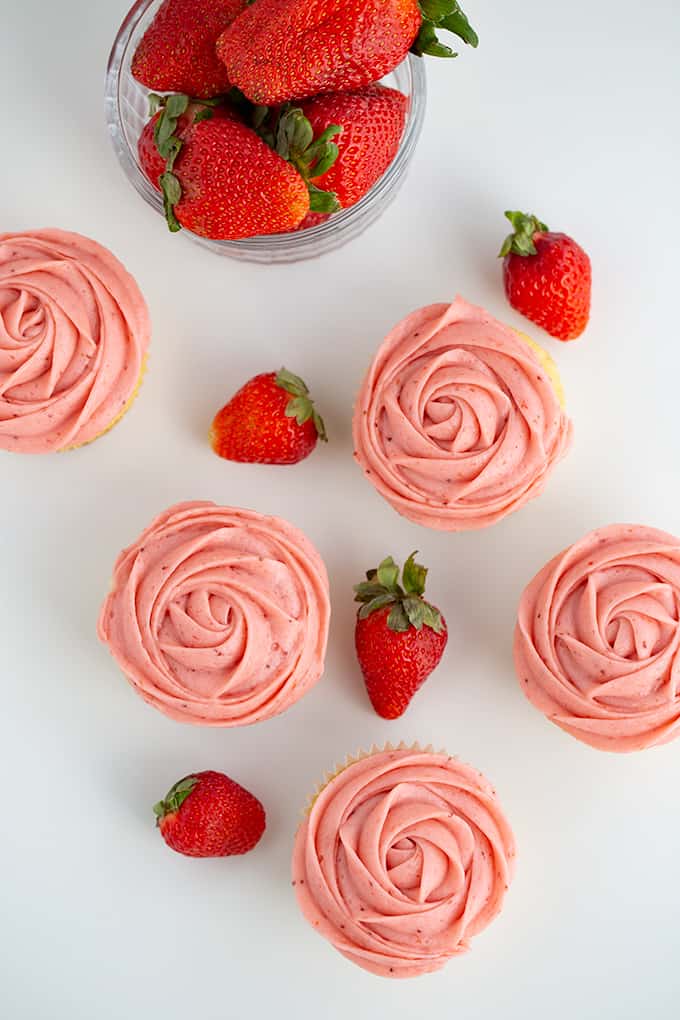 Can I use frozen strawberries in this frosting?
Yes! It make a little longer to cook the liquid out of them, so be ready to spend some extra time at the stove. You can also prepare the strawberries a couple of different ways.
You can either add the frozen strawberries directly to the saucepan without pureeing and cook them down. Then puree them afterward and if there's over ½ cup of puree, place it back in the saucepan to thicken more.
You can also thaw out the frozen strawberries, puree them, and then cook them down in the saucepan. The color may not be as vibrant as when you use fresh strawberries.
Either way, make sure the puree is cooked down to ½ cup.
Does this strawberry frosting crust?
It didn't crust for me, but if you were to add more powdered sugar I think it would.
Do I have to cook the strawberry puree?
Yes! Cooking the puree reduces the liquid so you can add more of the strawberry flavor without making a soupy frosting.
Can you pipe with this strawberry frosting?
This frosting doesn't work great for high swirls of frosting. It will settle and you'll have a slouchy pile of frosting on your cupcakes.
It does however make some nice soft rose swirls using the Wilton 1M piping tip. I also did a shell border on the bottom of my strawberry cake recipe that I'm retesting and that held up nicely.
How can I make a firmer frosting?
Add additional powdered sugar to the frosting. I refused to add more powdered sugar because I think it will overpower the strawberry flavor and make the frosting too sweet, but you can be the judge of that.
Reduce the strawberry puree down further so there's less liquid in your frosting. When doing this, you'll need to watch the puree very closely and stir it constantly so that it doesn't burn.
More strawberry recipes:
This strawberry frosting recipe has been retested and updated on 4/27/2021 to produce a thicker frosting.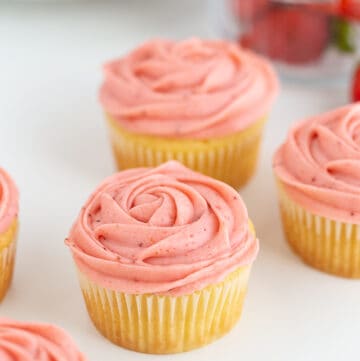 Strawberry Frosting
This Homemade Strawberry Frosting has a beautiful pink color from the strawberry puree and is packed full of fresh strawberry flavor.
Ingredients
3

cups

(1 pound) strawberries, washed, hulled, and halved

1 ½

cups

butter

room temperature

1

teaspoon

vanilla extract

6

cups

powdered sugar

1 - 2

tablespoons

milk

if needed
Instructions
Add the 3 cups of strawberries to a food processor or blender. Pulse until the strawberries are pureed. You should have about 1 ½ cups or just a little more strawberry puree.

Add the puree into a medium saucepan over medium heat and let it cook down to roughly ½ cup of puree. Mine actually measured out to be ½ cup plus ½ tablespoon. If you have more than that, pop it back into the saucepan and continue to cook it until it's reduced ½ cup. The time may vary, but it took 22 - 24 minutes for me. Remove from the heat and let cool to room temperature. *see notes

Add the butter, vanilla extract, and 4 cups of powdered sugar to a large mixing bowl. Using a hand mixer, beat on low until most of the powdered sugar is incorporated.

Add in half of the strawberry puree and continue to beat until incorporated.

Beat in the remaining powdered sugar into the bowl. Scrape down the sides of the bowl.

Add the remaining strawberry puree to the frosting and beat until incorporated.

Spread the frosting on top of cupcakes, cakes, etc. It can be piped into a shell border or rose swirl using the Wilton 1M tip.
Notes
*If you're finding the puree is sticking to the sides of the pan, push some of the puree from the bottom of the pan up on the sides where the stuck on puree is to moisten it up and then quickly scrape it off using a silicone spatula. Stir it back into the puree in the bottom of the pan and continue to cook. Do this as often as you need to to help keep the puree off the sides of the pan.
Nutrition
Calories:
1204
kcal
Carbohydrates:
168
g
Protein:
2
g
Fat:
62
g
Saturated Fat:
39
g
Trans Fat:
2
g
Cholesterol:
164
mg
Sodium:
549
mg
Potassium:
183
mg
Fiber:
2
g
Sugar:
162
g
Vitamin A:
1919
IU
Vitamin C:
56
mg
Calcium:
47
mg
Iron:
1
mg
(Nutrition facts are an estimate and not guaranteed to be accurate. Please see a registered dietitian for special diet advice.)