This Gingerbread Cake is moist and filled with warm spices. This is such an easy gingerbread cake recipe to whip up and doesn't even require frosting! Serve this cake up for Christmas dessert or whenever you have a gingerbread craving!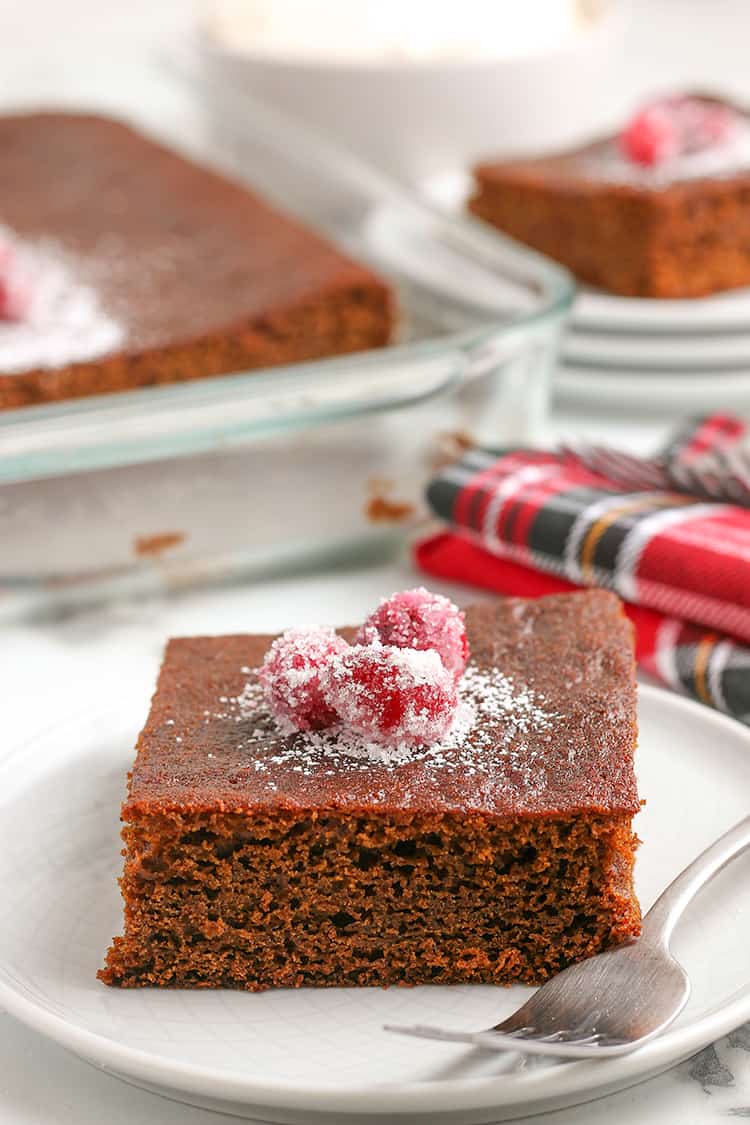 Need more gingerbread in your life this Christmas season? I've got Gingerbread Cupcakes, Gingerbread Cookies, Gingerbread Loaf, Gingerbread Dip, and Gingerbread Muffins for you to check out.
The warm, spicy smell of gingerbread cake in the oven is enough to make anyone want a slice. I know that is how I feel whenever I make this recipe.
How to Make Gingerbread Cake
Get out your measuring spoons and measuring cups as there are quite a few ingredients in this delicious gingerbread cake recipe. However, besides measuring ingredients, this recipe is actually very easy to put together. That is another reason why we love making this cake at the holidays- it is easy!
Having a delicious and simple recipe on hand to whip up quickly on a busy December day is definitely needed.
So how do you put together this simple gingerbread cake? Here is a quick look at how easy it really is:
Cream the butter and sugar.
Add the molasses and egg
Alternate adding the dry ingredients and the buttermilk until a smooth batter forms.
Bake the cake until a toothpick inserted in the center comes out cleanly.
Cool, decorate and enjoy!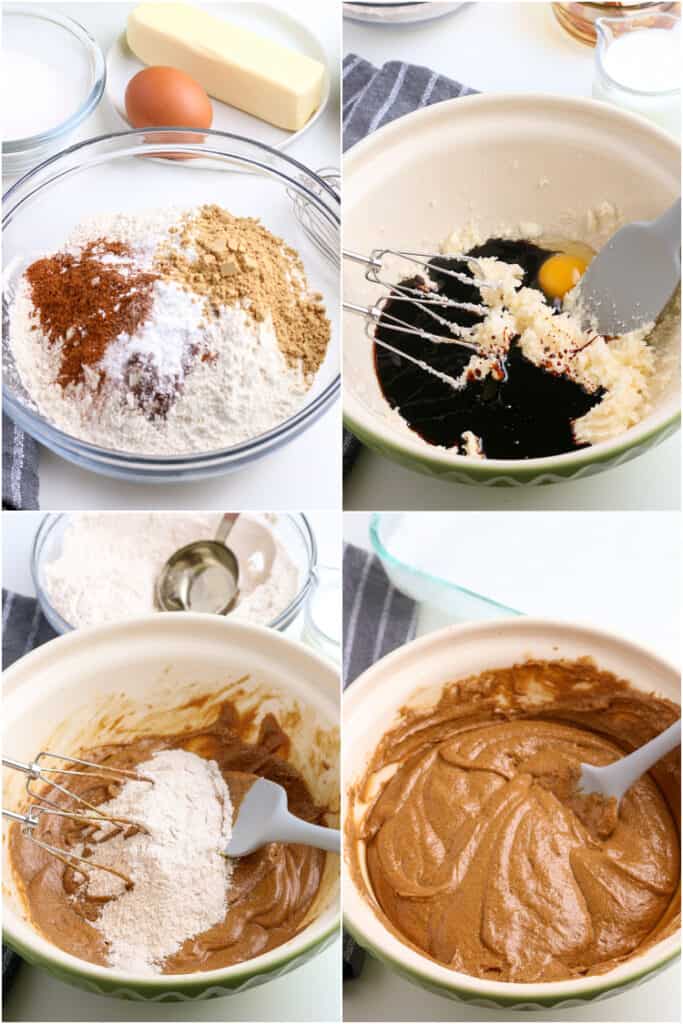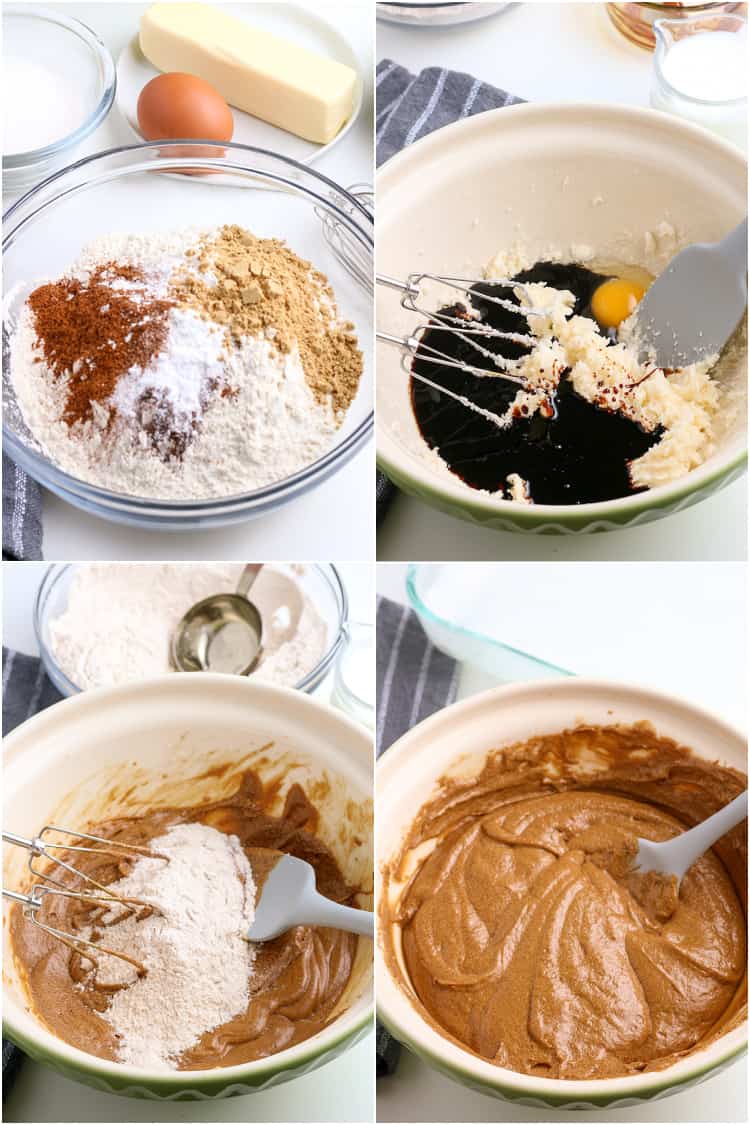 As you can see, it's not too hard to put this delicious cake together. The hardest part really is waiting for it to bake and cool so you can enjoy a big slice!
Have all of your ingredients at room temperature to make the batter come together easily. You can even divide the batter into smaller, individually sized baking pans so that everyone in your family can have their own gingerbread cake. Wouldn't that be a cute and fancy dessert this Christmas?!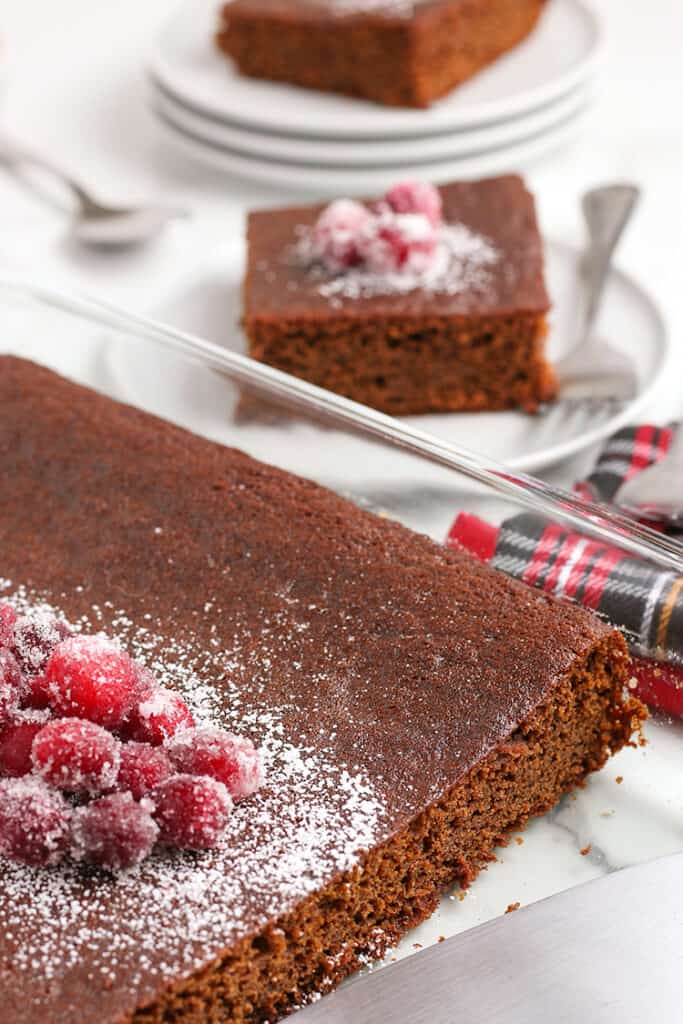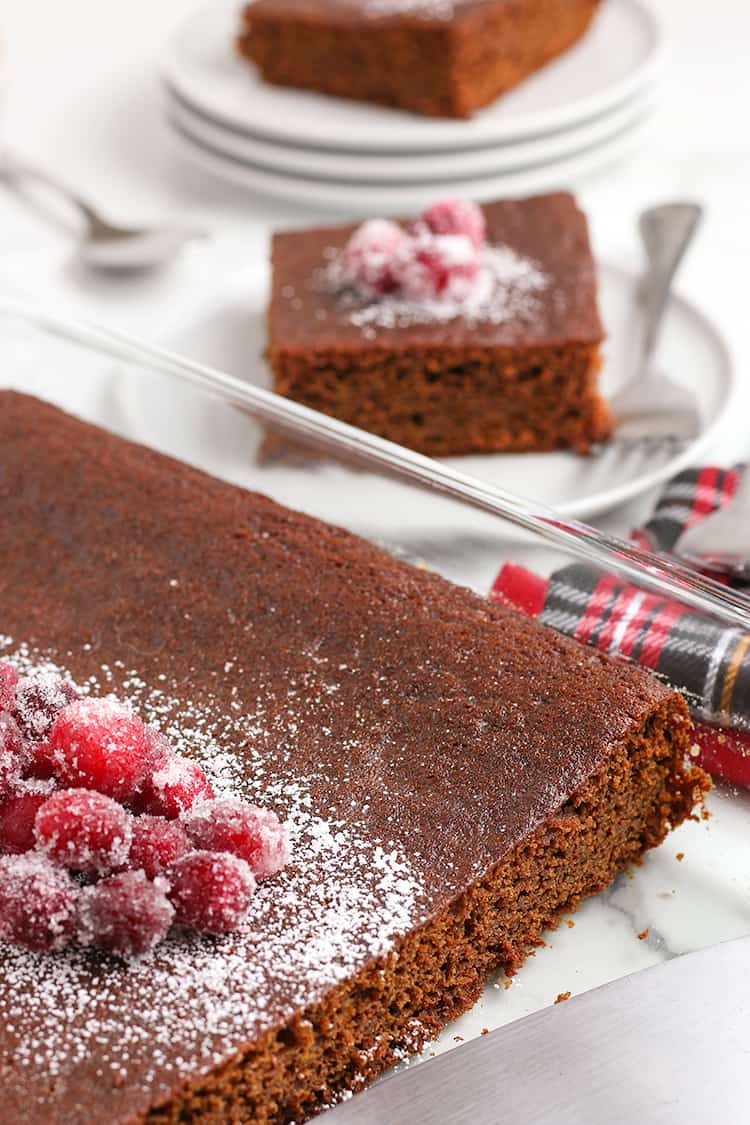 How to Long Does Gingerbread Cake Keep?
Another thing that I love about this gingerbread cake is that it will stay fresh for quite some time. When stored correctly, this cake will last for about 1-2 weeks at room temperature.
Store it in the fridge and the cake will last 2-3 weeks before drying out. You can even freeze the cake for up to two months if you want. Anytime you crave this delicious cake, you can just pull it out of the freezer, let it thaw on the counter, and then enjoy!
How to Store Gingerbread Cake
If you want your cake to last as long as possible, you will need to store it correctly.
Wrap the cake tightly in plastic wrap, letting the plastic wrap touch the surface of the cake. This will prevent any air from touching the cake and drying it out. I would recommend keeping the cake whole, if possible, rather than cutting it into slices and storing it. A whole cake will retain its moisture longer and, therefore, stay soft and fresh! Wrapping the cake well is key!
Can You Freeze Gingerbread Cake?
You definitely can freeze gingerbread cake. Wrap the cake tightly in plastic wrap. If possible, place the cake in a large airtight container or a freezer bag after it has been wrapped. If you do not have a container or bag large enough, simply wrap it twice in plastic to really seal it well. Freeze the cake for up to two months.
When you are ready to enjoy the gingerbread cake, remove it from the freezer and place it on your counter at room temperature. The cake should thaw in about 2-3 hours and be ready to enjoy!
Sugared Cranberries
I love to top my gingerbread cake with candied cranberries. Not only do they add a sweet and tart taste to the cake, but they also look fantastic. The bright red color makes the cake beautiful and festive. Here is how I make my easy candied cranberries:
Heat ¼ cup of sugar with ¼ cup of water over medium heat.
Once the sugar has dissolved, remove the pan from the stove.
Pop the 1 cup of cranberries in the saucepan and coat with the sugary syrup.
Move the syrupy cranberries to a drying rack using a slotted spoon.
Let the cranberries dry for one hour.
Roll the cranberries in a bowl of granulated sugar and transfer to parchment paper to dry for 1 more hour.
These sugared cranberries make a fantastic garnish for this cake but can also be used in many other holiday baking creations. Toss a few on your pancakes for a festive addition. Or just snack on them throughout the day. The sweet and tangy taste makes for a great winter snack.
FAQ's
Here are a few other commonly asked questions that we receive regarding this delicious gingerbread cake recipe. Hopefully the answers help you make a great cake this holiday season!
How to serve gingerbread cake
I am a big fan of serving gingerbread cake slightly warm. Heating the cake helps make the flavors in the cake more powerful and prevalent. Warm cinnamon, ginger and molasses are irresistible!
Of course, you can always enjoy the cake at room temperature. It is wonderful this way as well. Enjoy a slice for a decadent, holiday breakfast or as an after-dinner dessert. Anytime is a good time for gingerbread cake.
What kind of icings go on gingerbread cake
Any simple icing will be good to use on a gingerbread cake. A mix of powdered sugar and milk is the most basic, tasty icing you can use. You may also want to opt for a cream cheese icing. Make a cranberry orange frosting and then stick some candied cranberries into the top as well. You can even drizzle the gingerbread cake with melted chocolate for an extra rich treat.
Can I use blackstrap molasses?
You can use blackstrap molasses to make this recipe. It will add even more rich flavor to the recipe. It will also make your cake a deeper color. Any kind of molasses will work well!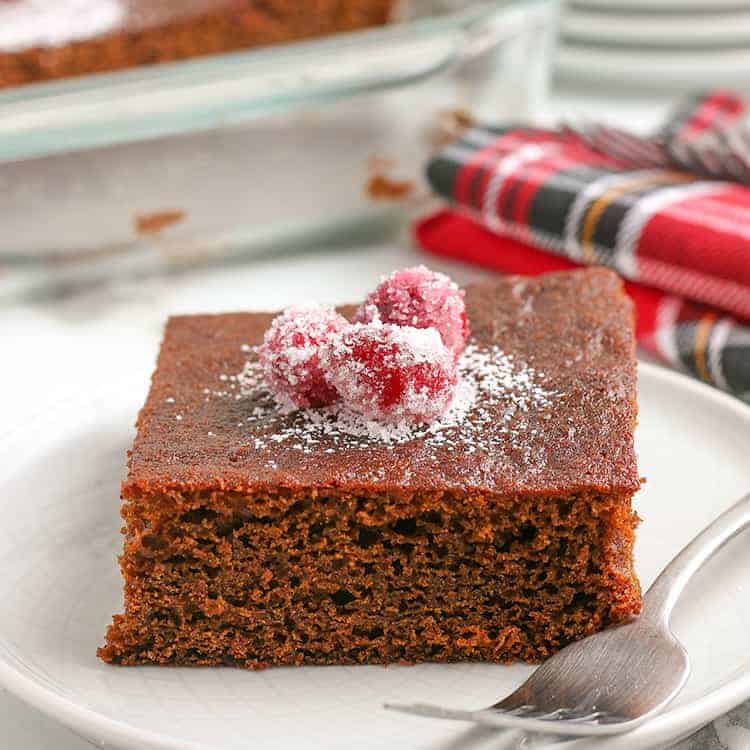 Gingerbread Cake
This Gingerbread Cake is moist, tender, and filled with warm spices.
Ingredients
Cake
2

cups

all-purpose flour

1

teaspoon

baking powder

1

teaspoon

baking soda

½

teaspoon

salt

2

teaspoon

ground ginger

1

teaspoon

ground cinnamon

1

teaspoon

ground nutmeg

½

teaspoon

ground cloves

½

cup

butter

room temperature

½

cup

granulated sugar

1

cup

molasses

1

egg

room temperature

1

cup

buttermilk
Sugared Cranberries
1

cup

fresh cranberries

¾

cup

granulated sugar

divided

¼

cup

water

powdered sugar

for dusting
Instructions
Sugared Cranberries
Add the water and ¼ cup of sugar to a small saucepan. Heat over medium until the sugar is dissolved. This will take 2 to 3 minutes.

Add the cranberries to the saucepan and stir to coat all of them.

Transfer the cranberries to a wire rack or dry for about 1 hour. Use a slotted spoon so the liquid in the saucepan doesn't transfer with the cranberries.

Add the remaining ½ cup of sugar to a bowl.

Add 5 to 10 cranberries at a time and thoroughly coat with the sugar.

Place on parchment paper or paper towel to dry. This will take about 1 hour.
Cake
Preheat the oven to 350 degrees F. Grease a 13x9 inch baking dish with nonstick baking spray and lightly dust with flour. Tap out any excess flour. You can also use nonstick baking spray with flour to skip adding the flour to the pan after spraying it.

Add the flour, baking powder, baking soda, salt and ginger, cinnamon, nutmeg, and cloves to a medium bowl. Whisk to combine.

Add the butter and sugar to a large bowl. Using a hand mixer, beat on medium until creamed.

Add in the egg and molasses and continue to beat until incorporated.

Alternate adding the dry ingredients and buttermilk, starting and ending with the dry ingredients. Beat after each addition and then scrape down the sides of the bowl.

Pour the batter into the prepared baking dish and spread evenly with an offset spatula.

Bake for 40-45 minutes or until a toothpick inserted into the center of the cake comes out clean.

Cool to room temperature or serve warm.

Dust the top of the cake with powdered sugar and add on the sugared cranberries.

Store leftovers in an airtight container at room temperature.
(Nutrition facts are an estimate and not guaranteed to be accurate. Please see a registered dietitian for special diet advice.)