Homemade raspberry vanilla bundt cake with a store bought frosting decorated for Breast Cancer Awareness. Those adorable pink ribbon sprinkles make this cake.
October is breast cancer awareness month. Like most families, I've lost a loved one to breast cancer. This raspberry vanilla pink ombre bundt cake is for you my dearest Aunt Marion. It's been too long since I've seen your face. You would love this ombre cake, I'm pretty sure.
What I didn't know so long ago when she passed was that her and I would have a lot in common as I grew into an adult. She was an amazing cake decorator and baker. I remember picking itty bitty wild strawberries in the fields with her and my grandma. Then hulling those teensy weensy strawberries so I could earn my half pint of wild strawberry jam. That jam was a labor of love for all involved. 🙂
I didn't have strawberries, but I did have some frozen raspberries that I cooked down into a paste. I flavored the pink parts with the raspberry paste and left the white part just vanilla bean flavored. Then for the left over raspberry paste, I poured it on top of the batter before I placed it into the oven. It soaked into the cake and added a zing of flavor into spots of the cake.
Look at how moist and dense this cake is. I absolutely fell in love with the texture of it. It was everything I needed for the cake to be perfect. It's like a master piece. Who gets this excited over a cake other than me? lol
Raspberry Vanilla Pink Ombre Bundt Cake
Ingredients
Cake
1 ½ - 2

cup

frozen raspberries

thawed

1

cup

butter

room temperature

1

+ ¾ cups granulated sugar

1

vanilla bean

3

eggs

½

teaspoon

. baking powder

½

teaspoon

. baking soda

1

teaspoon

. salt

1

+ ¼ cups buttermilk

Rose gel paste color

2

jars store-bought frosting

Electric pink gel paste color

pink ribbon sprinkles
Instructions
Raspberry
With a fine mesh strainer placed over a saucepan, press the juice and pulp of the raspberries. You will need 1 cup of raspberry juice and pulp.

Place over medium heat and let it cook for 30 minutes, stirring often. You will want it to turn into a paste. When it gets thick, it will burn easy to stay close and stir constantly. You'll want it to reduce down to ⅓ of a cup.

Set aside and let cool.
Cake
Preheat oven to 325 degrees. Grease a bundt pan and dust it with flour. I used the Nordic Ware Heritage bundt pan.

In a mixing bowl, add the butter and granulated sugar. Mix until light and fluffy about 3 minutes.

Slice the vanilla bean down the center and scrape all the seeds out and into the butter. If you don't have a vanilla bean, feel free to use 2 teaspoons of vanilla bean paste.

Add in each egg separately and mix until incorporated.

In a separate bowl, add in the flour, baking powder, baking soda and salt. Stir to combine.

Alternately add the flour and buttermilk always starting and ending with the flour. I did 3 parts flour and 2 parts buttermilk. Scrape down the sides and mix to combine.

Separate the batter into four bowls. Leave one plain vanilla.

Add 1 tablespoon of raspberry paste to the other 3 bowls of batter.

Add a drop of rose gel paste color to the first bowl. Stir to combine.

Add 2 - 3 drops of rose gel paste color to the second bowl. Stir to combine.

Add 4 - 6 drops of rose gel paste color to the third bowl. Stir to combine.

I placed each batter into a sandwich bag and piped them into the swirls of the bundt pan started with white and ending with the darkest pink. I tapped the pan on the counter to get rid of any air pockets.

I then layered the cake batter colors in the center of the cake pan.

Drizzle the remaining raspberry paste in the center of the cake batter.

Place in the oven and bake for 1 hour or until done. Place a skewer into the center of the pan, if it comes out clean or with moist crumbs it's done. If it still has batter, let it bake a while longer and test again.

Let it cool for 25 - 30 minutes and turn out onto a cake stand.

Place the first jar of store-bought frosting into the microwave and microwave for 30 seconds. Stir.

Pour the runny frosting over the bundt cake.

I placed the second jar of frosting into the microwave and microwaved it for 30 seconds. Stir.

Place a drop of electric pink gel paste color into the frosting and stir. Make sure it's a very light pink color. Drizzle the light pink down each crevice of the cake.

Add another drop or two of pink color to the frosting. Drizzle the darker pink on top of the light pink.

Repeat adding 1 - 2 drops of pink color to the frosting and adding it on top of the other two pink colors.

Immediately after adding the last pink drizzle, sprinkle with the pink ribbon sprinkles.

Cut and serve. The inside is so pretty!
(Nutrition facts are an estimate and not guaranteed to be accurate. Please see a registered dietitian for special diet advice.)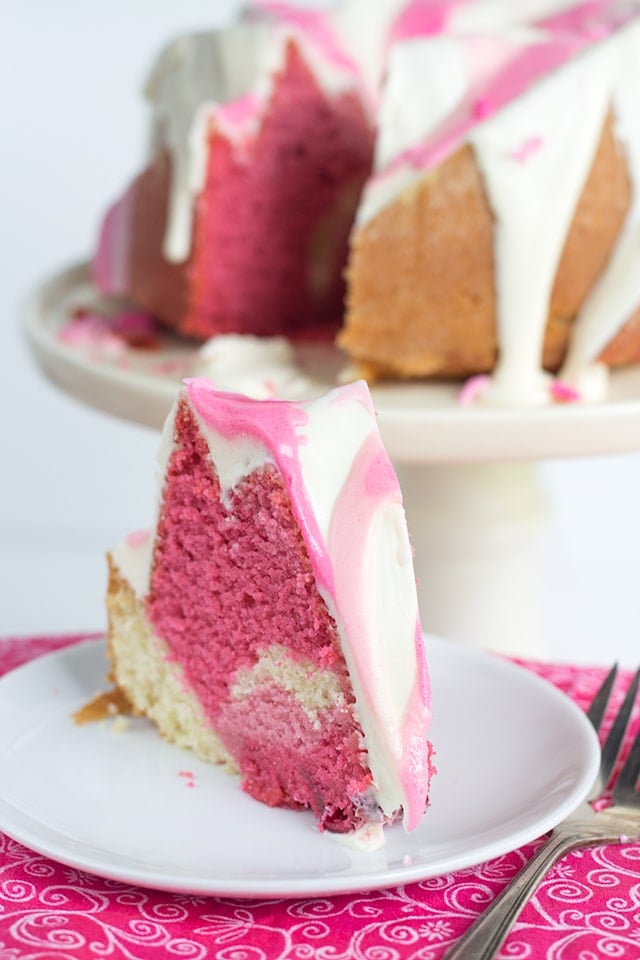 Oh hey! There were a few others that wanted to bring awareness to breast cancer as well. Take a peek at all these goodies!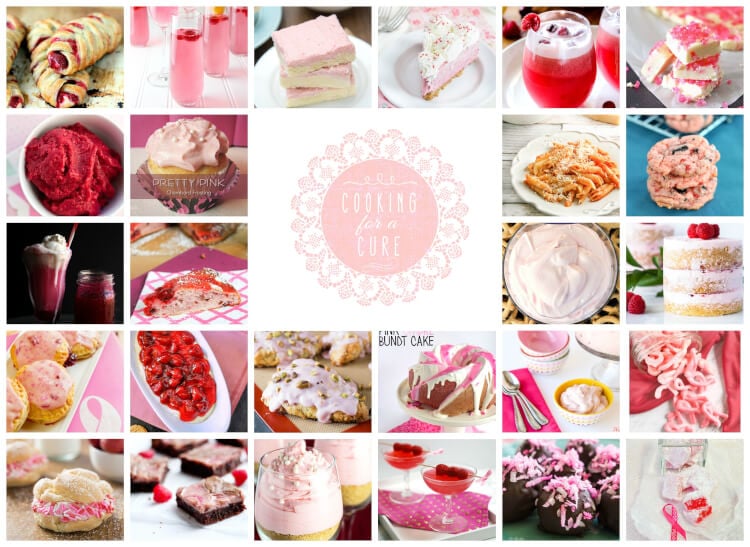 Strawberries & Cream Pastries by Domestic Superhero / Drink Pink Mocktail by Love Bakes Good Cakes / Strawberry Frosted Sugar Cookie Bars by Like Mother, Like Daughter / No Bake Raspberry Cheesecake by Sugar & Soul / Cranberry Raspberry Punch by Carlsbad Cravings / Pink Rock Candy Fudge by Kleinworth & Co. / Raspberry Sorbet by Food, Folks, Fun / Pretty Pink Chambord Frosting by Who Needs A Cape? / Lightened up Pink Vodka Sauce by A Dish of Daily Life / Strawberry Oreo Cake Mix Cookies by Just Us Four / Prickly Pear Soda Floats by Club Narwhal / Cherry Pie Scones by The Bitter Side of Sweet / Pink Fluff Dip by Mamal Diane / Pretty Pink Raspberry Vanilla Mini Cakes by Liv for Cake / Pink Pop Tarts by Life Currents / Strawberry Cheesecake Dip by The Love Nerds / Glazed Cherry Buttermilk Scones by Tastes of Lizzy T / Raspberry Vanilla Pink Ombre Bundt Cake by Cookie Dough and Oven Mitt / Berry Bliss by 365(ish) Days of Pinterest / Meringue Cookies by Mamma Loves Food / Cream Puffs with Strawberry Filling by Cooking on the Front Burner / Raspberry Cheesecake Brownies by Culinary Couture / No Bake Pink Lemonade Cheesecake Parfaits by Homemade Hooplah / Vanilla Berry Cocktail by Twin Stripe / Snowball Truffles by House of Yumm / Turkish Delight by With a Blast