These mini raspberry frozen yogurt pies are a great after-school snack for the kids AND moms! There's a chewy, raspberry fig bar for a crust that makes these little snack pies irresistible. For the filling, there's a fresh raspberry puree folded into a vanilla greek yogurt and whipped cream mixture.
This post is sponsored by Nature's Bakery but the content and opinions expressed here are my own.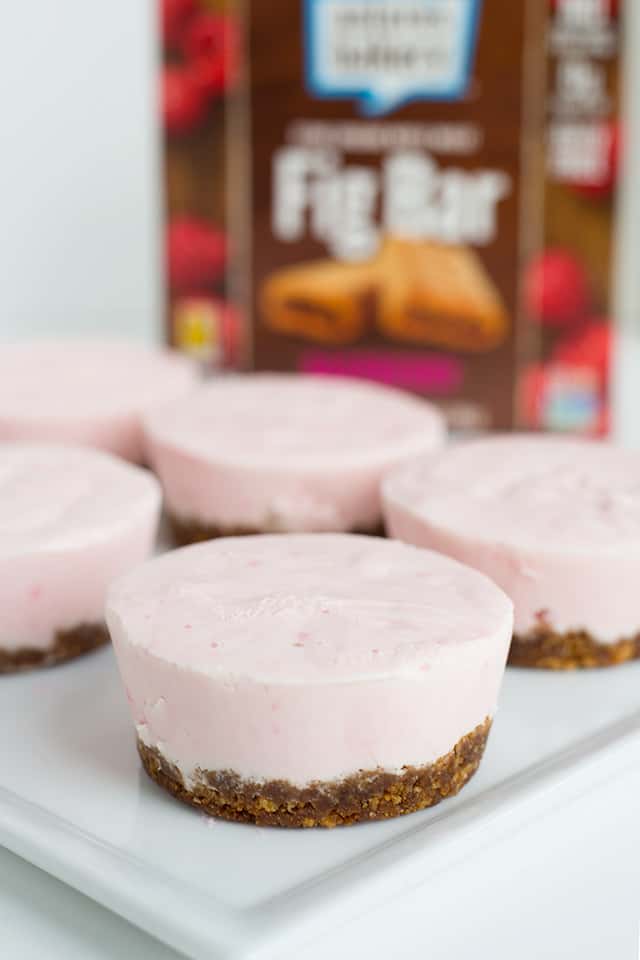 I don't know about your kids, but mine is picky. I can put anything into what looks like a dessert form and get him to try it. So today I did what I know best with these mini raspberry frozen yogurt pies.
Each pie is full of fresh raspberry puree, greek yogurt, and freshly whipped cream placed on a raspberry fig bar crust with a little butter added to help it stick together.
My favorite part is that you get to make these pies ahead of time and just pop them out of the freezer after school. Sunday's are my getting ready for the weekdays day. I check my recipe calendar, make my lists, get my groceries, make sure all of the clothes are washed and do any kitchen prep work like making these snacks.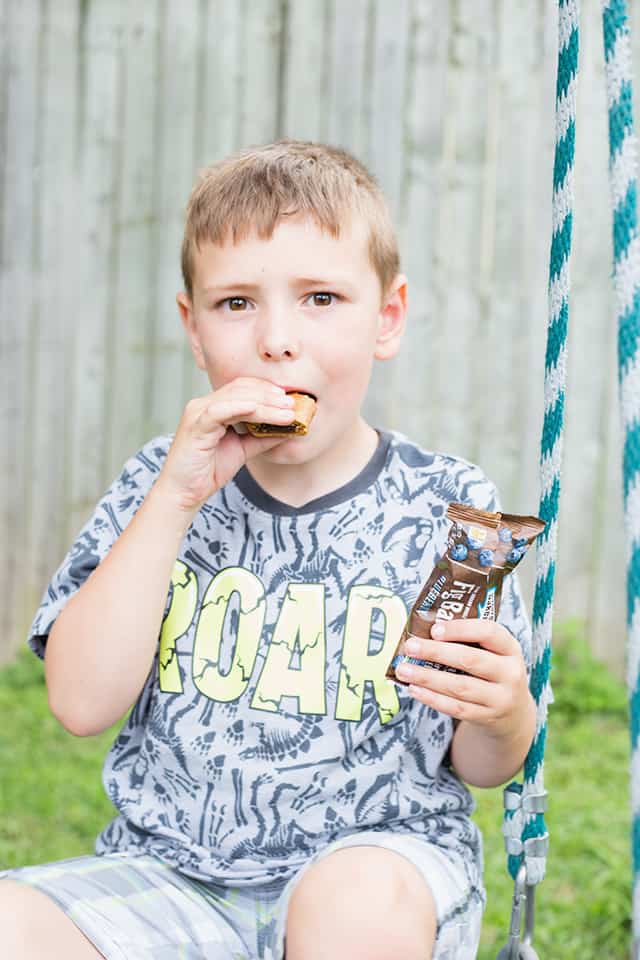 After the pies are frozen, you can cover the pan or pop the pies out of the pan and toss them in a freezer bag. It's really that easy. If you just don't have time for this recipe, Nature's Bakery fig bars are the perfect after-school or on-the-go treat by themselves. They're wholesome, satisfying, and made with real fruit!
Frozen Yogurt Pie Toppings
We are a family that loves fig bars. I made some of the pies topped with a swirl of whipped cream and a square of Nature's Bakery Raspberry fig bar. I knew that would let them know there were fig bars in this snack someplace.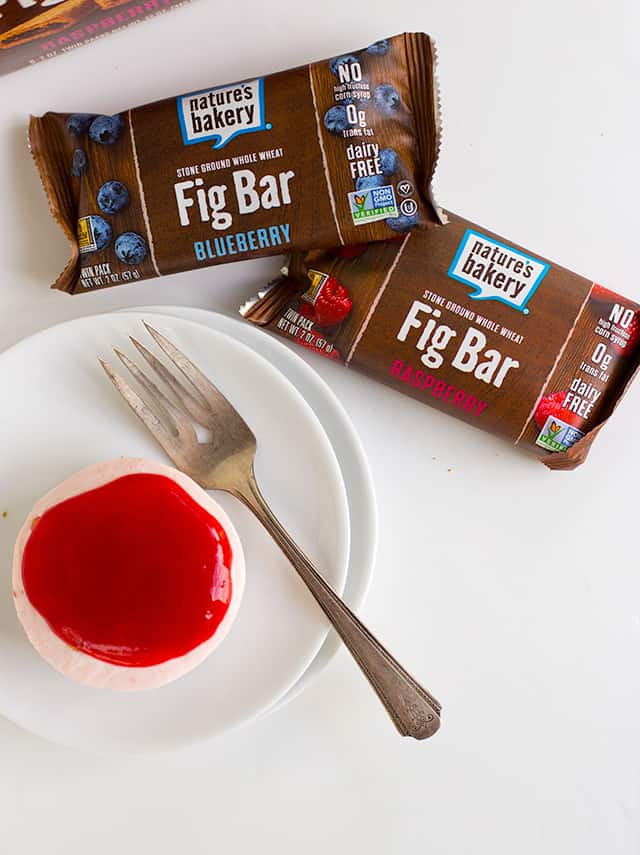 I'm also a fruit lover. So I made a thick raspberry sauce too. It's easy to make and adds the perfect sweet and tart flavor that brings the pies together.
Start by getting your hands on fresh raspberries. Frozen raspberries will do in a pinch, but may add extra liquid to the raspberry sauce. That means you may have to heat the sauce a little longer or have a thinner sauce.
You can either puree them in a food processor/chopper and then push them through a sieve or just push them through a sieve. I used a food processor/chopper because it was already out from making the fig bar crust.
Add sugar and cornstarch into the saucepan first. Stir until they're thoroughly mixed. This will prevent lumps of cornstarch in your sauce.
Then add in your raspberry puree and water. Let it boil until the cornstarch no longer has the milky look to it and pop it in the fridge so it's chilled and ready to top the frozen yogurt pies.
Pans to use for these raspberry frozen yogurt pies
If you have a silicone cupcake pan, that works the best. You can also use a cupcake pan lined with the paper cupcake liners so you can pop them out. after they're frozen.
I personally used a silicone cupcake pan and it works like a dream.
The silicone pan leaves the edges perfectly smooth and the fig bars are so simple to push into the bottoms of the pans. No worries about tearing cupcake liners.
You can switch this recipe up from freezer to just chilled in the fridge, but there are a few things you need to do differently. These pies will not firm on as is in the fridge. They will be runny.
You will need to add 1 envelope of unflavored gelatin (1 tablespoon) and ¼ cup of water into the recipe. You'll add those into a small microwave-safe dish and let it sit for about 10 minutes until it's a solid piece of gelatin. Place it into the microwave for 30-seconds and let it come back to a liquid. Let it cool for a couple of minutes and beat it into the vanilla greek yogurt along with the whipped cream.
A variation of these raspberry frozen yogurt pies
Say you and your kids don't love raspberry as much as we do, but your family is really into blueberries. Let's switch up with frozen yogurt pie for you.
Use Nature's Bakery blueberry fig bars to make the crust. Swap out the 3 oz. (¾ cup of raspberries) for 3 oz. (about ½ cup of blueberries) instead. This time you'll have to use the food processor/chopper to get the blueberry puree for both the pie and the sauce and you won't need the sieve. Everything else is the exact same though.
How to make Raspberry Frozen Yogurt Pies
Raspberry Frozen Yogurt Pies
In these mini raspberry frozen yogurt pies there is a chewy, raspberry fig bar for a crust and for the filling, there's a fresh raspberry puree folded into a vanilla greek yogurt and whipped cream mixture.
Ingredients
Crust
5

Nature's Bakery Raspberry Fig Bars

1

T.

butter

melted
Filling
3

oz.

¾ cup fresh raspberries

¾

cup

vanilla greek yogurt

¾

cup

heavy cream

¼ - ½

cups

powdered sugar
Sauce
3

oz.

¾ cup fresh raspberries

1 ½

T.

granulated sugar

1

tsp.

cornstarch

2

T.

water
Instructions
Crust
In a food processor, add in the fig bars. Pulse until it's a ground meal texture. No large chunks should be left.

Pour in the melted butter and pulse until evenly distributed.

Divide the ground fig bars into 6 cups in a silicone cupcake mold.

Firmly press the ground mixture into the bottom of each cup. Set aside.
Filling
Wipe out any bits of the ground fig bars out of the food processor. Add the raspberries and pulse until puree forms. Set aside.

In a large mixing bowl, add in the heavy cream. Whip on medium until soft peaks form.

Add in the powdered sugar and continue whipping until stiff peaks form.

Add in the greek yogurt and beat until incorporated.

Hold the sieve over the mixture and pour the raspberry puree in. Using a spatula, press the juice through the sieve until all that remains are the seeds.

Scrape the outside of the sieve to get any remaining puree.

Fold the puree into the greek yogurt/whipped cream mixture.

Pour the filling on top of the fig bar crust.

Gently tap the silicone pan on the counter to even out the filling and get any air bubbles out of the filling.

Place into the freezer and let freeze for at least 2 hours or until they're solid and can be popped out of the pan.
Sauce
In a small saucepan, add in the sugar and cornstarch. Stir to mix well.

Add the raspberries into a food processor and pulse until a puree forms. Add the puree into the sieve and press the juice through until all that's left are the seeds. You can skip the food processor and push the raspberries through the sieve into the saucepan.

Add the water and whisk to combine. Place over medium heat and continue whisking.

Once the raspberry sauce comes up to a boil, let boil for 1 ½ to 2 minutes until the cornstarch is no longer milky and the sauce has thickened.

Place into a bowl and cover. Place into the fridge to chill.

Place a frozen yogurt pie onto a place and serve with a drizzle of raspberry sauce.
Nutrition
Calories:
145
kcal
Carbohydrates:
8
g
Protein:
3
g
Fat:
11
g
Saturated Fat:
6
g
Cholesterol:
42
mg
Sodium:
21
mg
Potassium:
90
mg
Fiber:
1
g
Sugar:
4
g
Vitamin A:
435
IU
Vitamin C:
7.6
mg
Calcium:
26
mg
Iron:
0.2
mg
(Nutrition facts are an estimate and not guaranteed to be accurate. Please see a registered dietitian for special diet advice.)
This post contains affiliate links. Cookie Dough and Oven Mitt is a participant in the Amazon Services LLC Associates Program, an affiliate advertising program designed to provide a means for sites to earn advertising fees by advertising and linking to Amazon.com