These are the best Peanut Butter Blossoms! They're made with butter, loads of peanut butter, and the perfect balance of brown sugar and granulated sugar. Pop a chocolate kiss in the center and they're ready for serving! Check out the rest of my cookie recipes too.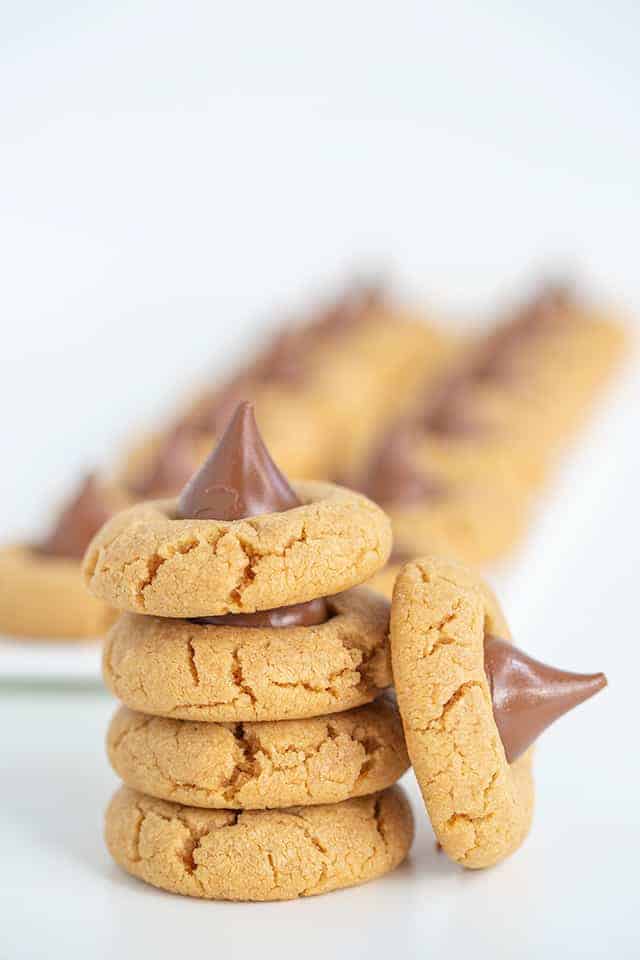 This peanut butter blossoms recipe was a happy accident. I was initially going for a thick, chewy peanut butter cookie but when I saw it puff up and crack ever so slightly, I knew I wanted to pop a chocolate kiss in the center of them.
Don't get me wrong, they make amazing thick peanut butter cookies, but peanut butter can always be made better with a little chocolate.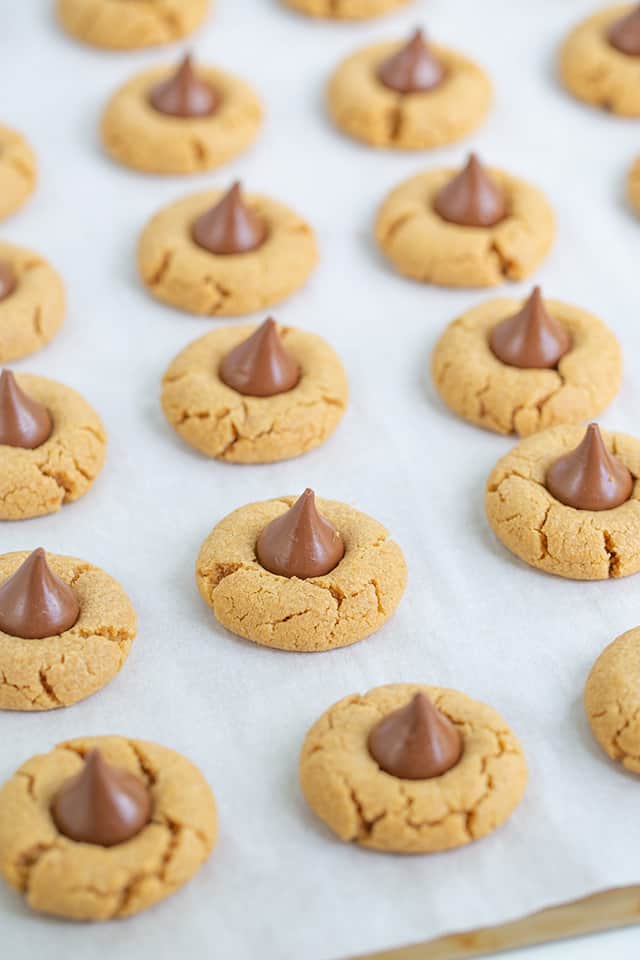 WHAT ARE PEANUT BUTTER BLOSSOMS
Peanut Butter Blossoms are a thick peanut butter cookie with a chocolate Hershey Kiss in the center. The cookie dough is sometimes coated in sugar before baking.
This peanut butter blossom cookie recipe doesn't require that you roll the dough in sugar before baking, but you can if you don't mind an extra step.
(Full printable recipe card is at bottom of post.)
PB Blossom Ingredients
Butter - I used salted butter for my recipe because that's my go-to. I know some recipes call for shortening, but not this one.
Peanut butter - I use Jif's creamy peanut butter, but you can use whatever brand you prefer.
Brown Sugar - I use light brown sugar and always pack it into the measuring cup. I haven't tried dark brown sugar in this recipe.
Granulated Sugar - You can use additional sugar to roll the cookie dough in before baking.
Eggs - I used large eggs for this recipe. Using a different size will either add more or less liquid to the dough and mess with the consistency.
Vanilla - I always opt for Rodelle Vanilla Extract. It has the best flavor.
Baking Soda & Baking Powder - The leavening agents that are needed to help the pb blossoms to puff up and slightly spread out.
Salt - I only used ¼ teaspoon because I used salted butter, but you can up it to ½ to ¾ teaspoon if using unsalted butter.
Flour - I used all-purpose flour. I usually "fluff" my flour before scooping it. So I'll scoop it, slowly pour it out into the center of my flour container and repeat a few times. Then finally scoop it and run the straight side of a butter knife along the top to remove the excess flour.
Hershey Kisses - You can use any kind of chocolate kisses since there are so many varieties now. I went with the originals. You can also use some rectangles of chocolate off a milk chocolate bar instead.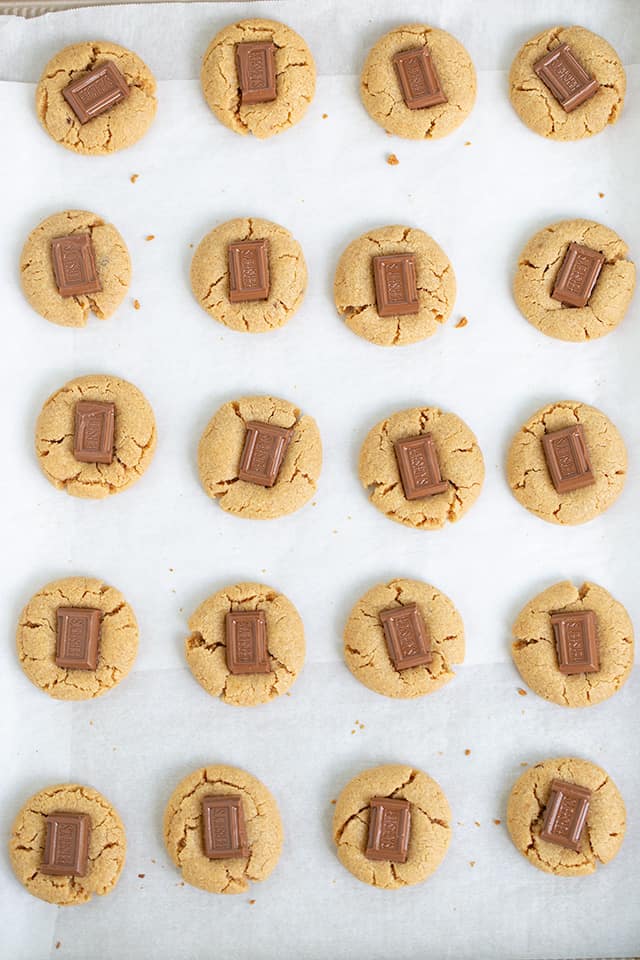 How to Make Peanut Butter Blossoms
I've made these cookies a couple of different ways. My favorite way is with a food processor, but I know a lot of people don't have food processors.
If using a food processor, add the butter, peanut butter, brown sugar and sugar inside. Pulse until combined.
Add the eggs and vanilla extract and pulse until the eggs are incorporated.
Add in the baking soda, baking powder, salt, and flour and pulse until a dough forms and the flour is incorporated. That's it!
If you're using a hand mixer, do it the same way but instead of pulsing, beat on medium.
PRO TIPS FOR MAKING PEANUT BUTTER BLOSSOMS COOKIES:
Try uses Hugs or fun flavored Hershey Kisses for the tops of the cookies.
If the dough crumbles slightly when rolling it, pinch it back together and continue to roll. Gently rolling works the best.
Make sure you have the chocolate kisses unwrapped and ready.
You can refrigerate the chocolate kisses but it's not necessary. They keep their shape really well but will be soft after being added to the cookies.
You can use either a hand mixer or food processor for this recipe.
The peanut butter cookie dough freezes well.
How should I store these Hershey Kiss Cookies?
Store them in an airtight container. These are my favorite containers. I don't recommend stacking the cookies as the chocolate kiss will be soft and will stick to the bottom of the cookie that's on top of it.
Can I Freeze Peanut Butter Blossom Cookies?
I haven't froze baked peanut butter blossom cookies, but I don't see why you couldn't. You would need to place them side-by-side on a baking sheet and place in the freezer until frozen. Then you can pop them in a freezer bag for up to 3 to 4 weeks.
You can also freeze the peanut butter cookie dough by scooping it out and rolling them into balls. Then place them close to each other on a parchment-lined baking sheet and placing them into the freezer until frozen. Then pop the cookie dough balls into a freezer bag for up to 3 months.
To thaw the baked cookies, remove them from the freezer bag while they're still frozen and let thaw at room temperature. I would line my cookie containers with a paper towel and place them side-by-side in there to defrost.
You don't need to thaw the cookie dough balls. Preheat the oven and pop them an inch apart on a parchment-lined baking sheet still frozen. You may need to bake them 1 to 2 minutes longer since they were frozen though.
How long will Peanut Butter Blossoms last?
Not very long! They'll be gobbled up immediately! I'm totally kidding, sort of.
They will last about 5 to 7 days, but will be noticeably harder by the 7th day.
Why are my Peanut Butter Blossoms falling apart?
Peanut Butter Blossoms tend to be a little dry which could be why they're falling apart. Try pinching to dough back together and very gently rolling it.
If you're still struggling, maybe add 1 - 2 teaspoons of milk to the dough. Be careful to not overdo it because it will change the consistency of your dough and you'll have flat peanut butter blossoms instead of thick ones.
What else can I add to these Peanut Butter Kiss Cookies?
You can roll the cookie dough in sugar if you would like.
Melt some peanut butter chips, place them in a sandwich bag, cut a small hole in the corner of the bag, and drizzle the tops of the cookie with peanut butter.
You can use pieces of a milk chocolate bar, milk chocolate stars, or Rolos on top.
Other Chocolate Peanut Butter Dessert Recipes You May Enjoy
Shop the Post:
Peanut Butter Blossoms
Instructions
Preheat oven to 350 degrees. Line a baking sheet with parchment paper.

In a large bowl, add in the butter, peanut butter, brown sugar, and granulated sugar. Beat with a hand mixer on medium until light and fluffy. Scrape down the sides of the bowl.

Add in the eggs and vanilla extract. Continue to beat on medium until the eggs are incorporated.

In a separate bowl, add the baking soda, baking powder, salt, and flour. Whisk to combine.

Add the flour mixture to the wet ingredients and beat on medium just until the flour is incorporated. The cookie dough will be slightly stiff.

Using a 1 tablespoon or 1 ½ tablespoon cookie scoop, scoop the cookie dough into your hand and roll into a ball.

Place on the parchment paper. Leave an inch of space between the cookie dough balls.

Place in the preheated oven and bake for 12 to 14 minutes until the edges are golden and the tops are set.

Remove from the oven and immediately place a Hershey Kiss in the center of each cookie.

Let cool for 10 to 15 minutes and place on a paper towel lined counter or wire rack to cool completely.

Store in an airtight container at room temperature. Don't stack the cookies because the chocolate kisses will be very soft.
Notes
I prefer to use a 1 tablespoon cookie scoop for my peanut butter blossoms. You'll need roughly 20 additional kisses to the tops of the additional cookies.
Nutrition
Calories:
169
kcal
Carbohydrates:
21
g
Protein:
3
g
Fat:
9
g
Saturated Fat:
4
g
Cholesterol:
18
mg
Sodium:
100
mg
Potassium:
83
mg
Fiber:
1
g
Sugar:
13
g
Vitamin A:
113
IU
Calcium:
26
mg
Iron:
1
mg
(Nutrition facts are an estimate and not guaranteed to be accurate. Please see a registered dietitian for special diet advice.)