These Homemade Pumpkin Cinnamon Rolls are the perfect fall breakfast recipe to whip up. Each delicious pumpkin spice cinnamon roll is filled with warm fall spices, brown sugar sugar, and pecans, and then smeared with a homemade cream cheese frosting.
If you have a craving for pumpkin, I have a few ideas for you to try out. Whip up a batch of pumpkin cupcakes, easy pumpkin chocolate chip cookies, pumpkin cannolis or decadent pumpkin brownies.
Jump to:
How to Make Pumpkin Cinnamon Rolls
Yeast Cinnamon Roll Dough | You will whip up a yeast cinnamon roll dough that is filled with pumpkin puree and warm spices. This gives these homemade rolls the ultimate pumpkin flavor.
Start by heating the milk, oil, and sugar into a pan. Once heated and cooled to about 110 degrees F, add in the yeast. Let the mixture sit until the yeast has proofed and become bubbly.
Add in the pumpkin and whisk until incorporated.
Incorporate the flour, baking soda, baking powder, salt, cinnamon, nutmeg, and ginger in a separate bowl.
Add the dry ingredients in with the pumpkin/milk mixture and stir until incorporated. You can grease a bowl and add the pumpkin cinnamon roll dough to it do rise or leave it in the ungreased bowl you're working in. Cover and let double.
Warm Spice Filling | A handful of fall spices and nuts come together to use to fill your rolls with. You can leave the nuts out if you would like. I love that it adds a nice crunch of flavor.
Once the dough has doubled, turn it out onto a well floured surface. Either pat or roll into a large rectangle and cover with melted butter.
Add the brown sugar, sugar, cinnamon, ginger, and nutmeg to a medium bowl. Stir to combine.
Evenly distribute the filling on top of the buttered dough and then sprinkle the pecans.
Tightly roll the dough up and slice into 12 equal cinnamon rolls. Place in a 9x13 inch baking pan that's been greased with ¼ cup melted butter.
Cover and let rise for about 30 minutes and then bake.
Frosting | Instead of a classic cinnamon roll drizzle I opted to do a cream cheese frosting. It pairs perfectly with the pumpkin spice flavors.
How to Know If Yeast Is Activated
Letting the yeast sit for 5 to 10 minutes after it is mixed with the warm milk, oil, and sugar is how it's activated in this recipe. This is going to allow it time to proof and bubble up.
If you find the yeast begins to bubble or appear foamy that means it is activated and will allow your rolls to rise.
If your yeast is not becoming foamy, then it's probably dead. There are a couple of common causes for "dead" yeast. The first one that comes to mind is that the yeast was old. Another is that the milk mixture was too hot still and killed the yeast.
Tip: Store your yeast in an airtight container in the fridge.
Can I Use A Pumpkin Spice Blend for the Filling Instead?
Feel free to add in 1 ½ tablespoons of the pumpkin spice in place of the other spices if you want for the filling. I love using my own blend of spices, but feel free to buy or make your own pumpkin spice blend.
How to Store Pumpkin Cinnamon Rolls
You will need to store your cream cheese frosted cinnamon rolls in the fridge. The frosting on these rolls will go bad if left on the counter.
Cover tightly and store in an airtight container for up to five days in the fridge. Eat cold or toss them in the microwave for 15 to 20 seconds to warm up a bit.
Can I Use A Classic Cinnamon Roll Icing
If you prefer a classic cinnamon roll icing go right ahead and replace the cream cheese mixture with a classic icing.
Or serve up naked pumpkin rolls if you prefer to skip frosting or icing.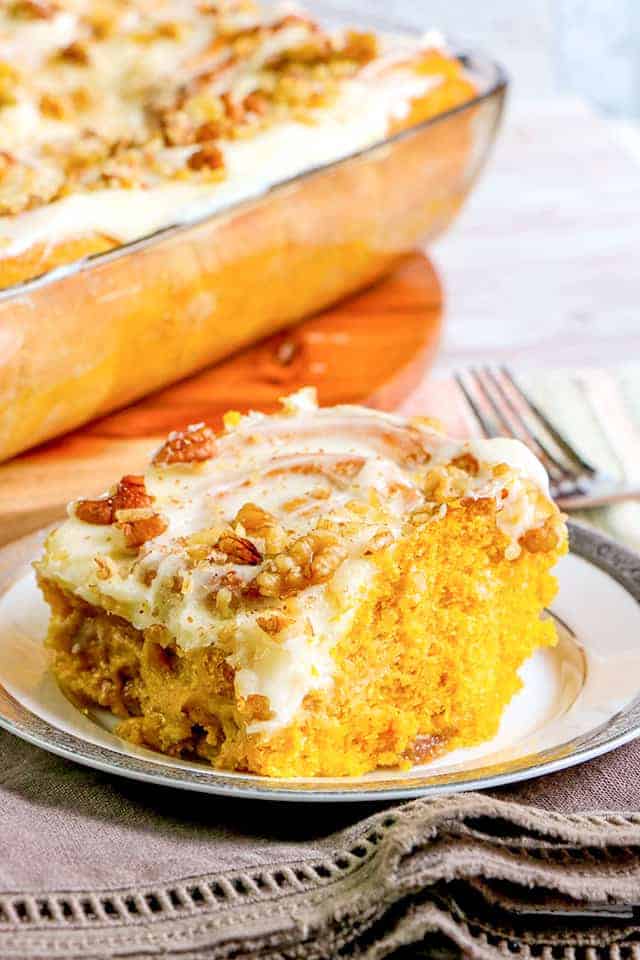 Does This Recipe Double Well?
If you want to make extra cinnamon pumpkin rolls go right ahead. You can toss extras in the freezer to meal prep for meals down the line, or to serve a crowd.
Just grab another pan and bake up as directed. Then serve them all or cover properly and freeze what you don't plan to eat right away.
Pumpkin Cinnamon Rolls
Ingredients
Cinnamon Rolls
1 ½

cups

milk

½

cup

vegetable or canola oil

½

cup

granulated sugar

2 ¼

teaspoons

active dry yeast

1

cup

pumpkin puree

4 ½

cups

all-purpose flour

½

teaspoon

ground cinnamon

¼

teaspoon

ground ginger

¼

teaspoon

ground nutmeg

½

teaspoon

baking powder

½

teaspoon

baking soda

½

teaspoon

salt

¼

cup

butter

melted
Filling
½

cup

butter

melted

½

cup

brown sugar

½

cup

sugar

½

teaspoon

cinnamon

½

teaspoon

ground ginger

¼

teaspoon

ground nutmeg

1

cup

finely chopped pecans
Cream Cheese Frosting
8

ounces

cream cheese

room temperature

2

cups

powdered sugar

¼

cup

milk

2

tablespoons

butter

melted

⅛

teaspoon

salt
Instructions
Cinnamon Rolls
Add the milk, oil, and sugar to a large saucepan or dutch oven. Place over medium heat, stirring often, until steaming. Remove from heat and allow to cool to 105 to 115 degrees.

Sprinkle the yeast on top of the cooled milk mixture and allow the yeast to sit for 5 to 10 minutes until bubbly.

Stir the pumpkin puree into the milk mixture.

In a large mixing bowl, add in the flour, baking soda, baking powder, and spices. Whisk to combine.

Add the dry ingredients into the pumpkin and milk mixture and stir until combined.

Cover the saucepan or dutch oven with a kitchen towel and place in a warm, draft-free place for about 1 hour or until doubled in size. It can sometimes take up to two hours for my dough to double.

Preheat the oven to 375 degrees. Prepare a 9x13-inch baking dish by pouring the ¼ cup of melted butter into the dish and tilting the dish to coat all sides. You can also use a pastry brush to evenly spread the melted butter.

Turn out the dough onto a lightly floured surface and sprinkle the top with flour. Fold the dough 2 to 3 times and pat it into a rectangle shape.

Roll the dough into a rectangle that's roughly 18 inches by 24 inches.
Filling
Add the brown sugar, sugar, cinnamon, ginger, and nutmeg to a small bowl. Using a fork or spatula, stir to combine.

Coat the dough with the ½ cup of melted butter.

Sprinkle the brown sugar and spice mixture on top of the butter and top with ¾ cup of the chopped pecans.

Starting on the long side, roll the dough up, working it tightly but without pulling the dough too much.

Seal the seam by pinching the long edge into the roll of dough.

Cut the dough into 12 equal slices. I do this by cutting the dough in half, cutting those halves in half, and then the quarters into three slices each.

Cover the pumpkin cinnamon rolls and allow them to rise in a warm place for 20 to 30 minutes.

Bake the cinnamon rolls for 15 to 18 minutes or until the middle is cooked through and the edges are golden brown.
Cream Cheese Frosting
Add the cream cheese to a large bowl. Beat on medium until smooth.

Add in the powdered sugar, milk, butter, and salt. Beat until combined and fluffy.

While the rolls are still hot, slather with the cream cheese frosting.

Top with the remaining pecans.
Nutrition
Calories:
708
kcal
Carbohydrates:
88
g
Protein:
9
g
Fat:
37
g
Saturated Fat:
14
g
Cholesterol:
60
mg
Sodium:
367
mg
Potassium:
250
mg
Fiber:
3
g
Sugar:
49
g
Vitamin A:
3906
IU
Vitamin C:
1
mg
Calcium:
95
mg
Iron:
3
mg
(Nutrition facts are an estimate and not guaranteed to be accurate. Please see a registered dietitian for special diet advice.)