This post is sponsored by Blue Diamond Almond Breeze Almondmilk. Almond Breeze believes in the best. That's why we only use Blue Diamond Almonds to make our almondmilk and why we're proud to be an official sponsor of USA Volleyball. Visit www.ServeUpYourBest.com for a chance to win $5,000 for the ultimate beach day, learn fun volleyball moves, get Almond Breeze coupons and smoothie recipes!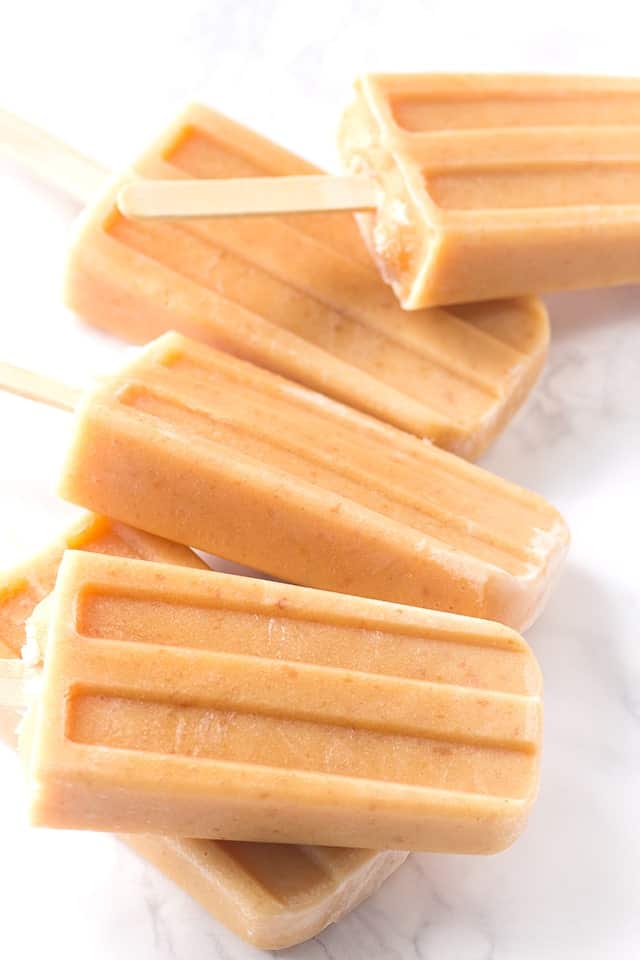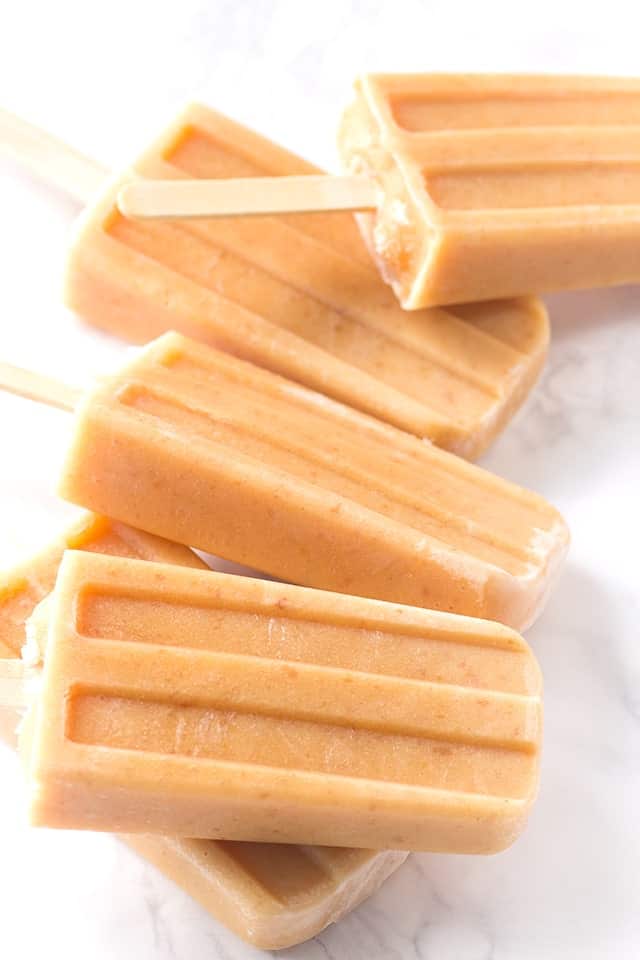 I love peaches, how about you? I hope so because I have some peaches and cream ice pops for you! They are so creamy and remind me of peach yogurt which I adore! They're made of some roasted peaches, greek yogurt, and of course almond milk. Let's not forget the brown sugar!
These pops are pretty darn simple to make. I'm not going to lie, the roasting of the peaches can take a little bit. I think 40 minutes, to be exact. But that's just letting them roast up in the oven and get all soft and slightly caramelized. Other than that, it's all done in the blender!
Did I mention I left the skin on the peaches? That fuzzy pretty skin, yeah I kept that. After you roast the peaches, if you're highly against eating the skin, you can probably peel it right off. It felt like it wanted to come loose, but I didn't mess with it since I wanted to keep it around. Plus, it adds pretty specks into the ice pops!
With Almond Breeze partnering up and becoming an official sponsor of this year's USA Volleyball team, I thought I would make a healthy ice pop using almondmilk. This recipe is loaded with delicious peaches and is a super refreshing treat especially after a hard day out on the sand showing off some serious volleyball skills. I don't have sand near by which makes me extremely jealous but I still have my peaches and cream ice pops to cool me down after being outside with the Lucian. Thank goodness!
Speaking of Lucian, the poor kid has a heat rash from being outside last week. I may have gotten busy doing yard work while Lucian was riding his big wheel in the driveway. I took him to the doctor's today to make sure it was just a simple rash and indeed it was. I figured since we're heading out of town today that I would rather be safe than sorry. That's right, folks. We are vacationing! <3
Peaches and Cream Ice Pops
Ingredients
2

peaches

cut in 8 pieces each

3

T

. brown sugar

packed

½

cup

Almond Breeze Almondmilk

¼

cup

greek yogurt
Instructions
Preheat oven to 350 degrees. Line a baking pan that has raised edges with parchment paper. The raised edges will keep the juices from spilling all over in your oven.

Cut each peach into 8 slices and remove the pit.

Lay the peaches on the parchment paper.

Place into the oven and bake for 20 minutes. Flip the peaches and bake for another 20 minutes. The edges will caramelize slightly and the peaches will be tender.

Let cool for about 10 minutes.

Place the peaches, brown sugar, almondmilk, and greek yogurt into a blender. Blend until smooth.

Pour the mixture into ice pop molds. Freezer overnight.

Run the ice pop mold under warm water for 20 - 30 seconds to remove the ice pops.
Notes
This is my ice pop mold.
If you want to fill the ice pop mold I use, just double the recipe.
(Nutrition facts are an estimate and not guaranteed to be accurate. Please see a registered dietitian for special diet advice.)
This post contains affiliate links. Cookie Dough and Oven Mitt is a participant in the Amazon Services LLC Associates Program, an affiliate advertising program designed to provide a means for sites to earn advertising fees by advertising and linking to Amazon.com