JELL-O Mirror Glaze Cake - Delicious vanilla pudding pound cake coated with frosting and a beautiful JELL-O mirror glaze topping! The mirror glaze tastes like fruity jello and is so simple to make!
Mirror glaze cakes are all the rage right now. With JELL-O having so many amazing flavors, I wanted to make a JELL-O mirror glaze cake glaze using a box of strawberry JELL-O . It's shiny, sets up perfectly, and this mirror glaze recipe can be whipped up without a stove top!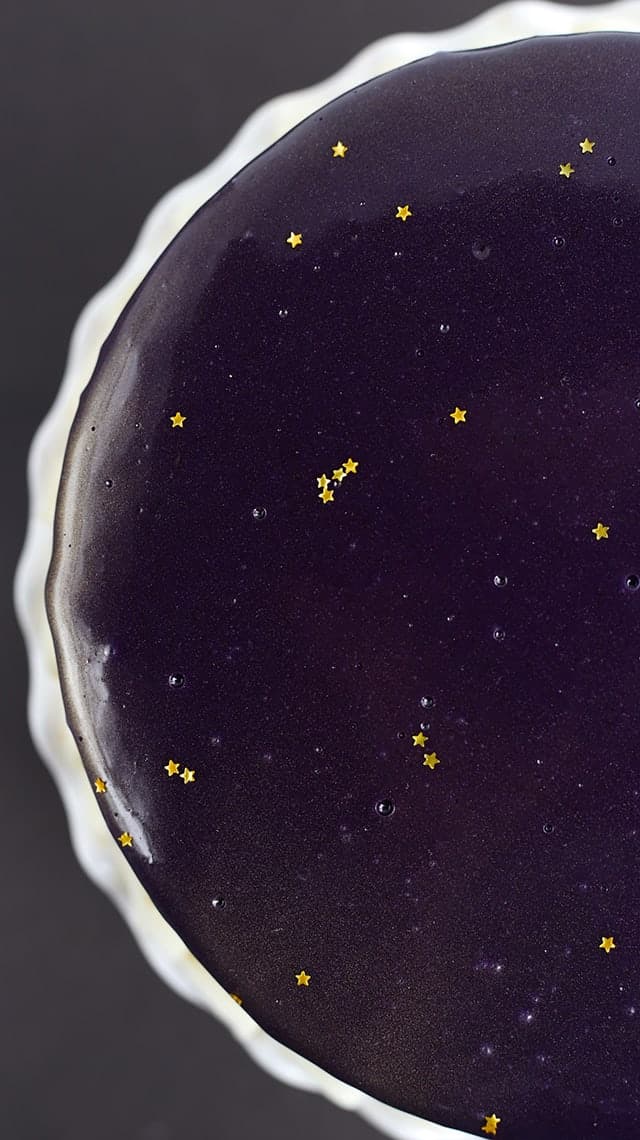 I can see this cake being requested for ALL holidays! It's makes a great centerpiece for take to a family get together. I promise people will admire it. It sits up on the cake stand shining bright like a diamond. If you're not a cake decorator, this could be your go-to glaze!
How to Make Mirror Glaze Cake
To get this cake started, I started adapting my pound cake recipe. It's one of my favorite cakes to make, especially around the holidays. It holds up so well and you can basically stick anything in it and it turns out great. Want chocolate chips or holiday sprinkles? Just toss them in. Want vanilla pudding? Well, with some tweaks it can happen!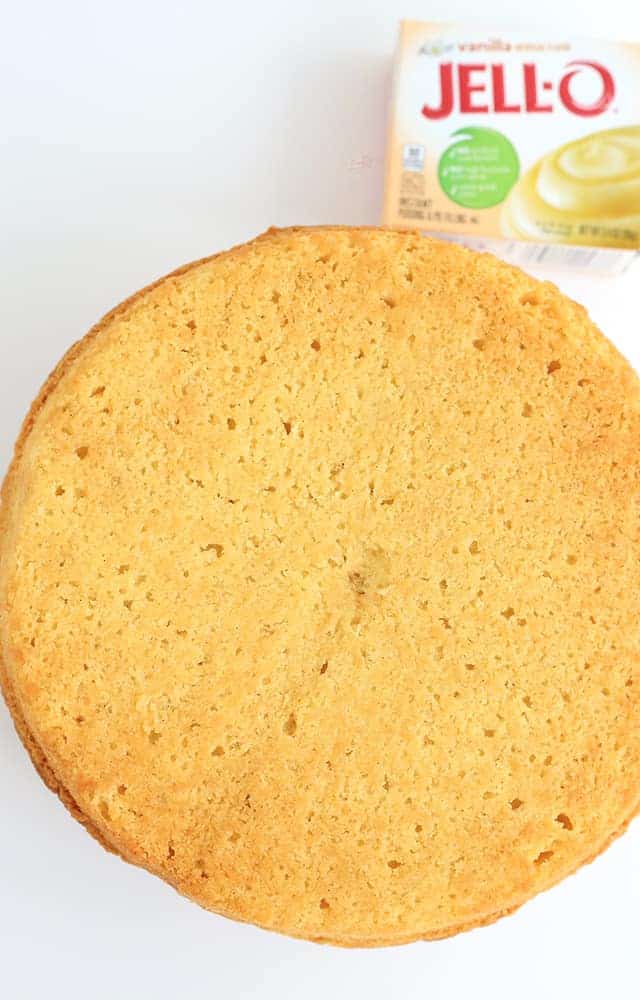 That's what I did here. We added two boxes of JELL-O vanilla pudding into the recipe and reduced the flour. Bake those cakes up and let them cool.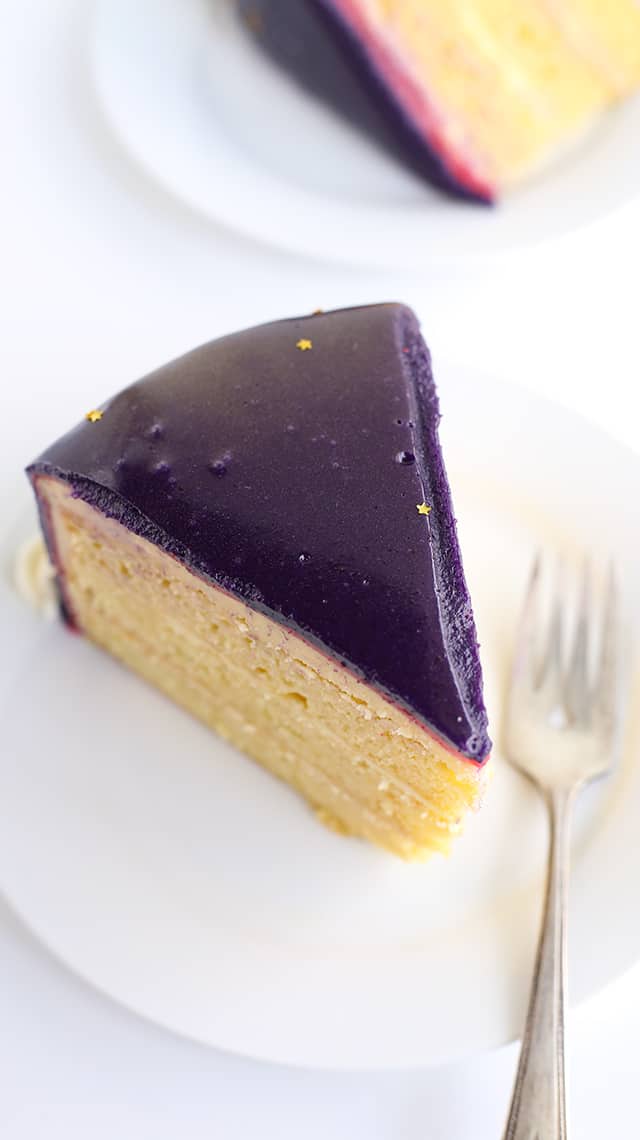 After a weekend of determination, I'm thrilled with my pound cake with mirror glaze recipe! It's shiny, easy, and tastes DELICIOUS! My son went crazy for it when he came from from school. He's been tormenting me all weekend about it looking like I was making fake blood from the strawberry JELL-O.
I couldn't bear that for one more day! That's when I went for the violet gel paste food color. Turns out, this glaze takes color just as well as all the other mirror glazes even though it's not exactly similar to those recipes which is great! The JELL-O packets already come tinted so there's really no need to add food coloring if you don't want.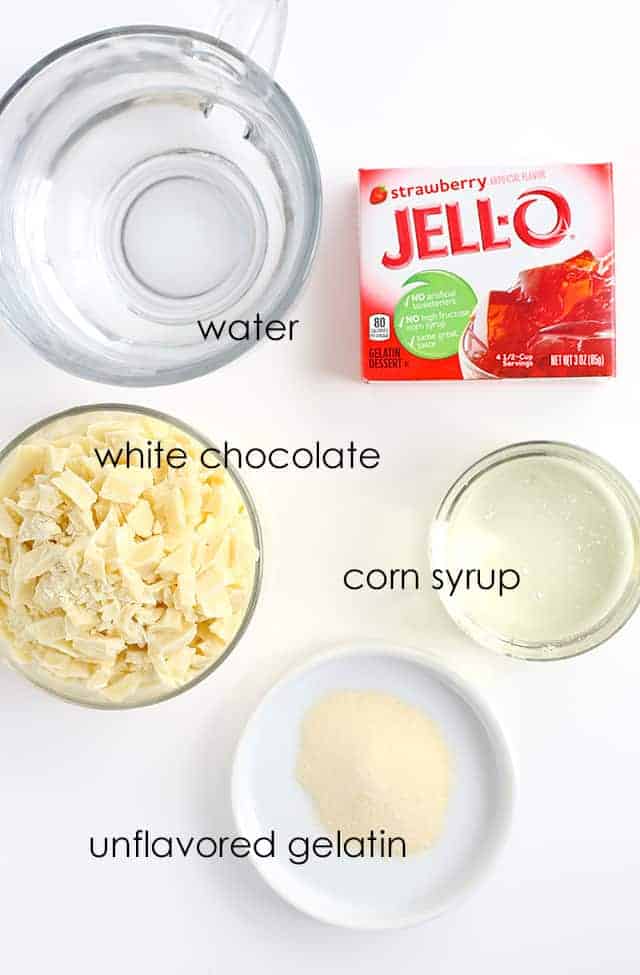 The mirror glaze will take 5 ingredients that you can see in the picture above. First step, is to bloom the unflavored gelatin in the water. Give it a stir and let it sit until it looks like the picture above. Then, we need to microwave it for about 1 minute and 30 seconds. That will turn the gelatin back into liquid.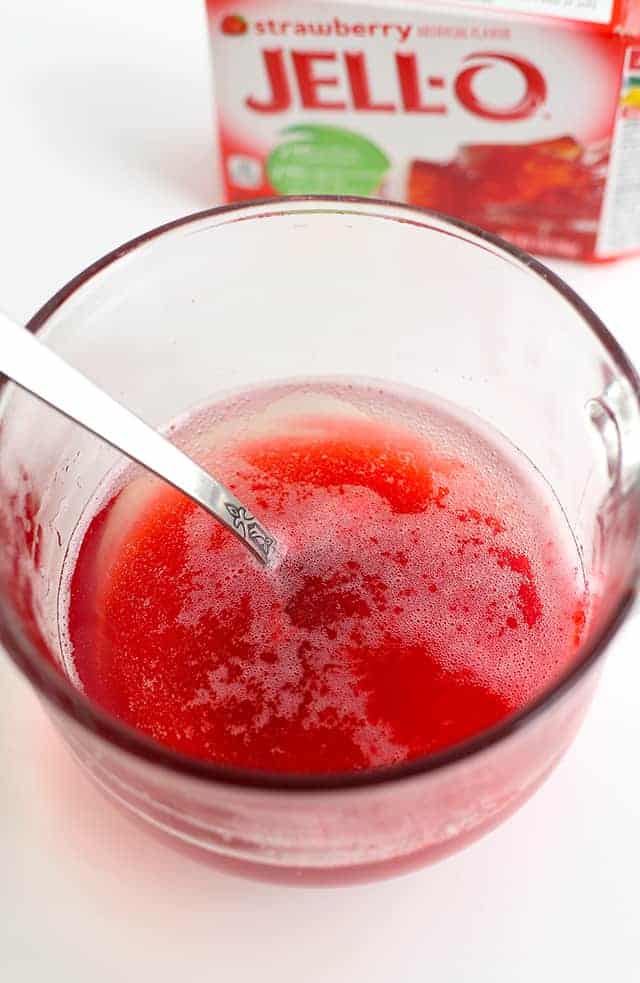 Pour in your package of JELL-O and stir until it's completely dissolved. You may want to start working somewhat quickly at this point.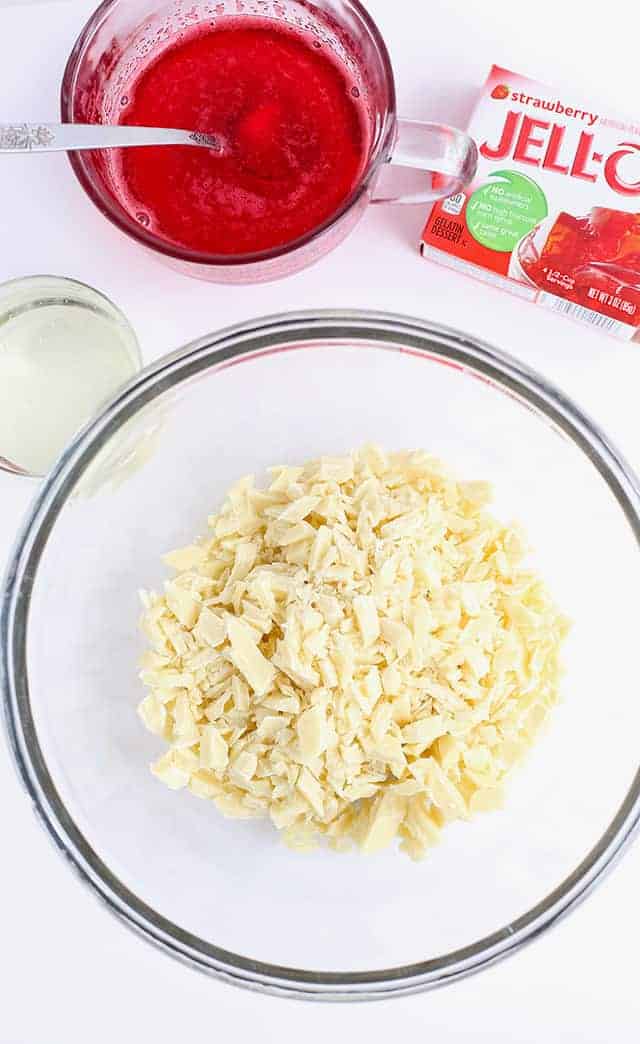 Set the hot JELL-O mixture aside and dump the white baking chocolate or white chocolate chips into the bowl along with the corn syrup.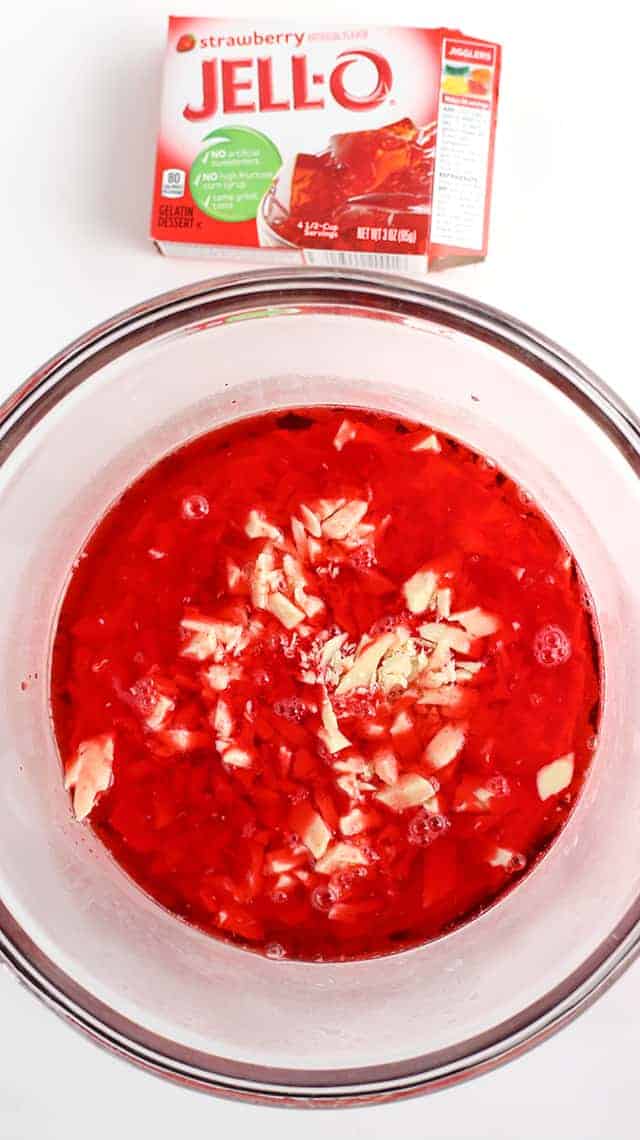 Pour in the hot JELL-O mixture and let it sit for 1 – 2 minutes. Stir to combine the chocolate and JELL-O. If there are chunks of white chocolate, add the bowl into the microwave and heat for about 45 seconds and stir until all of the white chocolate is melted in.
This is when you can color your mirror glaze. I did an undercoat of red glaze that was made from the JELL-O strawberry mix to create the first layer of glaze.. Then I colored a second batch of mirror glaze with violet gel food coloring to pour on top of the red to give it that double glaze layering effect!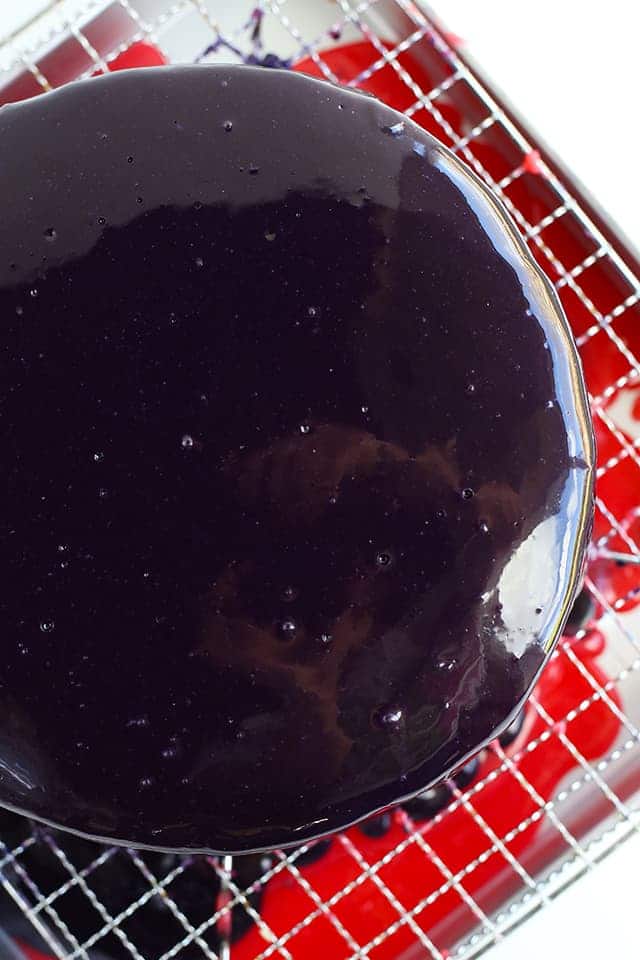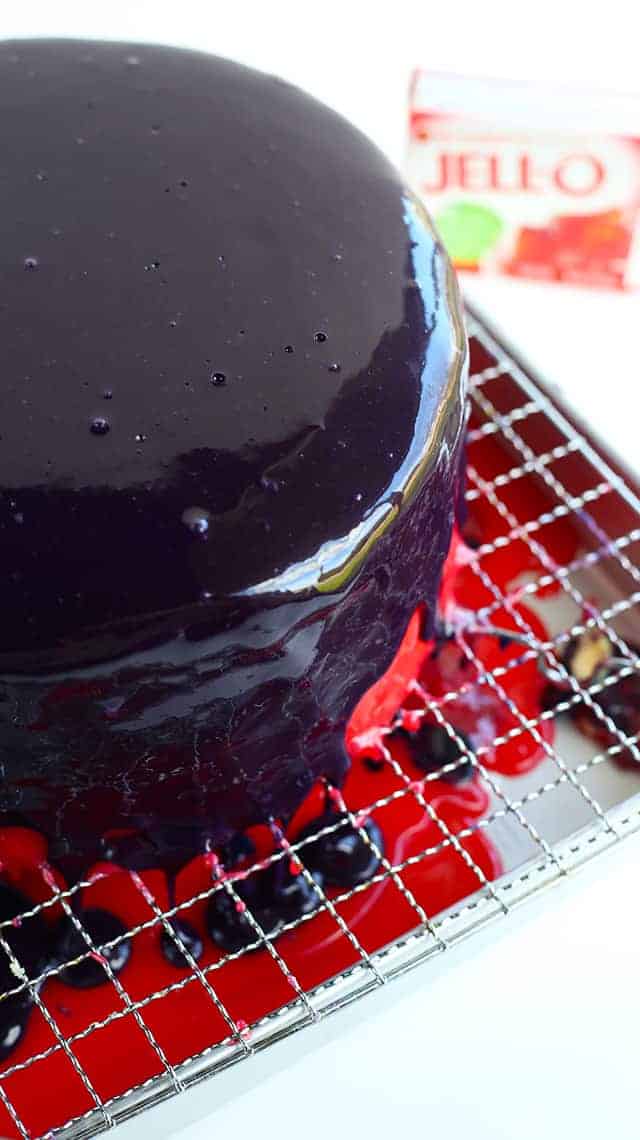 Place your cake that's been frosted to a wire rack over with a pan underneath to catch the drips. The trickiest part of all of this is to pour the glaze at the right time. It needs to be thick enough stick to the sides, but thin enough to drip. If you run your spoon across the bottom of the bowl and it separates for a second, you're ready to pour.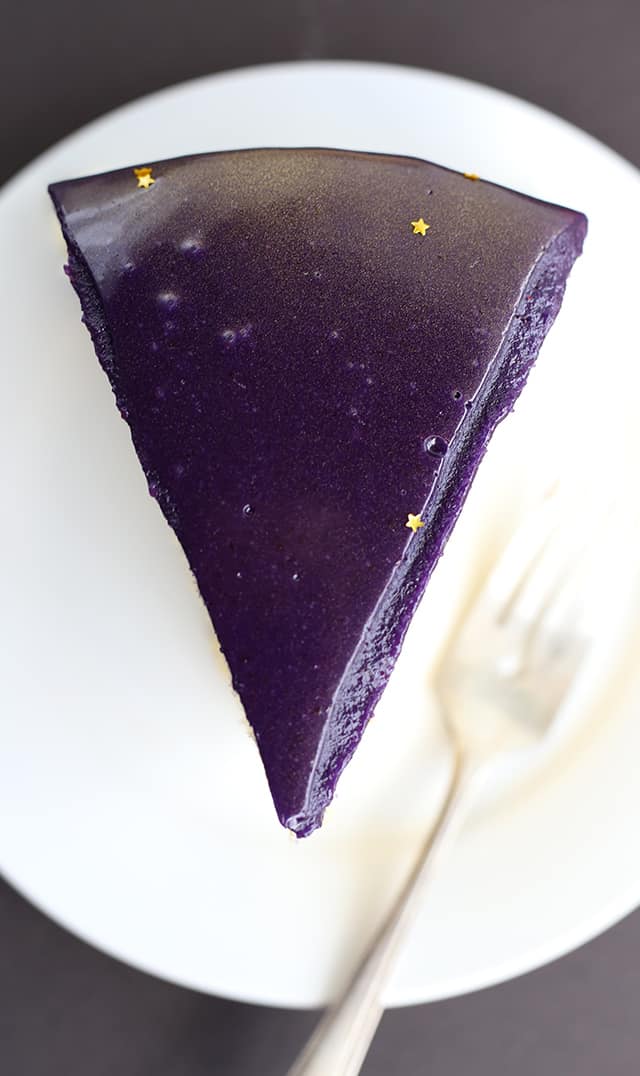 Mirror Glaze Cake Recipe
Jell-O Mirror Glaze Cake
Ingredients
Frosting:
1

cup

butter

room temperature

3

cups

powdered sugar

6

T.

milk

1

tsp.

vanilla extract
Mirror Glaze:
.25

oz

envelope unflavored gelatin

½

cup

water

3

oz.

strawberry flavored Jell-O gelatin

8

oz.

white baking chocolate

chopped

½

cup

corn syrup

6 - 8

drops violet gel paste food color
Instructions
Cake
Preheat oven to 325 degrees. Spray 3 8 inch round pans with non-stick cooking spray. Dust the pans with 2 T. all-purpose flour. Tap out any excess flour. This will help keep the cake from sticking. Set aside

In a large mixing bowl, add in the butter and sugar. Mix until light and fluffy, about 3 minutes.

Add in the vanilla extract and each egg one at a time until incorporated. Scrape down the sides after each egg.

In a separate bowl, add in the flour, dry pudding mix, baking powder, baking soda and salt. Stir to combine.

Measure out buttermilk.

Alternately add the flour and buttermilk always starting and ending with the flour. I did 3 parts flour and 2 parts buttermilk. Scrape down the sides and mix to combine.

Pour the batter into the prepared pans. Spread evenly out.

Place into the preheated oven and let bake for 40 - 42 minutes or until a toothpick comes out clean or with moist crumbs.

Let the cakes cool for about 20 minutes. Turn the cakes out onto a wire rack and cool completely.
Frosting
In a large mixing bowl, beat together butter, powdered sugar, milk, and vanilla extract. Beat until light and fluffy. If it's too thick, add 1 additional tablespoon of milk.

Frost the cooled cakes. Add very thin layers of frosting between each cake layer. Cover the outside of the cake with the frosting. Smooth out the best you can. Set in the fridge for about 20 minutes to crust.
Glaze
In a small bowl, add in water and unflavored gelatin. Let sit for about 1 minute until the gelatin is bloomed.

Microwave for 1 minute 30 seconds.

Stir in the strawberry JELL-O mix. Set aside for a second and work quickly.

In a large mixing bowl, add in the chopped white baking chocolate and corn syrup. You can use white chocolate chips instead of baking chocolate.

Pour the hot liquid into the bowl of white chocolate. Let sit for a 1 - 2 minutes. Stir. Microwave for 45 seconds and stir until white chocolate is completely incorporated.

For the first layer, put a layer of the red JELL-O glaze on top of the cake. Place in the fridge for about 20 minutes to set up.

For the second and final layer, make a second batch of the mirror glaze. Add in the drops of violet gel food color to color your mirror glaze. Use less or more depending on what color you like best.

Let the glaze sit up for about 20 minutes until thick. When you run a spoon down the bottom of the bowl, it should separate briefly and then come back together. The best way to tell how thick the glaze is going to be on your cake is to let it go up the sides of the bowl and drip back down. If it's too thin, let it sit a little longer.

Place the frosted cake on a wire rack with a pack underneath to catch the dripping glaze.

Pour the glaze on the cake. Use the backside of the spoon to push the glaze up the sides of the cake. Let sit until firm. It will be slightly tacky.

Place onto cake plate and serve!
Nutrition
Calories:
1176
kcal
Carbohydrates:
152
g
Protein:
12
g
Fat:
64
g
Saturated Fat:
39
g
Cholesterol:
187
mg
Sodium:
746
mg
Potassium:
391
mg
Fiber:
5
g
Sugar:
115
g
Vitamin A:
1570
IU
Calcium:
116
mg
Iron:
6.9
mg
(Nutrition facts are an estimate and not guaranteed to be accurate. Please see a registered dietitian for special diet advice.)