So, as requested by some readers on facebook, here is my hot pepper butter recipe. It's not really mine, I was told about it at a flea market near my parents.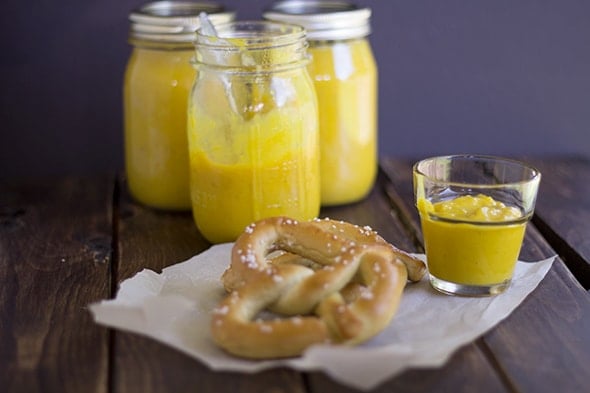 Every year I have people go crazy over this hot pepper butter. It's like a sweet and spicy mustard and it apparently makes people go nuts for it.
I make it every year and somehow most of it gets handed out to people that are highly addicted to it. My only rule for when I give out this hot pepper butter is that I get my jars back. I don't want to have to buy jars every year and I don't think it's too much to ask to get my jar back since I am feeding the... addiction.
As you can see, my food of choice for this delicious condiment is pretzels. Soft, hard, any, I don't care as long as they are pretzels. It's good with so many things. If you have a large amount of Hungarian peppers, this is a recipe you need in your life. Our farmer's markets still have loads of Hungarian peppers, so now is the time to get this made up!
I had to laugh when I went to a farmer's market and bought a ton of the peppers. I grow a few, but they never seem to produce the enough at the same time to make an entire batch. The man selling me these incredibly spicy peppers asks what I did with them. Of course I said I make hot pepper butter. He gave me a confused look and said, "Ohhh" like he understood.
Hot Pepper Butter
Ingredients
30

Hungarian peppers

1 ¼

cups

all-purpose flour

6

cups

granulated sugar

1

quart

yellow mustard

1

quart

cider vinegar

1 ½

cups

water

1

tsp.

salt
Instructions
Remove the seeds and stems from the Hungarian peppers. Place in a food processor and process until they are chopped to the size you like. I like mine eensy weensy, so I just pulverized mine. Set aside.

In a large stockpot, add in the flour and sugar. Whisk until combined.

Add in about half of the mustard and whisk until everything is completely incorporated and there are no lumps from the flour.

Add in the remaining mustard, peppers, vinegar, water, and salt. Mix with a spatula and everything is combined. Place over medium heat and stir occasionally.

Once the hot pepper butter comes up to a boil, stir constantly as it will burn easily. Let it cook to your desired thickness. I cook mine about 20 -25 minutes until it becomes quite thick.

Place your pint jars and lids into the canner to sterilize them.

Remove one jar at a time and ladle in your hot pepper butter. Wipe the rim clean and pull a lid out of the canner. Tighten the lid on with a band.

Once all the jars are filled, water bath for 10 minutes.

Remove from canner and place hot towel over top of the jars.
Notes
This recipe was adapted from CrazyCyndi via Food.com
Nutrition
Calories:
671
kcal
Carbohydrates:
153
g
Protein:
6
g
Fat:
4
g
Sodium:
1449
mg
Potassium:
240
mg
Fiber:
3
g
Sugar:
134
g
Vitamin A:
75
IU
Vitamin C:
2.2
mg
Calcium:
74
mg
Iron:
2.7
mg
(Nutrition facts are an estimate and not guaranteed to be accurate. Please see a registered dietitian for special diet advice.)