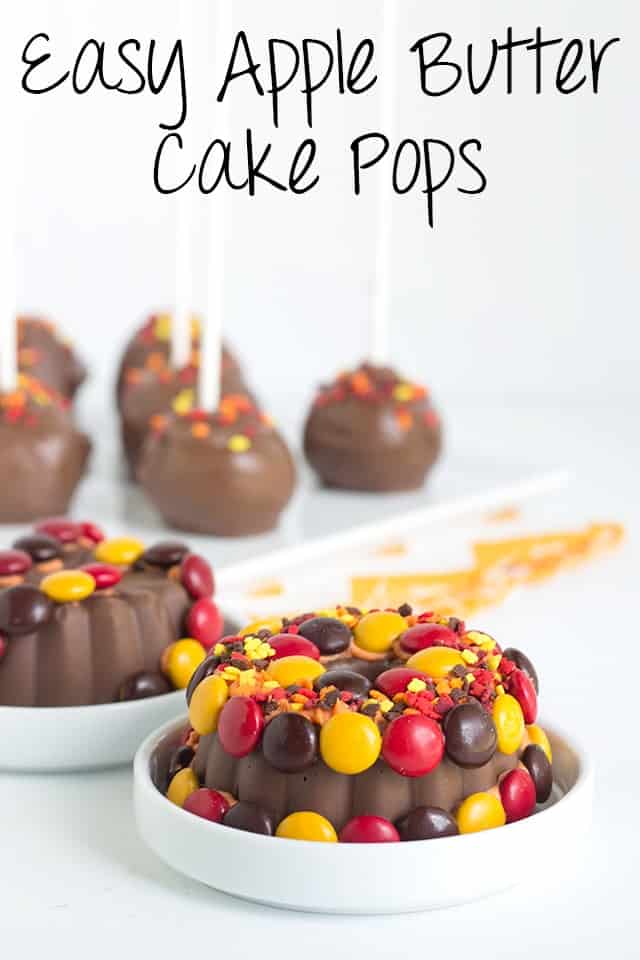 Okay, so I'm not sure if I've told you this before, but I love apple butter. My cravings for it pick up in the fall. I know they sell it year around, but it's truly the best in the fall which is why these easy apple butter cake pops are making their debut now. I also put together some adorable chocolate fall wreaths with a cute little bundt pan from the August My Bakers Box.
I'm just a hair late sharing this creation from My Bakers Box. I truly love the box and they send it to me to play with. They also passed along a $5.00 off coupon for my readers. Use the Code, "COOKIEDOUGH" and enter it into the promo code box at the checkout. If you want to show me what you've made with your My Bakers Box, post it to my Facebook page. I would love to see your creations!
Here is a peek at what I received. You see that bundt pan that's included, that was my very favorite item. I used it for my fall wreaths and for tomorrow's chocolate pumpkin pinatas! I'm saving the adorable mini cupcake liners for something fun. They included an adorable bottle of spoonable caramel sauce that I may have just ate. I'm a sugar fiend, I can't help it.
The cake pops are made from a yellow boxed cake. I really love using boxed mix because they are quick to throw together and bake off. For whatever reason, I just have a hard time putting all the work into a cake to crumble it up and saturate it in a filling. Of course, you're more than welcome to make my fluffy yellow cake to use instead.
Easy Apple Butter Cake Pops
Ingredients
1

yellow boxed cake mix

1

cup

apple butter

8

oz

. bag of chocolate candy melts

¼

cup

orange candy melts

¼

cup

fall sprinkles

¼

cup

fall M&M's
Instructions
Prepare and bake the yellow boxed cake mix as directed on the box.

Let cool completely.

Crumble the cake mix and stir in the 1 cup apple butter.

Using a cookie scoop, scoop out the cake balls. I ended up getting 23 cake pops. Roll them so they're perfectly round.

Place in the fridge to chill for aboue 25 minutes.

Melt your chocolate candy melts in 30 second intervals. Stir the candy melts and repeat another 2 times of microwaving and stirring.
To make the fall wreaths
Brush a thick layer of chocolate on a minature silicone bundt pan. Place in the fridge for about 10 minutes.

Roll the silicone mold away from the chocolate. It should peel very easy. If you notice any sticking, place back in the fridge because the chocolate isn't completely set yet.

Once the chocolate mold is released, carefully press the cake pops inside. Place about ¼ cup of chocolate in a sandwich bag.

Fill in the back of the fall wreath and let it set up. It will take probably 30 minutes.

Once set up, flip the wreath over and start to decorate it with the orange candy melts, fall M&M's and fall sprinkles.
To make the cake pops
Dip cake pop sticks into chocolate and place them in the center of the chilled cake pops Let the chocolate set up.

Dip the cake pops into the chocolate candy melts. If the candy melts start to thicken, reheat it for 30 seconds. Tap off the extra chocolate by tapping the wrist that's holind the cake pop. That will help prevent the cake pop from falling off the stick.

Quickly sprinkle the fall sprinkles on the wet chocolate. Let set up. It won't take long because the cake pops are chilled.
(Nutrition facts are an estimate and not guaranteed to be accurate. Please see a registered dietitian for special diet advice.)
I was sent the My Bakers Box to create ideas and tips with. I was not compensated in any way. If you would like to join me in having some fun, head over and subscribe to next months box and get $5.00 by using the promo code "COOKIEDOUGH". We can make some incredibly fun recipes together!