These carrot patch cupcakes are so tasty and make a great dessert to whip up for the Easter dessert table. The chocolate cake is so moist and tender. It's topped with chocolate frosting, cookie crumbs, an orange frosting carrot top, and green candy melt leaves. Totally cute and incredibly easy too.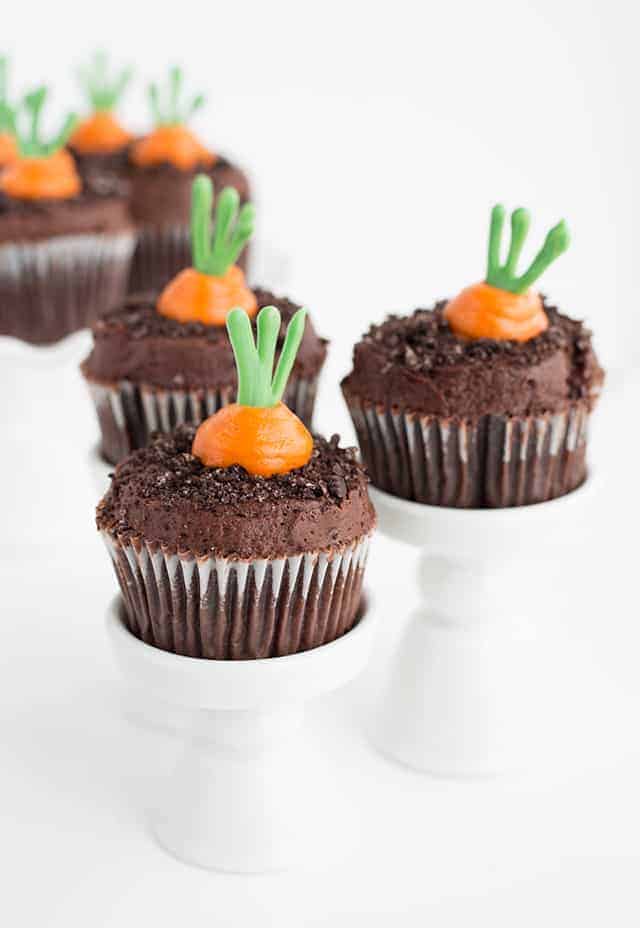 Carrot Patch Cupcakes
Who doesn't love a chocolate cupcake with chocolate frosting and chocolate cookie crumbs on top? You know that I love to double and triple up on my chocolate! I have that amazing triple chocolate cheesecake, the mile high chocolate cream pie, and the over-the-top brownie batter dip too.
Now I thinking I need to add more to that list though. Stay tuned for more insanely chocolatey desserts.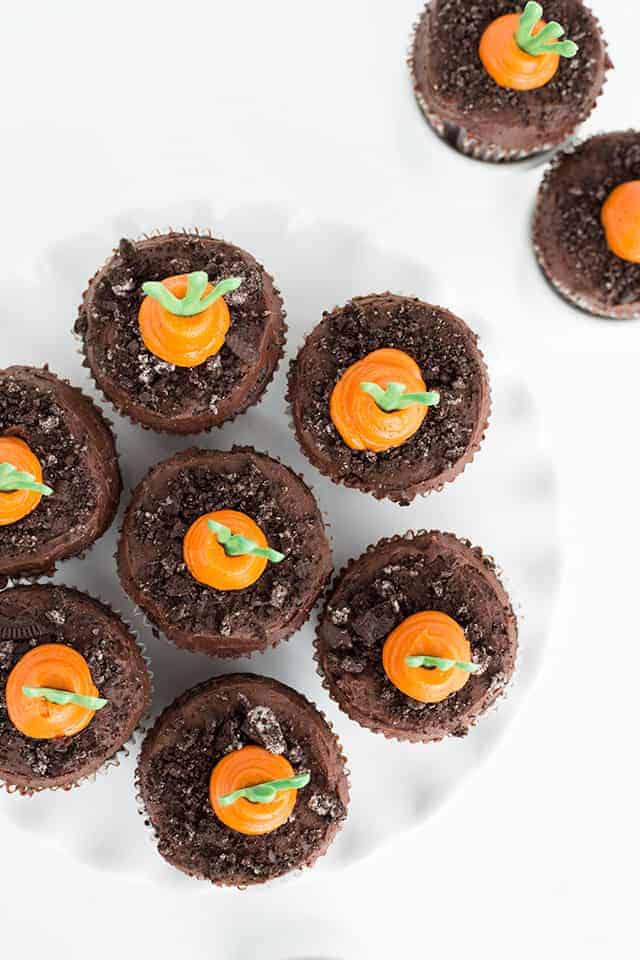 This chocolate cupcake recipe is my favorite recipe ever. It's so soft and spongy. Of course if you're short on time or just plain prefer a chocolate cake mix, go for it.
What's nice about these homemade chocolate cupcakes is that they're made with hot water and melted butter. That means you don't have to let the butter come up to room temperature before making it which means it's ALMOST as easy as a cake mix.
I cut little cone shapes out of the cupcakes and filled it with the orange frosting to look like the carrot was down inside the cupcake. It's really neat to see when you bite into them. Silly me, I didn't bother to take a picture of it. What a missed opportunity!!
If you don't want the hassle of cutting the center of the cupcakes, just pipe the frosting on top. The cookies make it slightly harder for the orange frosting to stick, but it works. I tested it myself to make sure.
What tip did you use? I used an Ateco coupler, but you can also use a large straight tip like a Wiltion 2A.
How did you make the green leafy tops? I used green candy melts that can be found in the cake decorating aisle at Walmart or any craft store. I melted the candy melts, placed it in a sandwich bag, and piped three lines connected them at a point on wax paper. Let them dry for about 10 minutes or until they easily peel off the wax paper.
How to make carrot patch cupcakes
Carrot Patch Cupcakes
(Nutrition facts are an estimate and not guaranteed to be accurate. Please see a registered dietitian for special diet advice.)