These carrot patch cupcakes are so tasty and make a great dessert to whip up for the Easter dessert table. The chocolate cake is so moist and tender. It's topped with chocolate frosting, cookie crumbs, an orange frosting carrot top, and green candy melt leaves. Totally cute and incredibly easy too.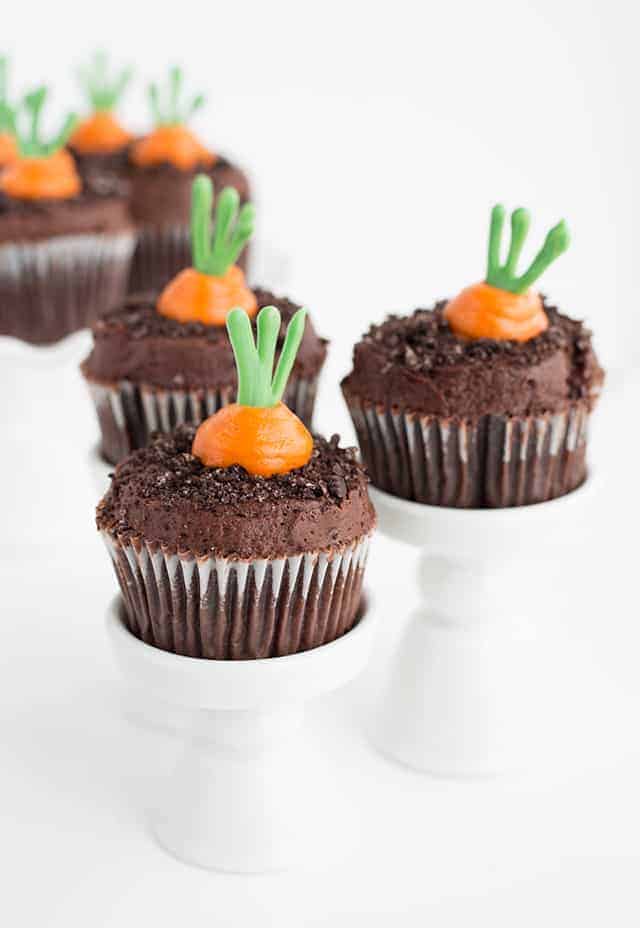 Carrot Patch Cupcakes
Who doesn't love a chocolate cupcake with chocolate frosting and chocolate cookie crumbs on top? You know that I love to double and triple up on my chocolate! I have that amazing triple chocolate cheesecake, the mile high chocolate cream pie, and the over-the-top brownie batter dip too.
Now I thinking I need to add more to that list though. Stay tuned for more insanely chocolatey desserts.
MY LATEST VIDEOS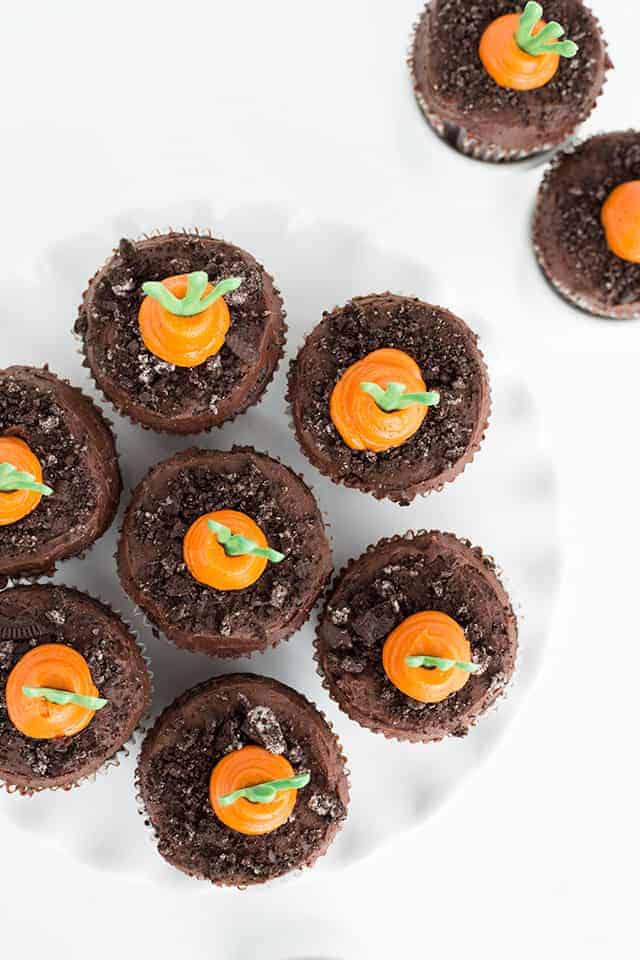 This chocolate cupcake recipe is my favorite recipe ever. It's so soft and spongy. Of course if you're short on time or just plain prefer a chocolate cake mix, go for it.
What's nice about these homemade chocolate cupcakes is that they're made with hot water and melted butter. That means you don't have to let the butter come up to room temperature before making it which means it's ALMOST as easy as a cake mix.
I cut little cone shapes out of the cupcakes and filled it with the orange frosting to look like the carrot was down inside the cupcake. It's really neat to see when you bite into them. Silly me, I didn't bother to take a picture of it. What a missed opportunity!!
If you don't want the hassle of cutting the center of the cupcakes, just pipe the frosting on top. The cookies make it slightly harder for the orange frosting to stick, but it works. I tested it myself to make sure.
What tip did y0u use? I used an ateco coupler, but you can also use a large straight tip like a Wiltion 2A.
How did you make the green leafy tops? I used green candy melts that can be found in the cake decorating aisle at Walmart or any craft store. I melted the candy melts, placed it in a sandwich bag, and piped three lines connected them at a point on wax paper. Let them dry for about 10 minutes or until they easily peel off the wax paper.
How to make carrot patch cupcakes
Carrot Patch Cupcakes
The chocolate cake is so moist and tender in these carrot patch cupcakes. It's topped with chocolate frosting, cookie crumbs, an orange frosting carrot top, and green candy melt leaves. Totally cute and incredibly easy too.
Total Time
1
hour
1
minute
Ingredients
Chocolate Frosting
1 1/2

cups

butter

room temperature

4

cups

powdered sugar

3/4

cup

unsweetened cocoa powder

6 - 7

T.

heavy cream or milk

20

chocolate sandwich cookies

1

cup

caramel buttercream or store-bought vanilla buttercream

5 - 7

drops orange gel paste color

1/2

cup

green candy melts

1/2

cup

bright green candy melts
Instructions
Cupcakes
Preheat oven to 350 degrees. Add cupcake liners to a cupcake pan and set aside.

In a microwave-safe medium bowl, add the water and butter. Microwave for 2 1/2 minutes.

Add the vegetable oil and cocoa powder. Whisk until smooth.

Add sour cream and vanilla. Whisk until the sour cream is incorporated.

In a separate bowl, add in flour, sugar, baking soda, baking powder, espresso powder, and salt. Whisk until combined.

Pour the wet mixture in with the dry ingredients. Add in the lightly beaten eggs. I add the eggs now because I don't want them to cook in the hot cocoa mixture. Whisk until everything is combined. Try to whisk out most of the lumps.

Fill each cupcake liner about half full.

Place into the oven and bake for 20 - 21 minutes or until they're done. Place a toothpick in the center of the cupcakes and if it comes out clean or with moist crumbs it's done.

Set aside and let cool completely.
Frosting
In a large mixing bowl, add in the butter. Beat until smooth.

Add in the powdered sugar and cocoa powder. I sifted my cocoa powder because it tends to be lumpy. Beat until incorporated, but very thick.

Add in the vanilla extract and heavy cream. Beat until everything is incorporated and beat an extra minute for a whipped frosting.
Carrot Tops
Lay a piece of wax paper down.

Add the candy melts into a sandwich bag. Mix the green and bright green candy melts. Don't seal up the sandwich bag, but make sure the candy melts are gathered in one corner.

Microwave for 25 seconds and gently squish the candy melts around. Microwave again for 25 seconds and squish the candy melts around. Repeat until the candy melts are all melted.

Cut a very small hole in the corner of the bag. The candy melts will be really runny, so the smaller the hole the more control you'll have.

Pipe three lines that all connect at a point on one side. Draw a wide V with a line going down the center. Make extra just in case some of them break. Set aside and let dry.

Place the chocolate sandwich cookies in a large storage bag or food processor. Using a rolling pin, break the cookies into small crumbs. You can also pulse the food processor until fine crumbs form. Set aside.

Mix the 1 cup of caramel butter or store-bought vanilla buttercream and orange gel paste color. Stir until the orange is thoroughly incorporated. If it's too late, add more gel paste color until you're satisfied with the color.

Add the orange buttercream into a disposable piping bag fitted with a coupler or a large straight tip. Set aside.
Assemble
Spread the chocolate frosting on top of the completely cooled cupcakes. If the frosting is spreading too hard and tearing the cupcake, add a little extra heavy cream to lighten it up.

Using an offset spatula, flatten the top of the frosting out as evenly as possible. Clean up the edges of the frosting using the offset spatula.

Sprinkle the cookie crumbs on top of the frosting just after adding the buttercream. This will help the cookie crumbs to stick. If you wait, the chocolate frosting will crust and the crumbs won't stick.

If you want the carrot to look like it's going down into the cupcake, using a paring cut a cone shape into the cupcake. You'll want the point to be down in the cupake.

Pipe the orange buttercream down into the hole and up above the chocolate buttercream. Build a small mound up so it looks like a carrot top. If it gets too high, you can squish it down with the candy melt leafy top.

Add the candy melt top to the mount of orange frosting. Repeat with all cupcakes.
Estimated Nutrition Facts
Calories:
363
kcal
|
Carbohydrates:
47
g
|
Protein:
2
g
|
Fat:
19
g
|
Saturated Fat:
11
g
|
Cholesterol:
49
mg
|
Sodium:
277
mg
|
Potassium:
119
mg
|
Fiber:
1
g
|
Sugar:
36
g
|
Vitamin A:
9.5
%
|
Vitamin C:
0.1
%
|
Calcium:
2.5
%
|
Iron:
7.8
%
DID YOU MAKE THIS RECIPE?
Share it on Instagram with the hashtag #cookiedoughandovenmitt