These peanut butter chocolate pudding cookies are soft, decadent, and packed full of flavor! Each cookie is stuffed with milk chocolate and studded with peanut butter chips. If there was ever a cookie that a chocolate peanut butter lover would need, it's this one! I was provided with Imperial sugar for this post. As always, all opinions are my own.
Peanut Butter Chocolate Pudding Cookies
I've been on a crazy cookie kick as of lately. I'm so pumped up about my cookie cookbook releasing on Halloween, it's basically all that has been on my brain. That's pretty much my reasoning for all of the cookie recipes. Everyone loves them too! Just a couple of days ago, a lady messaged me on facebook to let me know that she loved all my recipes especially my cookies. It feels great to receive that kind of love from you folks.
As I was making these cookies, it hit me that I need to start working on some "how to" posts. This first one that I have lined, that has inspired me to start this has sort of post, has left me clueless on what to title it. I'll work on that tomorrow, maybe.

I'm currently a huge fan of stuffing cookies. This may change in the future, but I'm living in the moment here. There's something pretty amazing about biting into a cookie and realizing it has a gooey center. It's even more amazing to watch someone else bite into a cookie and being pleasantly surprised by the gooey center.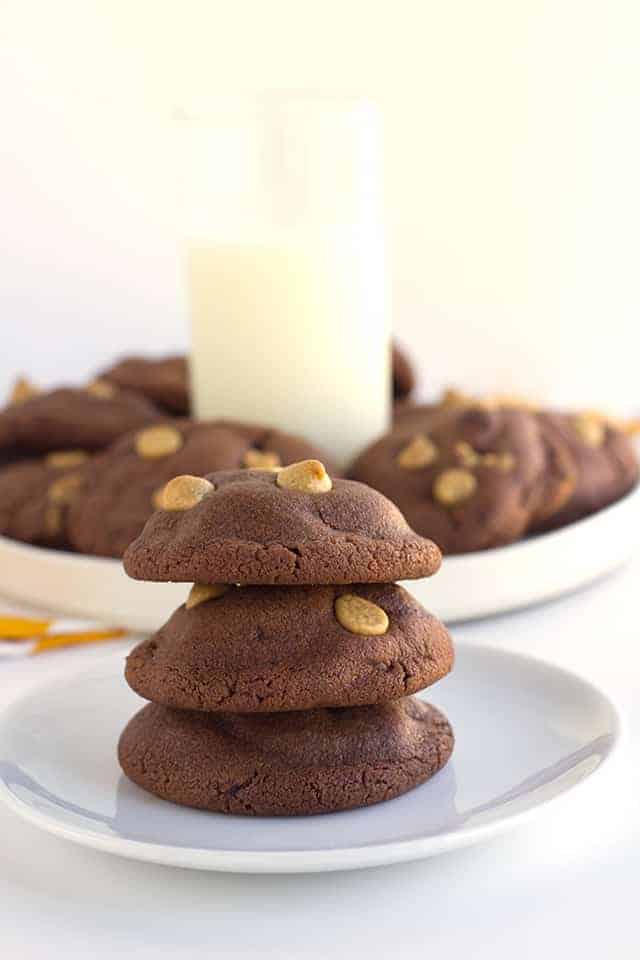 For these peanut butter chocolate pudding cookies, the husband thought I had put pudding in the center. Pudding is a horrible idea to try to stuff inside cookies, by the way. I can see it breaking down while baking or making the bottoms of the cookies soggy. I have NEVER tried it though and could be completely wrong.
Probably not though. hehe 😉
I can see these cookies becoming a new favorite! You can even get the kids in on making these. I can see young kids loving to dig the holes in the cookies to add the milk chocolate and adding peanut butter chips to them after they're rolled into balls.
How to make peanut butter chocolate pudding cookies
Peanut Butter Chocolate Pudding Cookies
These peanut butter chocolate pudding cookies are soft, decadent, and packed full of flavor! They are studded with peanut butter chips and stuffed with milk chocolate. Grab a glass of milk and enjoy!
Instructions
Preheat oven to 350 degrees. Line a cookie sheet with parchment paper.

In a large mixing bowl, add the baking soda, salt, dry chocolate pudding mix, cocoa powder, and flour. Whisk until all of the dry ingredients are evenly distributed. Set aside.

In a separate large mixing bowl, add butter, peanut butter, brown sugar, and granulated sugar. Beat on medium with a hand mixer until light and fluffy.

Add in the egg and vanilla extract and beat until incorporated.

Add the dry ingredients into the butter mixture and beat on low until most of the dry ingredients are incorporated.

Add in 1 ¼ cups of peanut butter chips and beat on medium until the remaining dry ingredients are worked into the cookie dough.

Using a 2 T. cookie scoop, scoop the dough and make a large hole in the cookie while it's still in the scoop. Place a small square of chocolate into the hole and cover it with the dough that has been push over the sides of the scoop.

Roll the scooped cookie dough between your two palms applying light pressure until the dough is smooth.

Add back onto the prepared cookie sheet. Add a couple of peanut butter chips to the outside of the dough balls.

Place into the oven and bake for 12 minutes. Let cool for 5 minutes on the cookie sheet and transfer to wire rack to cool completely.
Nutrition
Calories:
255
kcal
Carbohydrates:
28
g
Protein:
5
g
Fat:
14
g
Saturated Fat:
7
g
Cholesterol:
23
mg
Sodium:
225
mg
Potassium:
119
mg
Fiber:
1
g
Sugar:
19
g
Vitamin A:
195
IU
Calcium:
20
mg
Iron:
1.2
mg
(Nutrition facts are an estimate and not guaranteed to be accurate. Please see a registered dietitian for special diet advice.)