Let's get ready for summer with these strawberry lemon sugar cookie cups! The tender sugar cookie is baked into cupcake tins and the center is pressed down after being baked. I like to finish the cookies off by piping a sweet and tangy strawberry lemon curd in the center of each cookie.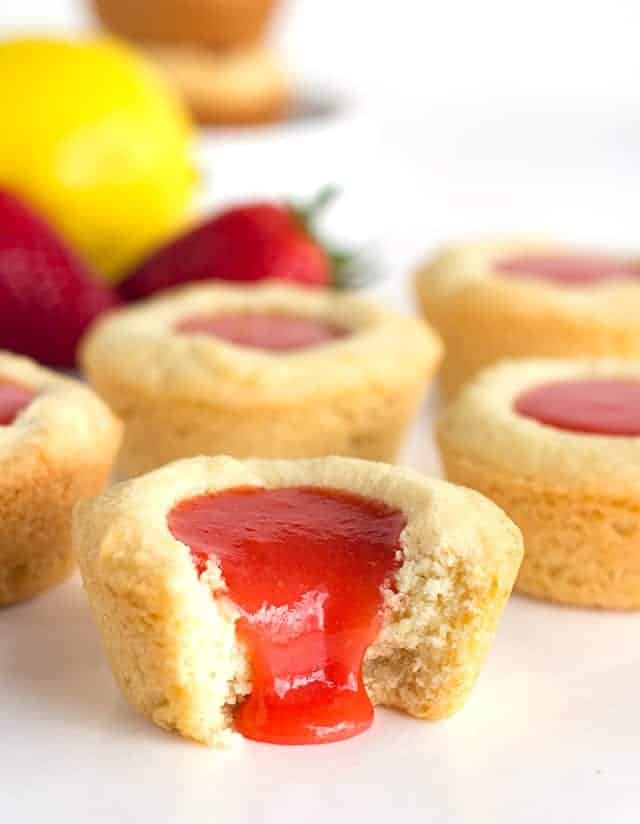 I've had this idea for a couple of months and have finally been able to find time to make it! I wasn't exactly sure how I was going to go about making the strawberry lemon curd, but I think it can't out pretty darn amazing. I not only love the flavor, but the color is freaking gorgeous.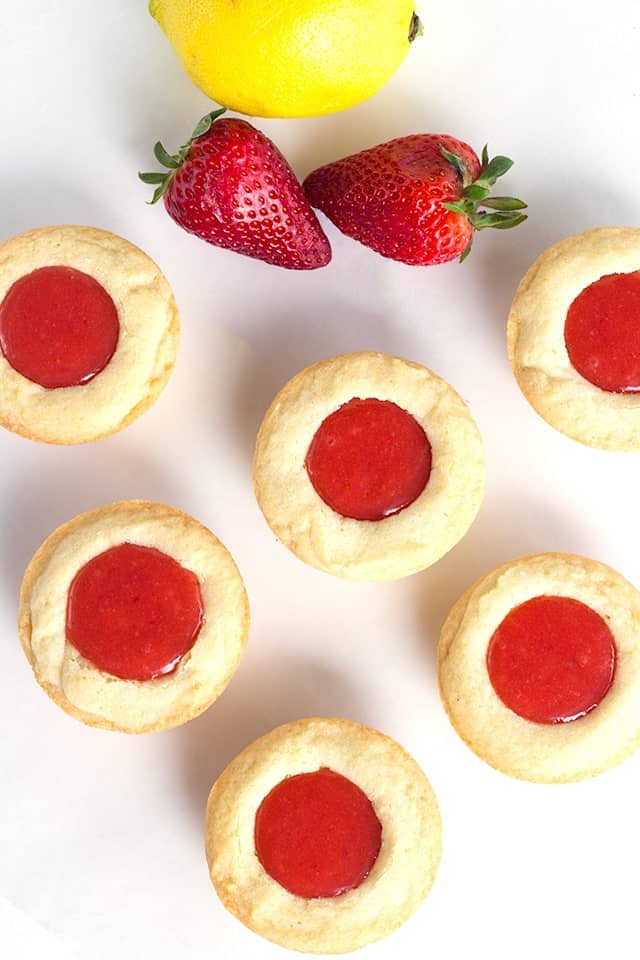 These cookies will need to be refrigerated. The shortening and cornstarch will do their thing and keep these cookies tender even when they're chilled. There's nothing worse than a rock hard cookie. Of course, these can set out at room temperature for about two hours if you're serving them up at a party or some other awesome function.
Another thing you should know is the curd won't be as runny the longer it sits in the fridge. These cookie photos were shot directly after I piped the filling in them leaving the filling warm and loose, but that won't necessarily be the case if they set up in the fridge overnight.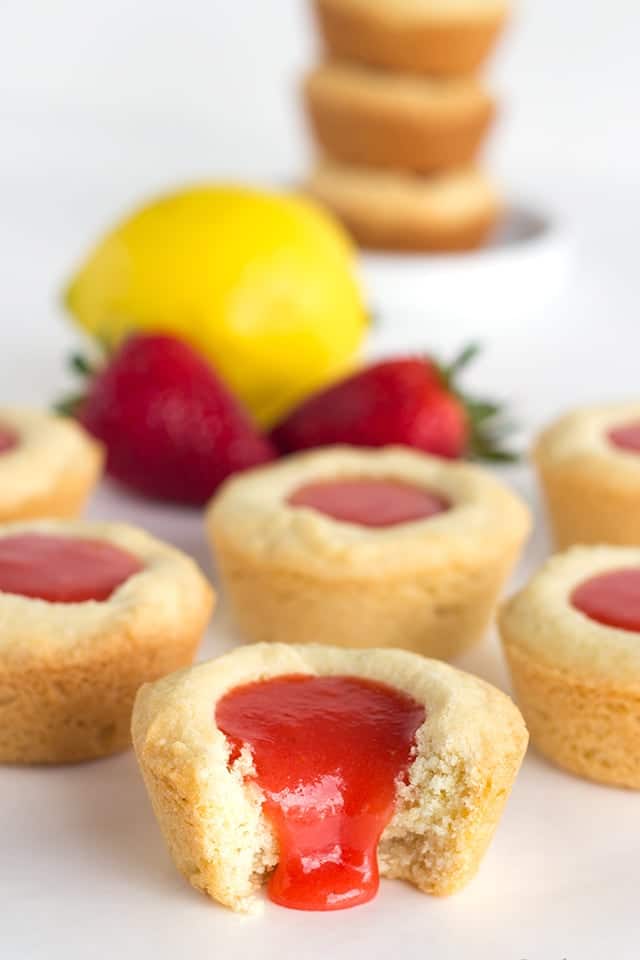 I really like these sugar cookie cups and want to make a ton more. What do you think about me doing a cheesecake filled cookie cup or maybe a s'mores version? If you like either of those or have your own idea, please let me know in the comments. I'm open to suggestions and ideas, but will probably make both of those anyway.
I can't help it. Once I get an idea stuck in my brain, I must make it. I have to get it out of my system. If I don't write down my ideas, most of the time I forget them. That being said, if it sticks in my brain without a written remind then you know I really want to make it.
Strawberry Lemon Sugar Cookie Cups
Tender sugar cookies baked into cupcake tins and the center is pressed down after being baked. To finish the cookies off, pipe the sweet and tangy strawberry lemon curd in the center of each cookie.

Ingredients
Strawberry Lemon Curd
1

cup

granulated sugar

2

T.

cornstarch

pinch of salt

¾

cup

fresh strawberry puree

¼

cup

fresh lemon juice

3

egg yolks

2

T.

butter

cold

½

tsp.

strawberry extract
Instructions
Curd
In a medium saucepan, add in the sugar, cornstarch, and salt. Stir to combine. This will incorporate the cornstarch and prevent lumps.

Add in the strawberry puree and lemon juice. Stir until combined.

Place saucepan over medium heat and let come up to a boil. You'll want to let it boil for two minutes.

Add your egg yolks to a small bowl. Whisk together.

Add about ½ cup of the boiling strawberry mixture into the eggs and immediately whisk. This will temper the eggs so they won't cook when you pour them into the boiling mixture.

Pour the tempered yolks into the saucepan while whisking constantly.

Let the curd come back up to a boil and let boil for five minutes until thickened. Stir often/if not constantly to avoid burning.

Place a fine mesh strainer over a bowl. Remove the saucepan from the heat and pour the curd into the strainer. Strain out any cooked pieces of egg.

Cover the curd with plastic wrap. Be sure to have the plastic wrap sitting on the top of the curd to avoid a skin forming and immediately place into the fridge to chill.
Cookies
Preheat oven to 350 degrees. Spray cupcake tin with non-stick cooking spray.

In a large mixing bowl, add in the butter, shortening, and sugar. Beat on medium until incorporated.

Add in the eggs and vanilla extract. Beat on medium until the eggs are thoroughly incorporated.

Add in the flour, baking powder, salt, and cornstarch. Beat on low until most of the flour is worked into the dough. Turn mixer on medium and finish beating the cookie dough until all of the flour is incorporated.

Using a medium cookie scoop, scoop the dough into each cavity.

Place into the oven and let bake for 22 - 24 minutes or until done.

Remove from the oven. Using a medicine cup or spoon, press the center of each cookie down while it's hot out of the oven.

Let the cookies cool completely. Turn the pan over and give it a few gentle taps to remove the cookie cups.

Add the curd into a sandwich bag. Cut the corner out of the sandwich bag.

Fill each cookie with the curd. Serve them up or store them in the fridge.
Notes
These cookies can sit out at room temperature for about 2 hours before going back into the fridge.
Nutrition
Calories:
308
kcal
Carbohydrates:
45
g
Protein:
3
g
Fat:
12
g
Saturated Fat:
6
g
Cholesterol:
81
mg
Sodium:
140
mg
Potassium:
83
mg
Sugar:
30
g
Vitamin A:
330
IU
Vitamin C:
7.4
mg
Calcium:
27
mg
Iron:
1.1
mg
(Nutrition facts are an estimate and not guaranteed to be accurate. Please see a registered dietitian for special diet advice.)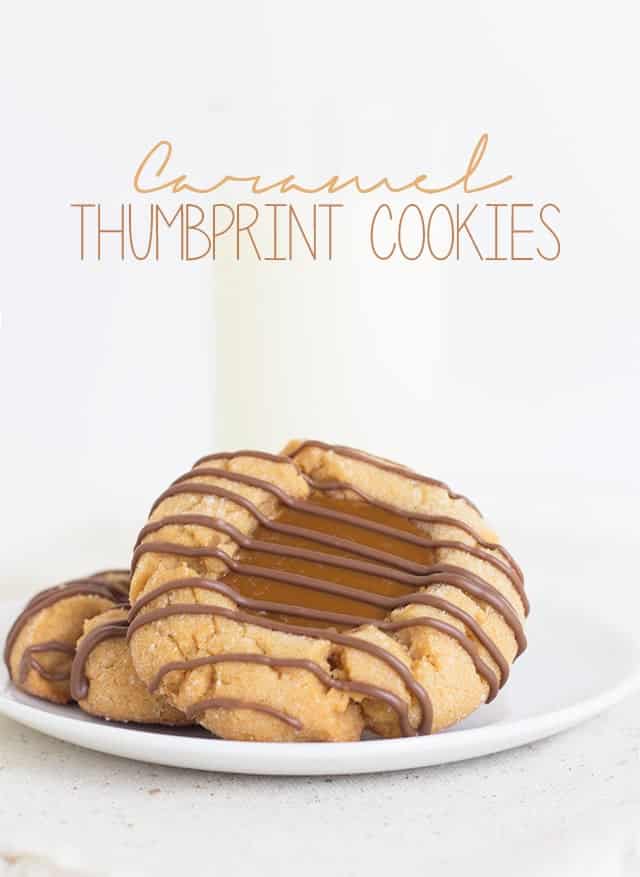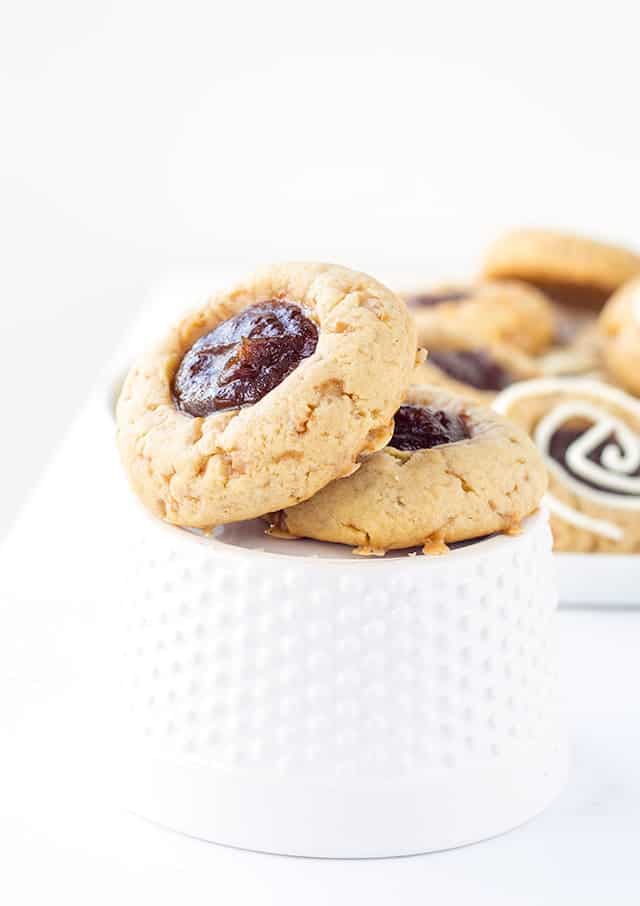 Apple Toffee Thumbprint Cookies
This post contains affiliate links. Cookie Dough and Oven Mitt is a participant in the Amazon Services LLC Associates Program, an affiliate advertising program designed to provide a means for sites to earn advertising fees by advertising and linking to Amazon.com.