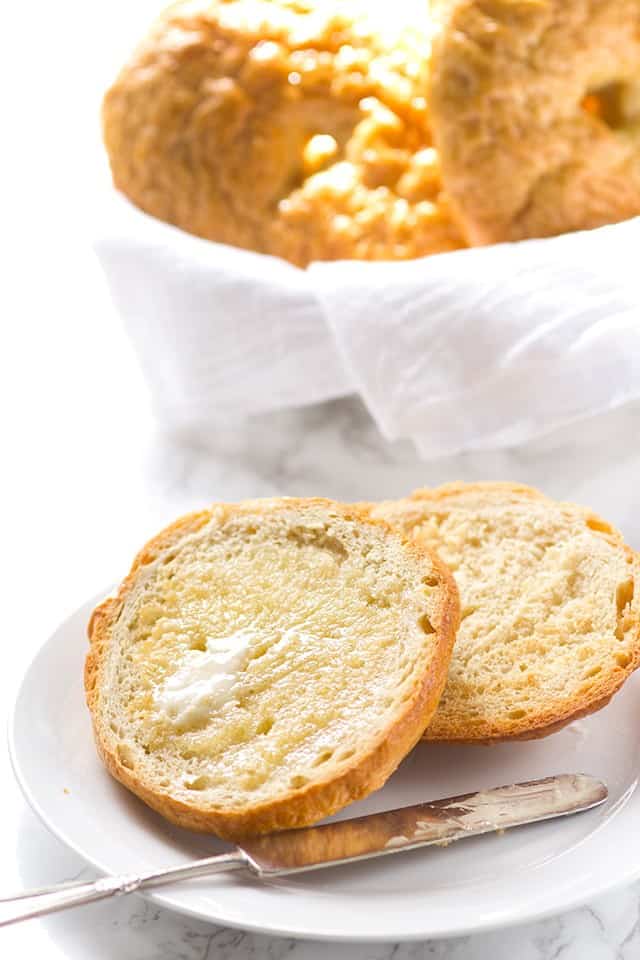 Guess who made their own homemade bagels? This gal. They were dense and chewy, just how I like them. I wanted to try making plain bagels so my husband would taste test them with me. I have intentions on making everything bagels too. They are my favorite, but Wesley wouldn't have tasted them with me.
I even used these bagels for my dinners. I didn't toast them though. There's something about a homemade yeasty treat that is always better than store bought.
Writing this post, I have a serious craving for a fried egg sandwich with melted cheese, mustard, and a homemade bagel. This sometimes happens to me when I just get back on a diet. Well, actually it happens to me probably because I'm thinking and making food all day every day. I can't be for sure though. 😉
The bagels are sort of wrinkly after being in the hot water bath. That's perfectly okay. When they look less than perfect, I tend to go with the word rustic. Rustic makes it sound like it happened intentionally. Besides, you want to let people know that you made these with your own hands and with lots of love.
A couple of weekends ago I ate a bagel with cream cheese and jam on it. If you've never tried it, you should. It's like eating a dessert for breakfast. My aunt was checking it out and nearly drooling over it. I think she desperately wanted to try it, but was afraid of getting started and then needing it every morning. It could happen, it's super addicting.
Homemade Bagels
Ingredients
Bagels
1 ¾

cups

warm water

110°

1

T.

active dry yeast

1

T.

barley malt syrup or brown sugar

4 ½

cups

bread flour

2

tsp.

salt

1

T.

vegetable oil
Bath
water

2

T.

barley malt syrup or brown sugar
Instructions
In a mixing bowl, add in the warm water, dry yeast, and barley malt syrup or brown sugar. The barley malt syrup adds a bit more chewiness in my opinion, but brown sugar will work. Mix and let it sit for 5 - 10 minutes until foamy.

In a stand mixer bowl, add in the bread flour and salt.

Add in the activated yeast mixture.

Using a dough hook, mix the dough until it starts to come together and falls apart. Let it beat for another 9 minutes.

Add oil into the mixing bowl and roll dough to coat it. Cover loosely with plastic wrap. Place a tea towel over top of the plastic wrap and place into a warm place to rise. Let rise until doubled. It took mine about 1 hour and 30 minutes, but my kitchen is pretty cool this time of the year.

Punch down the dough and place it on your counter, using a little more flour if needed to prevent it from sticking. Divide the dough into 12 equal pieces. I usually start by cutting the dough in half. Then cutting each half into half again and so on until I have 12. That will help keep it equal.

Roll the dough into balls. Place on an oiled baking sheet. Cover and let rise for 30 minutes.

Preheat oven to 425 degrees.

After 30 minutes of rising, push your thumb or index finger through the center of the ball. Stretch the hole and shape the bagel.

In a large saucepan, add in water and malt syrup or brown sugar. You'll want about 5 inches of water in your saucepan. Let it come up to a boil and reduce to a simmer.

Add the bagels 2 at a time into the hot water. Let cook for 2 minutes on each side and use a large slotted to drain off any remaining water.

Place on a paper towel to finish draining or a wire rack. They will look wrinkly.

Move each bagel onto a parchment lined baking sheet or a greased baking sheet. I placed 6 on a baking sheet at a time.

Place into the preheated oven and bake for 15 minutes. Rotate pan and bake for another 10 minutes until golden brown.
Nutrition
Calories:
170
kcal
Carbohydrates:
34
g
Protein:
5
g
Sodium:
321
mg
Potassium:
46
mg
Fiber:
1
g
Calcium:
8
mg
Iron:
0.4
mg
(Nutrition facts are an estimate and not guaranteed to be accurate. Please see a registered dietitian for special diet advice.)
I think I would like to attempt English muffins next. Do you want to know what I like to top those with? I'll tell you. Loads of butter and apple butter together. Those little air pockets in the English muffins are perfect for holding all of the toppings.
I love breakfast items, but I prefer eating them in the late morning or early afternoon. I also like to snack on dry cereal during the day. Milk isn't a favorite of mine so I just prefer to leave that out. My hubby, on the other hand, eats breakfast as soon as he gets out of bed every morning before work. I can't count the times he's preached to me about breakfast being the most important meal of the day. It's true, I know. I can't even take tylenol early in the morning without gagging and feeling nauseated.
So yeah, that's my strange life story. Enjoy the homemade bagels. lol