Christmas Wreath Cookies are a no-bake Christmas Cookie recipe that will be a festive way to dress up your dessert table. Cornflake Christmas Wreath cookies are made with marshmallows, vanilla, sprinkles and more. These are a must-make Christmas cookie. Get more cookies recipes here.
If you want to learn how to make Christmas wreath cookies let me share all about them! I have made these for years, and let's just say these are great for kids and adults. Colorful, festive, and sweet as can be. I think my favorite part are the cute little red bows.
Christmas Wreath Cookies
Chewy, sweet, crunchy and downright addictive. If you are looking for a fun dessert for holiday parties, family gatherings, or even an after school snack, give this wreath cookie recipe a try.
The best part about these little cookies is that they can be whipped up in minutes. The kids love helping with the bowls and adding the nonpareils.
What Kind of Cornflakes Do You Use For Christmas Wreath Cookies
You will want the corn flakes that are plain. Don't buy frosted flakes as that will add way too much sweetness to these cookies. So buy any brand you prefer, in plain classic flakes.
Can You Add Almond Extract To Christmas Wreath Cookies
Absolutely. If you add in almond extract just replace it in the recipe with the vanilla. This will give a nice almond flavor to the cookies. If you don't want a ton of almond flavor then use ½ a teaspoon instead of a full teaspoon.
You could also use other flavors of extract to replace the vanilla to make it fit your liking. We tend to do vanilla or almond. Though, I did see some toasted marshmallow natural flavoring online that I wouldn't mind trying for the cookies.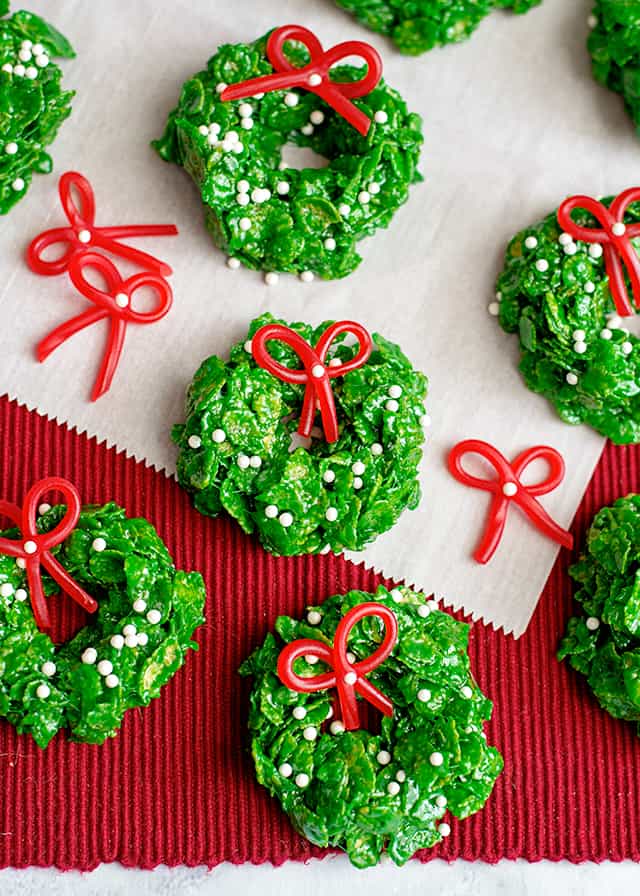 How to make Christmas wreath cookies
You're going to be amazing at how easy these are to make. They're similar to making my Chocolate Dipped Rice Krispie Treats except you have to shape these into a beautiful holiday decoration. I shared a step-by-step collage photo that's perfect to pin to Pinterest below.
You will start by melting your butter and marshmallows in a pan on the stove.
Remove from stove and add vanilla and food coloring.
Mix in your cornflakes and follow the steps to make the Christmas wreath shaped cookies.
I share all the directions below in the recipe card! Feel free to print it out as well to have handy for when you are working on your cookies.

Can You Freeze Christmas Wreath Cookies
I have not tried freezing these cookies, but I am thinking they might not freeze the best. The cornflakes could become soft once they thaw from being in the freezer. Also, the cookies are somewhat delicate so I can see them easily breaking and losing the whole Christmas wreath look.
If you want to try freezing a few, just place them in an airtight container or bag and store in the freezer for up to three months. Thaw on the counter and then give them a taste test.
Candy Bows
For the finishing touch on these Christmas wreath cookies, you'll need Twizzler Pull 'n' Peel candy and jumbo white nonpareil sprinkles. If you can't find the Pull 'n' Peel licorice, you'll need another candy that's flexible and thin. I can't think of any great substitutions candy wise, but you can use fondant instead or pipe little frosting bows with a small round piping tip directly on the cookies.
Here are more festive recipes to try
Christmas Wreath Cookies
Ingredients
½

cup

butter

35

large marshmallows

1 ½

teaspoons

green food color

3-4 drops of gel food coloring

1

teaspoon

vanilla extract

4

cups

cornflakes cereal

2-3

Twizzler pull and peels

12 - 14

jumbo white nonpareils sprinkles
Instructions
Bows
Peel 1 strand from the Twizzler pull and peel. Create a bow shape and squeeze the middle to stick together.

Press one of the white nonpareils in the center of the bow where you squeezed it together.

Create 12-14 of them and set aside.
Christmas Cookies
Add the butter to a large saucepan. Melt over medium heat.

Add the marshmallows and let them melt into the butter.

Remove the pot from the stove. Add in the vanilla and food coloring and stir until all of the marshmallows are green.

Add in the cornflakes and mix until all of the cereal is coated.
Making the Wreaths
Working quickly, lightly grease your hands and take large spoonfuls of the cornflake mixture. Create a ball shape in your hand.

Press the ball onto a piece of parchment paper or wax paper. Stick a finger into the middle and press the cornflakes into a wreath shape.

Quickly sprinkle the wreath with the white sprinkles and press a bow onto the top. Do this 12-14 times. Set the wreaths aside on the parchment paper (or wax paper) and allow them to cool completely before storing in a container.
Notes
Lightly grease your fingers this will prevent a sticky mess on your hands.
Nutrition
Calories:
2004
kcal
Carbohydrates:
294
g
Protein:
14
g
Fat:
93
g
Saturated Fat:
59
g
Cholesterol:
244
mg
Sodium:
1823
mg
Potassium:
188
mg
Fiber:
4
g
Sugar:
152
g
Vitamin A:
4837
IU
Vitamin C:
24
mg
Calcium:
27
mg
Iron:
33
mg
(Nutrition facts are an estimate and not guaranteed to be accurate. Please see a registered dietitian for special diet advice.)