This shop has been compensated by Collective Bias, Inc. and its advertiser. All opinions are mine alone. #HouseofBBQ #CollectiveBias This content is intended for readers who are 21 and over.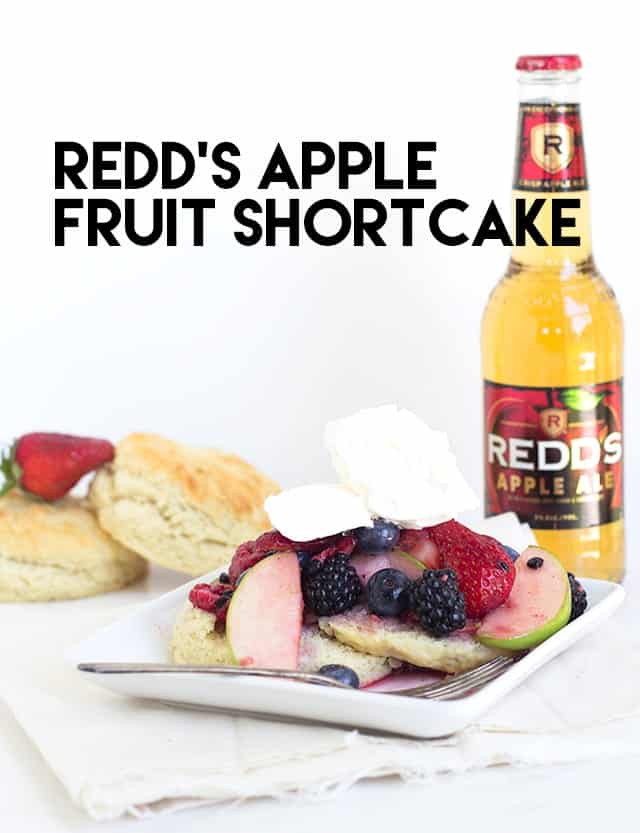 Today I'm getting a little crazy with my beer today. I've got a Redd's apple fruit shortcake and bloody mary beer recipe for you! I love to incorporate alcohol into my desserts, it's no secret. I also developed a love for vegetable juice with my beer which was introduced to me by my mother. She's a pretty cool woman if I do say so myself.
So, it's the perfect time for some amazing BBQ. Time to break out some incredible beer and get that charcoal grill fired up. What I love about the two beers I'm using (Leinenkugel's Summer Shandy & Redd's Apple Ale) is that they're delicious to drink out of the bottle or easily incorporated into some fun recipes to take to the BBQ. Because I do love bloody mary's and vegetable juice with beer, I had to share one of my favorite go-to drinks with you. The lemon in the Shandy gives the bloody mary beer a zesty citrus flavor. I tried some hot sauce in the bloody mary beer, but the citrus and hot sauce did not mingle well.
I rimmed the glass with a coarse kosher salt and ground some peppercorns on top of the drink. If that's too much salt, just add a sprinkle in the cup itself, but I highly recommend adding both salt and pepper. I also like lots of ice in my drink, but feel free to leave it out if it just gets in the way of the drink for you.
Bloody Mary Beer
Ingredients
½

cup

vegetable juice

½

cup

Leinenkugel's Summer Shandy

dash of black pepper

rim with coarse kosher salt

1

slice

of lemon for garnish
Instructions
Using the slice of lemon, run it gently around the rim of the cup. Dip the rim of the cup in the salt.

Fill the cup with ice.

Add in the vegetable juice.

Add in the shandy and stir.

Top with a dash of black pepper.

Add the slice of lemon to the rim of the glass and serve.
(Nutrition facts are an estimate and not guaranteed to be accurate. Please see a registered dietitian for special diet advice.)
I found my beer and Ball Park franks for the BBQ at my local Price Chopper. Let me ask you something. When you eat hot dogs, how do you prefer them? Again, I'm like my mom and love mine extra crispy. Wesley and Lucian want theirs lightly browned.
Now, let's chat about this Redd's apple fruit shortcake. I could soak my biscuits in the Redd's apple ale after the fruit has been marinated in it. Actually, I did soak my biscuits in it and it was HEAVENLY! It's sweet, fruity and makes some of the best shortcake ever! I've talked about my love of shortcake and how it provides me with some of the best memories. I've made strawberry shortcake cheesecake, strawberry banana shortcake and this strawberry peach shortcake, but this one is above all others.

Redd's Apple Fruit Shortcake
Ingredients
Fruit
¼

cup

blackberries

¼

cup

blueberries

¼

cup

raspberries

½

cup

strawberries

hulled and halved

1

granny smith apple

cored and sliced

⅓

cup

granulated sugar

½

cup

Redd's Apple Ale

½

cup

whipped cream
Instructions
Biscuits
Preheat oven to 425 degrees. Spray a baking sheet with non-stick cooking spray.

In a cup, add in the milk and vinegar. Let it sit for 5 minutes or until you're ready for it.

In a large mixing bowl, add in the flour, sugar baking powder, baking soda and salt. Stir to combine.

Grate the cold butter into the flour. I placed my butter in the freezer for about an hour before I made my biscuits.

Stir the grated butter throughout the flour to prevent it from clumping.

Once all the butter is grated in, add in the milk and vinegar. Stir it until it comes together. Try not to overmix it.

Turn out onto a clean floured surface. Pat out the dough into a circle and about an inch thick.

Using a biscuit cutter, cut out the biscuits. Mine made about 6 biscuits.

Place the biscuits on the prepared pan. I coated the tops of my biscuits with heavy cream to brown them up while they baked. This is optional. Sprinkle with sugar also optional.

Bake for 14 minutes or until golden brown. Let cool.

Add all the fruit into a medium mixing bowl.

Add in the sugar and let sit in the fridge for about 20 minutes to get the juices flowing.

Add in the Redd's and stir. Cover and let sit for an hour or 2.

Cut the biscuits apart. Heat for 30 seconds if preferred. Add on the fruit and drizzle some of the juice on the biscuits.

Top with a dollop of whipped cream. Serve.
Notes
I sprinkled some fruit fresh on my apples to keep them from browning. You can also use a tablespoon of lemon juice.
Nutrition
Calories:
414
kcal
Carbohydrates:
58
g
Protein:
6
g
Fat:
18
g
Saturated Fat:
11
g
Cholesterol:
47
mg
Sodium:
536
mg
Potassium:
456
mg
Fiber:
3
g
Sugar:
18
g
Vitamin A:
585
IU
Vitamin C:
11.6
mg
Calcium:
181
mg
Iron:
2.6
mg
(Nutrition facts are an estimate and not guaranteed to be accurate. Please see a registered dietitian for special diet advice.)
If you're headed to Price Chopper for Redd's or Leinenkugel's, I found mine next to the dairy aisle. I have also been able to get them at some of my local restaurants and bars like Green's Long River Inn, Angus & Ale and The Red Caboose Restaurant & Bar. If you're looking for some more fun ideas, hit up this house of BBQ pinterest board.